Back to Work: Multiple children
We asked moms and dads what they want to know about returning to work after a leave with little ones and they delivered! We broke all the questions we received into themes and have addressed them in this 11-part blog series on Back to Work in partnership with Mama Coach.
Part 7/11: Logistics and routines with multiple children
Themes: With baby #2, how will the logistics work for getting out the door? How can I provide the security to my youngest while they adjust into a new child care environment while caring for their older sibling? How can I return from work, cook a family meal and all eat together before 5:30?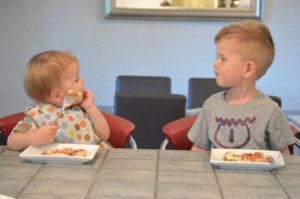 Kate Macdonald, RN & Mama Coach: Getting out door with two children is more challenging but you can do it!!! I would prepare as much as you can the night before. For example, have their bags packed with snow pants, mitts, water bottle, etc. I would wake early and get yourself ready and have breakfast before having to get your children up. You will have to adjust your time in the morning if you need or want to feed them breakfast before going. Depending on which child sleeps longer I would get one child ready first and then wake the other child. I would recommend having a few days when you try it out before your first official day back to work. Each child will adjust differently to their new child care environment and often they will need some extra snuggles to make them feel secure.
Kids & Company: Our teachers are often managing multiple children at one time and it's rarely easy! Here are our best strategies in addition to what Mama Coach advised:

Give them responsibility. Little ones, even toddlers, can rise to the occasion when they have control over (some) options, independence and a bit of time. They may be able to help by getting dressed, getting breakfast items ready and entertaining the baby while you complete parts of the routine.

Know you'll need time even with preparation. We allow ample time for a transition (between activities, moving into sleep time, going outside) because children can struggle with transition, especially if it's time-crunched. Plan out when you need to leave the house, how long your routine takes, and then try to add a bit of extra time before your alarm goes.

Positive and not negative. It's easy to get frustrated in mornings on a deadline. One thing that sounds simple but does work is to speak positively and adjust the focus of the child. Instead of saying things like 'we're running late and won't have enough time to play outside if you don't hurry' we always position our discussion with children in an uplifting way: 'If we can get our coats and boots on in the next three minutes we will be able to play our favourite parachute game before our other activities! Let's look at the clock – it's now 9:50AM so if we make it out before that 0 turns to a 3 we've made it!'
To the specific questions about preparing and eating dinner with multiple little ones after work/daycare – we wish there was an easy answer! We do recommend meal prepping and using tools like slow cookers or Instapots to make dinner prep as easy as possible. A snack an hour before dinner time is okay if it's not too big. Kids & Company actually provides Grab 'n' Go snacks at the end of the day for families that struggle with too much gap in between afternoon snacks and dinner time – it's just enough to prevent 'hangriness' without overfilling anyone for dinner.
Check out our other topics!
Part 1: Transition
Part 2: Illness
Part 3: Sleep and routine
Part 4: Adjusting
Part 5: Eating
Part 6: Friends and bullies
Part 7: Multiple children
Part 8: Guilt
Part 9: Timing
Part 10: Separation anxiety
Part 11: Weaning

_____
About Mama Coach
The Mama Coach is a team of Registered Nurses who are committed to making motherhood easier. As Registered Nurses, we have the skills and the training to give your family the quality care that you deserve. We are all Mamas too. We have been in your shoes and want to share our knowledge and want to make you feel incredibly supported. Our programs are based on science + empathy and support. We are Registered Nurses, infant and child sleep coaches, lactation counsellors, Prenatal Educators as well as CPR instructors. All packages include lactation counselling and intensive support. We offer a variety of services to help families transition into parenting which include: In home/group prenatal classes, Postpartum visits, Healthy beginnings to help support you and your newborn, sleep coaching from 3 months and up, allergy navigation and CPR.
Posted on: Monday October 1st, 2018
Posted by: Melissa Sawatzky