Back to Work: Eating
We asked moms and dads what they want to know about returning to work after a leave with little ones and they delivered! We broke all the questions we received into themes and have addressed them in this 11-part blog series on Back to Work in partnership with Mama Coach.
Part 5/11: Eating and allergies
Themes: How will they do with the new foods and what can I do to help on that front? How do I know if they are eating well? How can I ensure he is not exposed to foods he/she has allergies to or that restrictions I require are followed?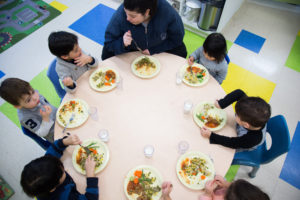 Kate Macdonald, RN & Mama Coach: Kids will often try new foods at their child care that they may not try at home. Some children do not eat much in a new environment and that is ok. Communication with your child care is so important! Setting up open communication will help establish a wonderful working relationship between you and the child care worker. Communication about food and how much your child has eaten that day is an ongoing conversation that you will have. Food allergies will be discussed and documented prior to your child's first day. Communication about allergies, reactions, medication and food preparation is a discussion you will have while exploring which child care option best fits your needs.
Kids & Company: In order to be licensed, Alberta child care facilities follow important Health and Safety standards that apply to food preparation and serving. For facilities that have ten or more children, you are required to have a food handling permit. Beyond that, there can be a variance in the types of foods served and the approach to nutrition – these are important questions for a child care provider to make sure you are aligned.
Allergies are handled differently depending on the provider but you'll find most adhere to being nut-free and will be responsive and proactive if there are other serious allergies. Kids & Company provides all snacks and meals and generally does not allow outside food as a precaution against allergies (exceptions would be breast milk, formula and handmade baby food that meets the requirements of our Chief Nutritionist). We post an allergy and food restrictions chart in each room throughout the centre so teachers and support staff can easily reference it and follow daily. Relevant emergency medications travel with the child's teacher(s) throughout the day in a backpack that also has emergency and first aid supplies. 
Curiously, many children eat more adventurously in group care than at home – this is likely because peers are trying new things and there is strong routine before, during and after meal-time. At our centres we use family-style dining so children serve themselves. When children have power in this way, they are more likely to follow through on their choices (and eat the food options they've chosen). Family-style dining also encourages independence and gross motor skills.
Mama Coach nailed it: communication, as always, is key. Make sure your child care provider is well aware of any allergies and food concerns, as well as simple preferences and aversions. Ask how they plan to communicate with you regarding food consumption every day. At Kids & Company, we provide emailed daily reports with information on what was eaten, including details such as how many ounces of milk/water was drank by the younger ones. If your provider does not have something formal in place, they will certainly find ways to have that dialogue – just as parents know, we have much better days when the children in our care are well-fed, satisfied with their food options, and ready to play and learn!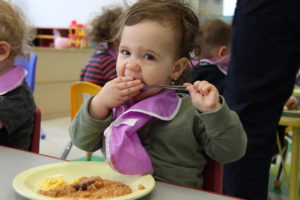 Check out our other topics!
Part 1: Transition
Part 2: Illness
Part 3: Sleep and routine
Part 4: Adjusting
Part 5: Eating
Part 6: Friends and bullies
Part 7: Multiple children
Part 8: Guilt
Part 9: Timing
Part 10: Separation anxiety
Part 11: Weaning
_____
About Mama Coach
The Mama Coach is a team of Registered Nurses who are committed to making motherhood easier. As Registered Nurses, we have the skills and the training to give your family the quality care that you deserve. We are all Mamas too. We have been in your shoes and want to share our knowledge and want to make you feel incredibly supported. Our programs are based on science + empathy and support. We are Registered Nurses, infant and child sleep coaches, lactation counsellors, Prenatal Educators as well as CPR instructors. All packages include lactation counselling and intensive support. We offer a variety of services to help families transition into parenting which include: In home/group prenatal classes, Postpartum visits, Healthy beginnings to help support you and your newborn, sleep coaching from 3 months and up, allergy navigation and CPR.
Posted on: Monday October 1st, 2018
Posted by: Melissa Sawatzky