Back to Work: Adjusting to childcare
We asked moms and dads what they want to know about returning to work after a leave with little ones and they delivered! We broke all the questions we received into themes and have addressed them in this 11-part blog series on Back to Work in partnership with Mama Coach.
Part 4/11: Adjusting into childcare 
Themes: Will my baby adjust to not having 1 on 1 care? What if my child does not do well and cries all the time? Will he/she be treated with the same patience and love I provide?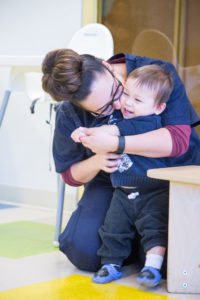 Kate Macdonald, RN & Mama Coach: Your child will adjust to their new environment and each child adjusts differently. It will take time for them to adjust. Some babies it is a few weeks and other is about a month. Open communication is so important to know how your child is adapting to their childcare.
Kids & Company: These are hard questions because the real question is: will a child care provider be everything to my child that I am, and the answer is no. Your bond with your child goes back to even before they were born and no one is going to know them quite the way you do. However, child care providers do the work they do because they love children and love being involved in the raising of the next generation – they will develop connections with your child that are different than yours but very special. As Mama Coach says, there is an adjustment period of a week to a month (for part-time children it can even be closer to two months) where your child needs to gain a sense of being secure in his/her environment and confident in the relationship with the new caregivers. One of our Area Directors often describes it this way: if you were suddenly dropped in Europe and everything was different, would you feel as settled as you did back home? Would you talk as much considering everyone you met was new? Would you sleep as well? Of course not. This experience for your child is much akin to that – it is the start of something very exciting and positive where they will grow and develop important relationships, but it won't feel as comfortable at the start. Trust in the ability of your child to persevere, especially as they build relationships, become familiar with the new environment, and learn that you will be there at the conclusion of every day.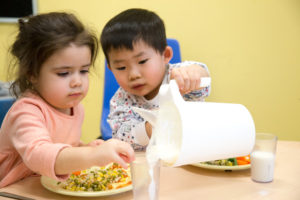 Check out our other topics!
Part 1: Transition
Part 2: Illness
Part 3: Sleep and routine
Part 4: Adjusting
Part 5: Eating
Part 6: Friends and bullies
Part 7: Multiple children
Part 8: Guilt
Part 9: Timing
Part 10: Separation anxiety
Part 11: Weaning
_____
About Mama Coach
The Mama Coach is a team of Registered Nurses who are committed to making motherhood easier. As Registered Nurses, we have the skills and the training to give your family the quality care that you deserve. We are all Mamas too. We have been in your shoes and want to share our knowledge and want to make you feel incredibly supported. Our programs are based on science + empathy and support. We are Registered Nurses, infant and child sleep coaches, lactation counsellors, Prenatal Educators as well as CPR instructors. All packages include lactation counselling and intensive support. We offer a variety of services to help families transition into parenting which include: In home/group prenatal classes, Postpartum visits, Healthy beginnings to help support you and your newborn, sleep coaching from 3 months and up, allergy navigation and CPR.
Posted on: Monday October 1st, 2018
Posted by: Melissa Sawatzky