Kidco Kitchen Challenge – In the Spirit of Nutrition Month!
As March, or Nutrition Month as the Dietitians of Canada call it, comes to an end, I want to promote their ideas once again (If you missed last week's blog, take a quick look here to see the campaign Dietitians of Canada has going on for the month of March.). It is so important to get back to basics. Teaching your children different techniques and skills they can use in the kitchen inspires healthier diets in the long-term. What's even better is that by teaching your children the basics of cooking and baking, you can have them working together with their siblings too!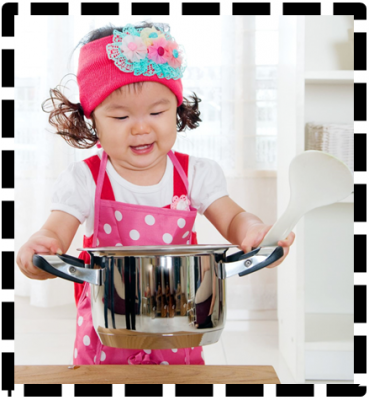 In the spirit of Nutrition Month, I'm asking Kids & Company families to try out any recipe at home with their children. I've attached a great Kidco Kitchen original recipe for inspiration. It is simple, easy to execute, and best of all – delicious! Try it at home and let me know how you had your children involved with the baking process. Depending on the age of your child(ren) they can help pick out the ingredients, add ingredients to and mix the batter, or help set the table to enjoy the healthy snack. If they just are not old enough to help with the actual recipe yet, you can always give them a small bowl and have them mix some dry ingredients so they can be just like their older brother or sister.
Happy Nutrition Month, Kids & Company!
Cheers,
Chef Lisa Ruscica
Chief Food Ambassador
Kidco Kitchen Zucchini Muffin
*Makes 6 child-sized portions
What you need:
-       3/4 cup Shredded Green Zucchini
-       3/4 tsp. Vanilla Extract
-       1/4 cup White Sugar
-       1/2 tsp. Baking Soda
-       1/4 cup Canola Oil
-       3/4 cup All Purpose Flour
-       1 Egg
-       1/4 cup Brown Sugar
-       3/4 tsp. Ground Cinnamon
What to do:
Be sure to wash your hands before you begin
Line bottom of pans with parchment paper.
In a large bowl, combine flour and baking soda. In a separate bowl, cream together oil and sugar. Stir in eggs and pureed zucchini until well-blended. Stir mixture into flour mixture. Pour batter into pan.
Bake in preheated oven at 350F for 30 minutes, until a toothpick inserted into center of the loaf comes out clean. Let bread cool in pan for 10 minutes.
Cut into rectangular pieces, serve and enjoy!
Posted on: Wednesday March 26th, 2014
Posted by: Lisa Ruscica