Kidco Kitchen Tandoori Chicken
Yesterday, the Vancouver Head Chef sent me a picture of the delicious lunch meal that was served across the country at all of our Kids & Company locations. We served Tandoori Chicken and Naan Bread with a Cucumber Raita Salad - Yum! It was a big hit! Parents really seemed to like the picture that was posted on our social media as well, so I thought there was no better time to give the recipe to all of the Kids & Company families. Try it at home with your little ones. You can even pair it with our delicious Organic Quinoa recipe too.  Be sure to let me know what your family thinks @KidcoKitchen!
Kidco Kitchen Tandoori Chicken
(serves 6 people)
What you need:
-   4 Tbsp. of Plain Yogurt
-   1 Tbsp. of Lemon Juice
-   1 tsp. Allspice
-   1 tsp. Ground Cinnamon
-   1 tsp. Cumin
-   1 tsp. Ginger
-   1 tsp. Paprika
-   1 minced Garlic Clove
-   6 Chicken Drumsticks
-   2 ¼ tsp. Veggie Oil
What to do:
1)   Make sure to wash your hands before you begin.
2)   In a mixing bowl, blend together yogurt and lemon juice. Add spices, minced garlic and whisk until it is a smooth, thick marinade.
3)   Marinade chicken pieces overnight in the refrigerator.
4)   Preheat oven to 350◦F. Add chicken drumsticks and put in the oven for 45 minutes.
5)   After the first 30 minutes of cooking time turn the chicken pieces and proceed roasting for another 10-15 minutes.
6)   Portion 1 piece per person.
7)   Enjoy!
Cheers,
Chef Lisa Ruscica
Chief Food Ambassador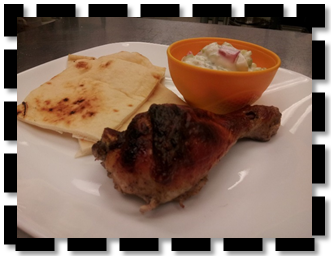 Posted on: Wednesday February 26th, 2014
Posted by: Lisa Ruscica