MARVELOUS MELONS!
For the month of June our Kidco Kitchen Curriculum has been teaching the kiddies all about the benefits of eating melon. This colourful and juicy fruit is packed with nutrients that are perfect for your growing children. These fruits are enriched with Vitamin C which is an antioxidant that plays an important role in the growth and maintenance of all tissues in your body. It helps in healing and repairing cartilage, bones and teeth. We love serving our cantaloupe cubes and honeydew melon munchies as they are great snacks the children love! For the month of June the little ones will be participating in many learning exercises involving melons.  From tasting, weighing and observing the different types of melons, the kids will get exposure to a wide variety of melons.
Cantaloupe, honeydew, and watermelon serve as the go to picnic and barbeque summer snack. Watermelon contains about 92% of water, hence the name, but this refreshing fruit is soaked with many nutrients. Their high water content helps ward off dehydration and combats the heat while providing a guilt free snack. Try topping melon squares with cottage cheese or Greek yogurt as they both provide a source of protein. Spice up your white fish or chicken breasts with cantaloupe, cucumber, red bell pepper and jalapeno salsa. When looking for cantaloupe, try to find one that is firm, heavy and symmetrical without softness or bruising. In season cantaloupes have the brightest flesh colour and the sweetest and juiciest flavour. Have fun in this amazing weather and get creative with melons!
For a fun decorative display, try using your melon shells as fruit bowls and cutting them into pretty shapes!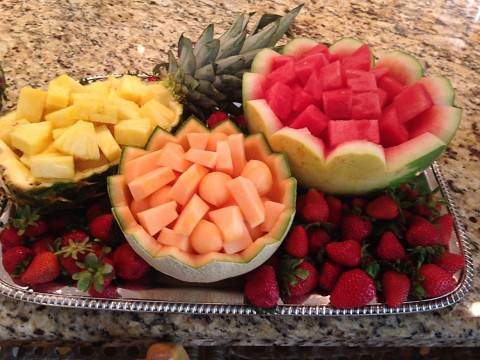 Don't forget to follow us on Twitter @kidcokitchen and on Instagram @cheflisaruscica!
Cheers,
Chef Lisa Ruscica
Chief Food Ambassador
Posted on: Thursday June 25th, 2015
Posted by: Lisa Ruscica