Super Soup!
Soup is a quick, hot meal that can offer plenty of health benefits. The key to soup is to make it homemade, eliminating the high salt content that is found in most pre-packaged soups. Soups can be made with almost anything and are a great way to use up produce and leftover cuts of meat! Get creative; it is okay to stray from the recipe! The best thing about soups is they are extremely hard to mess up, so put your chef hat on and get inspired!
Soups are the perfect dish to come into after a cold winter day, whether they are being used as the main course or the side. If you are using soup as the main course be sure you have a complete protein such as beans, meat or fish present!  Get creative with your grains and starches; try adding potatoes, barley, pasta or even quinoa! The children here at Kids & Company love the soups we serve! It is always rated one of their favourite dishes by the teachers. We serve soup twice a month currently to your little ones, including a Tomato Basil Soup and a new soup on our winter menu……………. Vibrant Veggie Soup!
Try making your own stock this winter by keeping your leftover dinner bones.  Simmer them in a mirepoix which is onions, carrots, and celery, and you'll have a freezable, low-sodium base for soups, stews, rice dishes, and more.  In the meantime, try making our delicious Tomato Basil Soup at home… it is a Kidco Kitchen favourite among chefs and kids!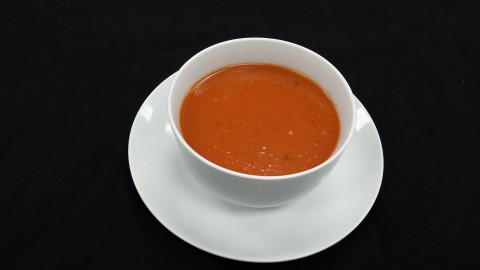 Kidco Kitchen Tomato Basil Soup
*Makes 6 portions
What you need:
-       4 ½ cup veggie stock
-       1 tsp veggie oil
-       ¼ tsp minced garlic
-       ¼ cup diced tomatoes
-       ½ tbsp brown sugar
-       ¼ cup tomato paste
-       1 tbsp chopped basil
What to do:
Make sure to wash your hands before you begin.
Prepare soup broth.
In saucepan, heat oil over medium; cook onions and garlic, stirring for 5 minutes or until translucent. Add to veggie stock.
Add tomatoes, brown and white sugar, tomato paste. Bring to a boil.
Reduce heat and simmer for 15 minutes until slightly reduced.
Using a blender, puree adding basil in the final stage. Reheat if necessary.
Serve ½ cup sized portions.
Cheers,
Chef Lisa Ruscica
Chief Food Ambassador
Posted on: Thursday January 22nd, 2015
Posted by: Lisa Ruscica