Glen Abbey
Our Centre
Now accepting applications for full and part-time care! Are you exploring early education and child care options for your child in the Oakville area? Here's why you should consider Kids & Company: At Kids & Company, we use an emergent curriculum and learn through play philosophy. We're very proud of our proprietary programs! They include Alpha-Mania (pre-literacy and early reading), Mini Masters (art), and Munchkinetics (movement) and are designed to engage our children in a learning process that encourages self-expression, creativity, coordination and most importantly, fun! We often hear children singing the Alpha-Mania theme song before the teacher even begins the lessons, a clear indication of their enthusiasm about learning through play. You'll find sign language in our baby and toddler rooms, and all our children participate in music, French, science & exploration and creative play throughout our day. Does your family have an untraditional or rotating work schedule? Not to worry, we'll work with you to accommodate your needs! More than just daycare, we offer flexible child care and superior early education to help families achieve a greater work-life balance.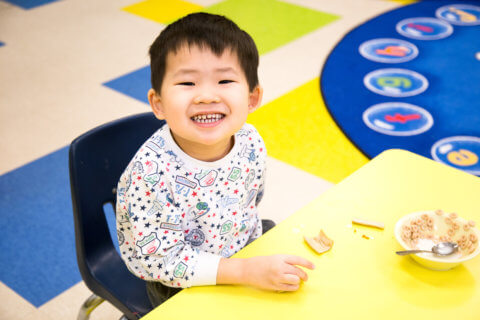 Our Centre Information
Address
Glen Abbey
1395 Abbeywood Drive, Unit 16
Oakville, Ontario, L6M 3B2
Contact Information
905-469-2944
glenabbey@kidsandcompany.com
Centre Hours
Monday to Friday, 7:00 am - 6:00 pm
Meet The Director
My name is Natasha Maiato and I am the Director at the Kids & Company Glen Abbey centre. I have a diploma in Early Childhood Education and have been working in the child care field for over eight years. Beyond the world of child care, I am the youngest of 3 children; I have an older brother and sister. I don't have any of my own children yet but can not wait for the day that comes. Until then, my nieces and nephews are great practice and I love them with all my heart. Their pictures are plastered all over my desk and they feel pretty special about that! In my spare time, I love to read and have been writing for as long as I can remember. One of my (many) dreams is to one day have something published. I love to travel, cook and spend time with loved ones. If it's the spring or summer, you will always find me outside! My favourite part about the Glen Abbey Centre is being greeted every morning with little smiling faces! This is something that can't compare to other jobs. Nowhere else do you get the chance to see children learn and grow all day, every day, it is extremely rewarding! Now that you know a bit more about me, I would love to meet you! I hope you come to visit our Glen Abbey centre and see for yourself how Kids & Company can provide the right care and education for your child.