Getting Ready For Baby's First Haircut
Baby's first haircut can be stressful for new parents and at Beaners Fun Cuts we make haircuts fun for all ages. Our specially trained stylists are fast, fun and masters of distraction. We've put together a list of tips to help even the most pro parent prepare for the big moment: Baby's First Haircut.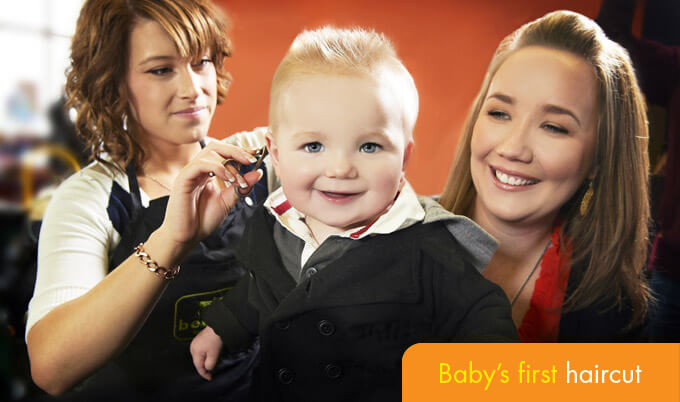 Timing Is Everything
Some babies don't enjoy having their haircut because they are not used to it. It helps to start cutting their hair at an early age. Even if you only need a trim, it will help your child get used to having their haircut if you bring them in while they are still a baby. The time of day that you book your appointment is also important. Consider baby's nap schedule and what
time your baby is feeling most content and plan your appointment so that it doesn't run into the "danger zone". Remember that you can always reschedule your appointment if your child is not in the right mood. We encourage parents to call their preferred location to make their first appointments and discuss with our staff suitable times. Plan ahead considering your child's temperament and understand Saturdays are our busiest days and can be noisier than other days.
Tip: arrive early to allow your baby time to adjust to the surroundings and have a diaper change or feeding if
needed.
Practice Makes Perfect
Before you bring your baby for their first haircut at Beaners, you'll want to get them more comfortable with the various tools we will be using. You can make this a fun game and pretend you are at a hair salon. Try using combs, brushes and a spray bottle of water, to get them used to having their hair "done". Try using a gentle detangling brush that doesn't pull too hard on your child's hair. If they don't enjoy it, try using a doll or toy. During this time you can talk to them about what it will be like and tell them how much fun it is to get their
hair cut.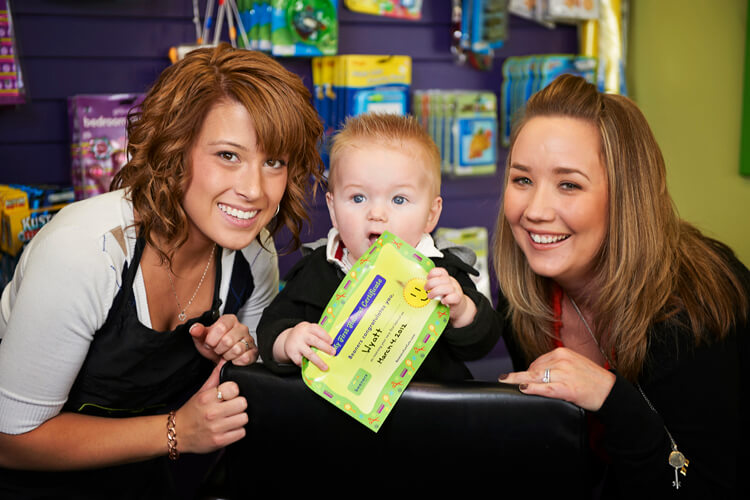 All The Buzz
If you are planning a haircut that involves clippers, you may want to get them accustomed to the sound of one at home. If you have an electric razor at home, you can show it to them and allow them to feel the vibration of the "tickle machine" by touching the handle to their arm. Beaners uses ultra quiet clippers that are safe for wiggly kids, but it doesn't hurt to try to introduce your baby before your first visit.
Plan Your 'Do
If you have an idea what type of hair cut you want, that's great. If not, just ask your stylist for suggestions based on your child's hair type and head shape. Keep in mind that hair texture, thickness, cowlicks, crowns and head shape all play a role in the type of haircut that will work best on your child.
Play Favourites
You will want to bring your baby's favourite toy or snack to use as a distraction. They might get a little hairy but will help if your baby gets fussy.
Make A Clean Getaway
Consider bringing a change of clothes in case baby does not want to wear the cape or if their clothes become "itchy".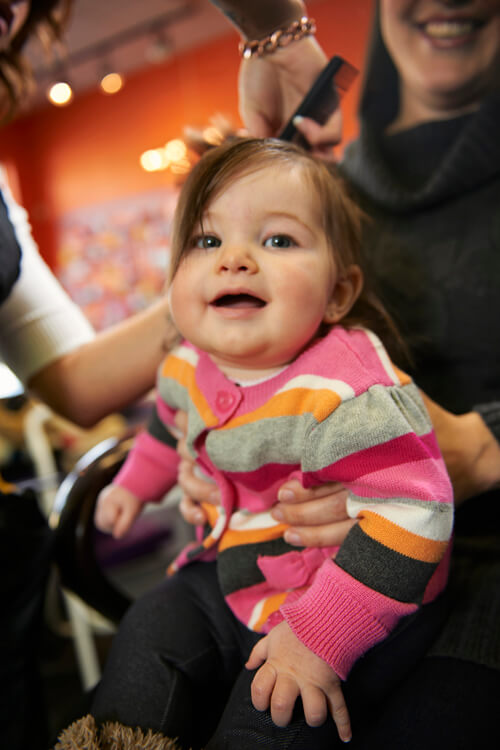 When Things Go Sideways
You might be wondering what will happen if your baby is fussy during their haircut. Our specially trained stylists are masters of distraction and are very fast at what they do. If problems arise, our stylist may ask you to assist by holding your child or distracting them. And when all else fails, we have lollipops! Most importantly, we understand and are here to help.
Make Memories
Be sure to take pictures or video of your child' first haircut so that you have a keepsake to go along with the "Baby's First Haircut" certificate and hair lock that you will receive. "Before" and "After" photos are always fun too. Bonus: if you #share your photo on social media and tag @BeanersFunCutsForKids, you are eligible to win a $25 gift card!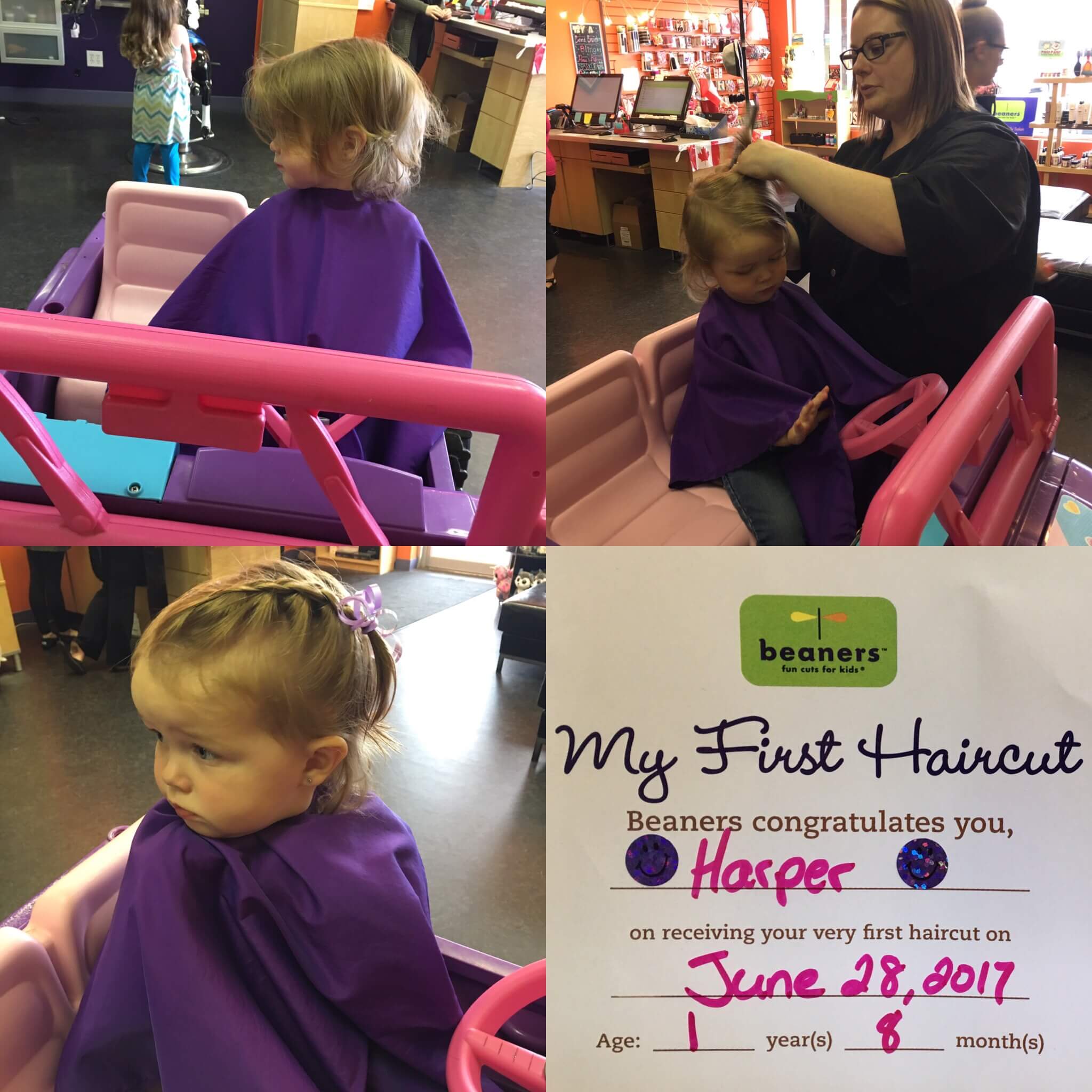 Baby's first haircut doesn't have to be scary, and at Beaners we do everything we can to make your experience fun. Feel free to stop by any of our locations to see what we are all about or to ask any questions that you might have. To find a Beaners Fun Cuts For Kids location near you, or to book an appointment online, click here.
Posted on: Monday March 5th, 2018
Posted by: Kids & Company