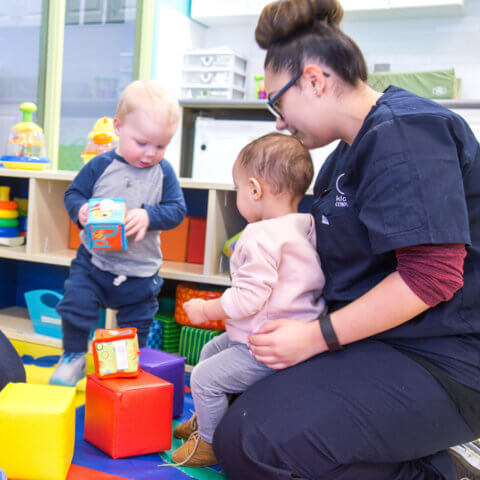 About Us
Welcome to Kids & Company
Kids & Company was founded in 2002 by Victoria Sopik, a lifelong entrepreneur and mother of 8, and Jennifer Nashmi, a Chartered Accountant and mother of three. They founded Kids & Company when they, two working mothers of a combined 11 young children, could not find truly flexible child care options without a trade-off in quality of care. Their mission  is to offer high quality flexible child care, and to continue to innovate in the child care space, to meet the ever-evolving needs of families.
Kids & Company delivers on this mission, providing high quality full time and part time care at over 150 locations throughout North America. Password-protected web cameras are installed in each classroom at the majority of these locations and provide a real-time video feed of our childrens' days. We also have a mobile app, Kindertales, where parents get notifications with images and updates about the activities their child is enjoying, what their child has eaten (and how much), nap times, diaper changes, and more! 
In our classrooms, we follow an emergent or cue-based approach to learning that allows students to lead their own discoveries.  Supplemented by our proprietary programs, which include pre-literacy and reading, artistic expression, and music and movement, children develop independence, confidence and a positive sense of self and the world around them. 
Founded on a fresh from-scratch philosophy, the Kidco Kitchen provides our children with a hot lunch and 3 snacks each day at the majority of our locations. Our ethnically diverse menus help children to develop their pallet at a young age and become more adventurous eaters. Ingredients are carefully planned and purchased locally, containing no additives or preservatives.
Beyond the classroom, we have also created an innovative Corporate Membership program where we work with corporations to help create more harmonious work-life integration for their employees. Please visit our Corporate and Partner Services page to learn how Kids & Company corporate members enjoy benefits such as guaranteed child care spots and emergency back-up care.