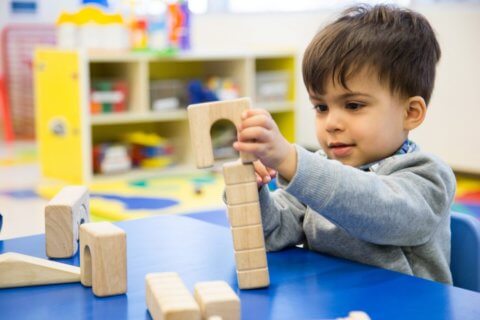 Preschool
Young Preschoolers - 2 Year Olds
All two-year-olds examine everything they see, hear, feel and observe in an attempt to make sense of the world around them. In our preschool programs, Kids & Company teachers interact, observe and interpret the interests of preschool students to encourage further discoveries by planning activities and investigations that expand your child's learning.
Socialization
Early preschoolers are also learning how to manage their strong impulses and emotions in ways that will help them successfully navigate their world. Two-year-olds are developing their independence and many opportunities are provided for them to do this. Kids & Company teachers work with our families to introduce, encourage and practice new social skills including sharing, negotiation, self-assertion, managing frustrations, recognizing the need for moments of quiet time and empathy.
Older Preschoolers - Ages 3+
Kids & Company offers a range of activities to stimulate a preschooler's love of learning. Children are involved in music, art, scientific observation and experimentation, pre-literacy, reading and writing, French, pretend play, yoga, and physical play (Munchkinetics). All of these activities help them explore new things about themselves, one another and their environment. We also focus on nutrition, teaching children where food comes from and the basic knowledge of food groups, vitamins and minerals and support this with our healthy, tasty food from the Kidco Kitchen.
Alpha-Mania
This reading and writing program excites children about the alphabet, while significantly improving their phonological awareness. The program is designed on the principles of multi-sensory learning and consists of four main styles of learning: visual (looking at the letter), auditory (listening to the letter sound), kinesthetic (sky writing the letter), and tactile (printing the letter on a sensory tray like sandpaper).  The Alpha-Mania program is based on thorough early educational research on phonics instruction and phonological awareness skills.
Mini Masters
This art program introduces young learners to the world's great artists. Children go beyond basic arts and crafts and become immersed in the world of art, learning techniques that are very approachable for emerging artists.  The program fosters independence, imagination and creative confidence through manipulation and experimentation of a variety of materials and media.  Each class focuses on a famous visionary artist, such as Vincent Van Gogh, Andy Warhol, Henri Mattise and Georgia O'Keeffe.
Munchkinetics
A proprietary physical education and movement program for children 5 and under. The program provides a fun, safe and non-competitive environment to develop physical skills while fostering a life-long love for active play. Cognitive tasks have been incorporated into the physical games and many of the activities require the children to use both their minds and their bodies to be successful.
French
Designed for children to learn basic French and different ways of communicating. Children exposed to language during the formative years (birth to 6) have an easier time of continued learning at older ages.
Sign Language
Incorporated into the infant, toddler and pre-school program as one of the first methods of communication between caregivers and children. Introducing infants to signing assists their independence to share their needs and wants with their caregivers. During the implementation of Sign Language, it is critical to associate the verbal language with the sign so that such relationships are made and connections start to occur.
Yoga
An ancient practice to help balance body, mind and spirit. Kidco Yoga helps children relax physically and mentally with awareness on breathing, stretches, coordination and balance.
STREAM Preschool Program
Kids & Company introduced STREAM programming (science, technology, reading, engineering, arts and math) into our preschool classrooms to ensure educators have the most progressive STEM tools and training available to facilitate learning through our emergent curriculum approach. STREAM is not just a set of activities or one aspect of our program but rather integrates with our curriculum approach with an eye to sparking curiosity, experimentation and self-led discovery in our children. Our educators work extremely hard to observe each child, identify their skills, interests and ways of learning, and then build opportunities for them to develop and acquire knowledge through multiple avenues. STREAM is about asking probing questions and facilitating the child in their journey of questioning, testing, and accumulating knowledge and skills. In a handful of centres, we have STREAM preschool rooms open for children whose interests heavily focus on STEM areas. However, STREAM is an integral part of all of our preschool programming in all regions.
Areas of Development
At Kids & Company, our preschool program offers foundational skills in a progressive, fun environment. The preschool program focuses on structure and developing autonomy, with an emphasis on cognitive learning; including number and letter recognition introduced through puzzles, games and our pre-literacy reading and writing program Alpha-Mania. Our preschool program provides a foundation for developing greater independence, problem-solving, integrating new concepts into their world view and incorporates elements to promote sharing and mutual respect. Teachers help children to understand routines, which simultaneously allows them to feel competent and confident in their current preschool classrooms and prepares them for kindergarten.
Healthy, Yummy Food
All of our students have lunch and snacks provided by our Kidco Kitchen. The menus are created by a nutritionist, cooked by chefs and approved by kids. Meals are served family-style, with students and teachers sitting and eating at the table together. Children serve themselves in order to empower them to make their own food choices, model their food choices after others at the table (encouraging them to try new foods) and create pride and ownership of the food they are eating. Read more about our menus and why our parents LOVE the Kidco Kitchen.

RETURN TO PROGRAMS