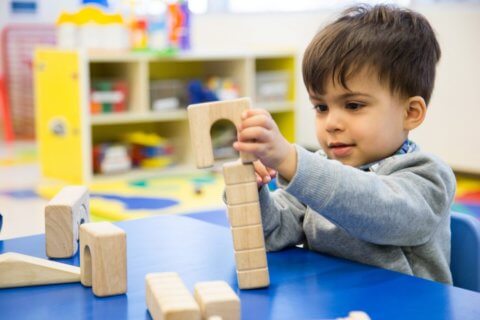 Preschool
Understanding Preschoolers
Kids & Company's Preschool program is designed for children between the ages of roughly 2.5 – 5 years old. Preschool children are excited to engage with the world around them and are eager to experiment with their emerging use of language. Preschooler age is the time to learn fundamental skills that will prepare them for Kindergarten and lay the groundwork for their skill development later in life.
Our program focuses on structure and developing autonomy with an emphasis on cognitive learning as it pertains to number and letter recognition. Our Emergent curriculum philosophy puts preschoolers at the center of their development, while our educators interact, observe, and interpret the interests of our students to encourage new discoveries. Children are learning lessons on sharing and mutual respect, integrating new concepts into their world view, and emphasizing problem-solving during this exciting stage of development.
Your Preschooler's Day
Your preschooler's day starts with a warm welcome to the classroom from our staff and their peers. Once everyone has settled in, we begin our programming with these preschooler learning outcomes in mind: building a routine, developing autonomy, advancing social skills, and cognitive learning. All of this is achieved through a range of activities to stimulate a preschooler's love of learning.
Educators also help children employ routines so that they feel competent and confident in their Preschool classrooms, and better prepared for a more structured Kindergarten class. Throughout the day, children are involved in music, art, number and letter recognition, puzzles, games, pretend play, physical play, and scientific observation and experimentation. They have busy days! To accommodate for daily rest needs, preschoolers get a chance to nap and reset for an afternoon full of more activity, learning, and outdoor play.
STREAM programming (science, technology, reading, engineering, arts and math) is a unique feature of our Preschool classrooms. In order to spark curiosity, our educators employ the Emergent curriculum philosophy that enables STREAM-focused experimentation and self-led discovery. STREAM stands for Science, Technology, Reading, Engineering, Arts, and Math.
Preschoolers also take part in all seven of our proprietary programs, including Alpha-Mania, Mini-Masters, Munckinetics, yoga, French, sign language, and nutrition. Together they develop pre-reading literacy, gross motor and physical movement, and language and labeling skills. Our nutrition curriculum teaches children about food groups, vitamins, minerals, and where food comes from; with help of our nutritious and tasty menu from the Kidco Kitchen.
Nutrition
The Kidco Kitchen provides our children with a nutritious lunch and snacks each day*, including a 3rd snack around 5pm to tide children over until dinner time. Family style dining is offered at each meal, where children serve themselves their own portions to improve fine motor skills, develop self-help skills, and empower them to make their own food choices.
Our menu and recipes are all created by a nutritionist, cooked by chefs, and approved by our children. Our weekly menus are ethnically diverse and available here, as are all of our recipes.
*Available at most locations.
Communication With Parents
Our educators make an effort to get to know the children and families well so that experiences enhance and blend with home life. Every day you'll receive a digital daily report on how your child's day was through the Kindertales app. There you'll find basic details like nap time, what they ate and how much, what activities they participated in, as well as updates on milestones as well as developmental growth. You'll also be able to see your child via our in-classroom web cameras, installed at the majority of our locations.
Want to Learn More?
To find out if Kids & Company is right for your preschooler, please fill out our Inquiry Form. Once submitted, someone from our Parent Customer care team will be in touch!

RETURN TO PROGRAMS