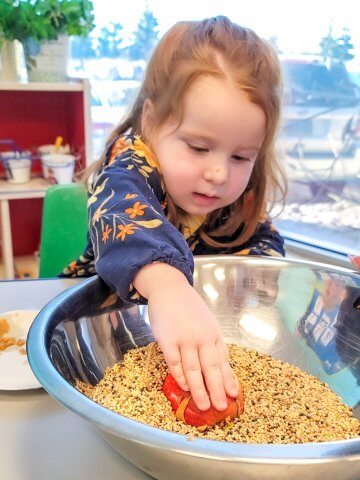 Emergent Curriculum
The backbone of curriculum at Kids & Company is an emergent or cue-based approach that allows students to lead their own discoveries and learning. Emergent curriculum is a modern education philosophy that moves away from pre-set daily lesson plans in exchange for facilitating learning opportunities in thoughtful ways as children's interests and skills are observed. It is the leading method for early childhood development in North America.   Educators must be well-trained to identify interests and build appropriate invitations to learn about the world through experimentation, art, imaginary play, music, literature, movement and more. Gently guiding with probing questions and encouraging the pursuit of ideas, teachers cover age-appropriate concepts in ways that spark curiosity and excitement in a child.
STREAM Preschool Program
Kids & Company introduced STREAM programming (science, technology, reading, engineering, arts and math) into our preschool classrooms to ensure educators have the most progressive STEM tools and training available to facilitate learning through our emergent curriculum approach. STREAM is not just a set of activities or one aspect of our program, but rather integrates with our curriculum approach with an eye to sparking curiosity, experimentation and self-led discovery in our children. Our educators work extremely hard to observe each child, identify their skills, interests and ways of learning, and then build opportunities for them to develop and acquire knowledge through multiple avenues. STREAM is about asking probing questions and facilitating the child in their journey of questioning, testing, and accumulating knowledge and skills. In a handful of centres, we have STREAM preschool rooms open for children whose interests heavily focus on STEM areas. However, STREAM is an integral part of all of our preschool programming in all regions.
Core Programming in Kids & Company Preschool
We have proprietary and in-house programs that provide proven ways to invite skill development using our emergent curriculum approach. The core skills students acquire as they move through their learning include early literacy and language (Alpha-Mania, sign language, and French), artistry (Mini Masters), movement (Munchkinetics, song and dance, yoga), science and math (STREAM), and nutrition. Our aim is to lead children into acquiring knowledge and abilities in these areas by developing critical thinkers with a love of learning and self-expression.
Socialization
Early preschoolers are also learning how to manage their strong impulses and emotions in ways that will help them successfully negotiate their world. Two year olds are developing their independence and many opportunities are provided for them to do this. Kids & Company teachers work with our families to introduce, encourage and practice new social skills including sharing, negotiation, self-assertion, managing frustrations, recognizing the need for moments of quiet time, and empathy.
A Peek Inside the Program

RETURN TO PROGRAMS