Welcome to Kids & Company's Family Resource Centre!
Kids & Company is committed to supporting our families both in our centres and at home.  We know that providing online support is even more important during this challenging time. Therefore, our Educational Experts have compiled various activities, tips and tricks and other resources for navigating time at home as a family or providing your children with activities or videos to enjoy on their own.
Kids & Company will continue to organize and add to their website and social media platforms to share valuable content from us, our partners and other organizations as appropriate. Follow us on Instagram @kidcochildcare for Daily Curriculum Invitations! We, at Kids & Company hope you're finding ways to take care of yourselves and your families as we all adjust to the unprecedented and challenging situations we are all in together.
Brought to you by our Director of Learning Environments – Kristine Grant:
As Director of Learning Environments, Kristine oversees the development of curriculum and quality control at Kids & Company. She ensures compliance with all Kids & Company's standards of quality assurance and makes recommendations on improvements and changes. She is a graduate of Centennial College with her Early Childhood Education Diploma and studied at Ryerson University focussing on Child Development. Kristine works with a team of Directors and Area Directors to ensure Kids & Company continues to provide the highest quality of care possible. When not at work, Kristine enjoys hiking, kayaking and family time with her two boys and husband. Please reach out to Kristine for any additional support/information at kgrant@kidsandcompany.com and she will be happy to assist.
Parent Resources
5 Ways To Help Kids With COVID-19 Anxiety
Daily Schedule -It is important to maintain a schedule/routine for little ones during this time.It helps them understand what is expected and instills a sense of security. Enjoy playing, learning and growing at home!
Need help explaining to your young child about COVID-19 and why washing hands is so important? Check out the But Why (A Podcast for Curious Kids) for a special and entertaining episode with Doctor Krutika Kuppalli. Hear questions about the virus from real kids just like yours.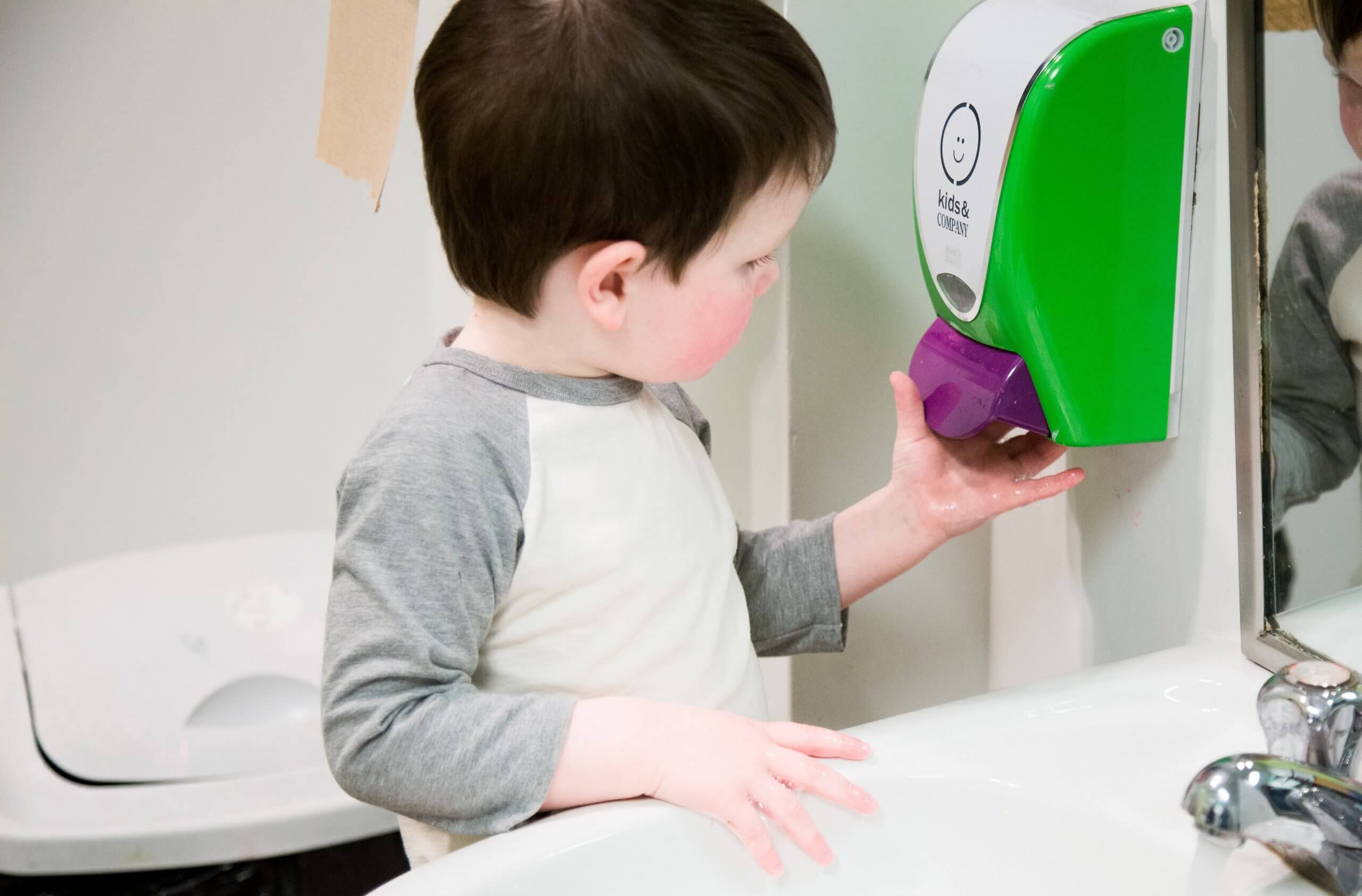 To keep your family and friends connected, video chatting with apps such as FaceTime, Google Duo, and WhatsApp can be a wonderful virtual experience. Check out our video chat guide to help children build relationships, communicate and learn from loved ones on the screen.
Satisfaction in marriages is sometimes plummeting and the effect this can have on our children can result in behavioural issues and long term effects that may not be known until much later on in life.Check out Parenting Power's Podcast: Solving Common Marriage Problems to help work through these issues.
Activity Suggestions
Activity Guides for Parents: 
Music and Movement Resource Guide
There are so many ways to provide learning opportunities that support exploration and discovery. When your little one explores they build skills and theories about the world around them. With these various, open-ended activities using household materials, your little one can explore math, language skills, concepts of science and so much more. These 'Invitations' to learn are a place to start, your child can lead each activity in new ways based on their investigations and individual interests.
Have your child try one or all of our Learning Extensions. As children Question, Create, Draw, Explore and Investigate they are building on their critical thinking and analytical skills. Young children require physical activities and active play to develop and grow properly.
Active play helps build coordination, gross motor and balance skills that supports a happy, healthy lifestyle. Here are some active activities for you to try at home!
There are many benefits in re-purposing items for creative activities and developing games. Young children are born investigators and when given opportunities to build and create with objects in different ways it sparks imaginative play and promotes problem solving skills. Please note that these suggestions will give you a place to start and can lead in many different directions based on your child's interests.
We are so grateful to all of the critical and essential workers, working tirelessly to keep everyone safe and healthy. We are proud to have many #healthcareheros in our Kidco family. We invite children to make a thank you card and take a photo/video to post on our Instagram or Facebook page thanking the critical and essential workers for their work at this time. Please share with #essentialhelpersthankyou
Experiment – Why Does Soap Help Us Get Rid of Dirt and Viruses?
Try this experiment at home with your little ones! All you need is soap, water, a bowl and some pepper or paint! Soap does two things really well: it breaks the surface tension of water, which is why we see the pepper 'run away' with the water when soap is introduced to our experiment. Soap also is special as it's made up by molecules (teeny tiny little parts) that partly 'stick' to grease and partly 'stick' to water – so when you wash your hands, grease will stick to the soap molecules and then they both 'stick' to the water as it goes down the drain and away from your body. Interestingly we know viruses are a little bit like grease, so washing with soap and water works really well at getting them off our hands!
Math Experiment
Join Kids & Company Alumni Landon as he walks us through all of the ways you can learn math with LEGO!
Outside Activity Suggestions
Try this Science Experiment at Home: Free the Dinosaurs!
Want to motivate little ones to get outside on a colder day? Try making 'Ice Gems,' an irresistible science experiment using just ice cube trays and food colouring.
Try This at Home – Fizz Science Experiment
If you have food colouring and vegetable oil, here's a fast and easy experiment with beautiful visuals – to make 'fireworks' in a glass of water!
Music Together Babies Class with ABC Music
Try out the following experiments with your child that represent a chemistry demonstration using the reaction of vinegar and baking soda. Witches Brew creates a fizzy fun experiment that promotes tons of learning time for a wide range of ages! The Magic Balloon experiment will amaze your child as they watch the chemical reaction inflate the balloon.
Witches Brew
What to do:
• Fill a cup a quarter or halfway with white vinegar
• Add food colouring and/or glitter if available
• Add a quarter or half cup of dish soap if desired (creates a foamier reaction versus fizzy)
• Add a tablespoon of baking soda
• Watch as the reaction fizzes (and foams if dish soap is included)
• Add more to create spillover and try mixing different colours and varying portions for different results
Magic Balloon
What To Do:
– Pour 1/2 cup vinegar into an empty water bottle
– Using a funnel put 2 tbsp of baking soda into a deflated balloon
– Attach the balloon to the top of the water bottle without pouring the contents of the balloon in
– Tip the balloon up so the baking soda falls into the vinegar
What's happening?
These quick and easily set up science experiments show a chemical reaction when the base (baking soda) and an acid (vinegar) are mixed. Ask your child open ended questions throughout the experiment to get them thinking of what will happen next and encourage their critical thinking skills.

Printable Templates
To help build confidence and improve both cognitive and motor skills please find below a series of printable templates for you and your child to enjoy.
Scavenger Hunts:
Cognitive Learning Templates
To support your child's cognitive learning skills please see a series of educational/activity printables to enjoy.
Bingo Cards – Lower Case Letters
Counting Mat – Fingerpaint Caterpillar
Upcoming Virtual Events
Family Singalong with Nancy Kopman – Wednesday April 8th at 12:30pm EST
Nancy Kopman's interactive, educational music is popular with early childhood educators worldwide and used in Kids & Company's centres internationally. Her songs are catchy, fun and engaging. Join Nancy for a live, virtual sing along with your little ones!
Sleep Strategies for Families with WeeSleep's Akira Seuradge – Thursday April 9th at 1:00pm EST
Join Akira Seuradge, Certified WeeSleep Baby + Toddler Sleep Consultant to discuss the importance of sleep.
In this one-hour complimentary seminar, you will learn about baby and toddler sleep, the importance of sleep, the most common sleep issues, and the top sleep strategies that will help you and your family get the sleep you need and deserve.
We will discuss specifically:
– how much sleep children need
– how to adjust sleep routines with new 'stay home' schedules
– how many naps they require at various ages
– common sleep challenges
– important tips that can get you started on the road to healthy sleep
– how to connect with a sleep consultant and what it looks like to work with one
Tips for Surviving Life In Lock Down with Alyson Schafer
Join Alyson Schafer, Parenting Expert to discuss strategies for surviving life in lock down.
We will cover:
– How's and why's of creating a realistic schedule
– Ways to fill the time – and why boredom has benefits
– Managing tech-time
– Tips for managing home schooling
– Strategies for work at home parents
– Self care for parents
The Journey of Parenting a Child with Special Needs on Tuesday April 21st at 12:00pm EST
Julie Cole, co-founder of Mabels Labels is the mother of six children, her first lives with autism. Julie will share her story of going through diagnosis, therapy, advocacy and share how her now 20 year old son is doing.
We will cover:
– What to do when you get a diagnosis
– How to find resources
– How it can FEEL to go through this
– The impact on siblings
– How to encourage your kiddo to develop their skills
Recipes
Our Kidco Kitchen offers hundreds of healthy and delicious recipes you can make for your family at home!
Check out our Play & Learn Recipe Cards to help your child learn step by step instructions and complete fun projects in the kitchen.
Blogs
Visit our Blog for tips and tricks on behaviour management, nutrition, developmental milestones and all things parenting!
Previous Webinars
Check out our previously recorded webinars with various industry experts – stay tuned to our social channels for new webinar release dates! How to Be an Effective Disciplinarian with Alyson Schafer  The Importance of Music in Child Development with Nancy Kopman Dealing with Transitions with The Mama Coach Potty Training Tips and Tricks with Alyson Schafer Getting Out of the Door Alive with Parenting Power Transitioning from Purees to Solid Food with Fragola Are Screens Stealing Your Sanity with Parenting Power
Work Life Balance with Parenting Consultant Sylvia Corzato