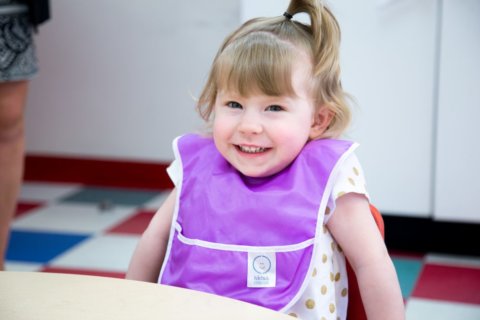 Toddlers
Toddlers learn best in the context of relationships within small groups. There are fewer distractions and children's activities are more focused. In Kids & Company toddler classrooms, our small groups allow very young children to make connections, form caring relationships, and learn to understand other children.
Your Toddler's Day
Our program recognizes that our curriculum must include nurturing care as well as education. Our curriculum centres on connections and relationships where adults respect and respond to children's cues and interests. Our teachers get to know the children and families well so that experiences enhance and blend with home life. A typical day may include music, indoor and outdoor play, sign language, French, science & nature through experimentation, yoga, pre-literacy and word development through listening/reading/speaking, Munchkinetics (movement), and Mini Masters (art).
Sign Language
Incorporated into the infant, toddler and pre-school program as one of the first methods of communication between caregivers and children. Introducing infants to signing assists their independence to share their needs and wants with their caregivers. During the implementation of Sign Language, it is critical to associate the verbal language with the sign so that such relationships are made and connections start to occur.
Yoga
An ancient practice to help balance body, mind and spirit. Kidco Yoga helps children relax physically and mentally with awareness on breathing, stretches, coordination and balance.
French
Designed for children to learn basic French and different ways of communicating. Children exposed to language during the formative years (birth to 6) have an easier time of continued learning at older ages.
Alpha-Mania
Pre-reading literacy program designed to excite children aged 2.5 – 5 about the alphabet, while significantly improving their phonological awareness. This program teaches children letter sounds through fun themes that are relevant to their world. It is designed on the principles of multi-sensory learning and consists of 4 main styles of learning; visual (looking at the letter), auditory (listening to the letter sound), kinesthetic (skywriting the letter), and tactile (printing the letter on a sensory tray like sandpaper).
Mini Masters
This art program introduces young learners to the world's great artists. Children go beyond basic arts and crafts and become immersed in the world of art, learning techniques that are very approachable for young artists.  The program fosters independence, imagination and creative confidence through manipulation and experimentation of a variety of materials and media.  Each class focuses on a famous visionary artist, such as Vincent Van Gogh, Andy Warhol, Henri Mattise and Georgia O'Keeffe.
Munchkinetics
This is our proprietary physical education and movement program for children six and under.  Munchkinetics provides a fun, safe and non-competitive environment to develop physical skills while fostering a life-long love for active play.  It includes multiple gross motor movements to teach children balance and agility with added cognitive tasks incorporated into the physical games, requiring children to use both their minds and bodies. Munchkinetics includes four-15 minute sessions per day.
Areas of Development
As toddlers strive for independence, our teachers create a program that supports each child's individuality. Some of the most important learning outcomes in our toddler program are language development, socialization, self-help skills, and the development of fine motor and eye/hand coordination. Language development is promoted throughout the day using labels or through repetition of their emerging vocabulary. This all contributes to toddlers becoming confident learners.
Healthy, Yummy Food
All of our students have lunch and snacks provided by our Kidco Kitchen. The menus are created by a nutritionist, cooked by chefs and approved by kids. Meals are served family-style, with students and teachers sitting and eating at the table together. Children serve themselves in order to develop self-help skills, empower them to make their own food choices and create pride and ownership of the food they are eating. Read more about our menus and why our parents LOVE the Kidco Kitchen.

RETURN TO PROGRAMS