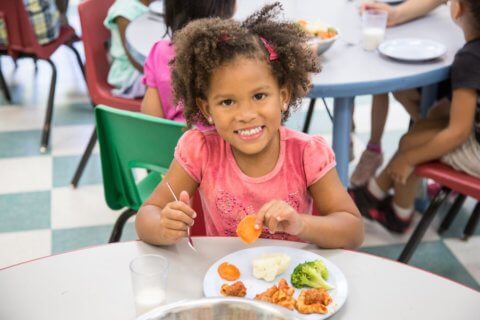 Kindergarten Programs
The Kidco Kindergarten Difference
Kids & Company's Kindergarten program is suited for children from ages 4-6 years and is designed as an alternative to provincial Kindergarten offerings in Ontario, British Columbia, and Manitoba, and to provincial Jr. Kindergarten offerings in Alberta. There are four key reasons parents and children choose Kids & Company over their local schools:
Children learn academic skills through our Emergent curriculum philosophy, with the addition of our proprietary programming that promotes a passion for music, the arts, and physical education.
Lower educator-to-child ratios mean children will have more one-on-one time to practice skills and foster their unique development.
Daily developmental assessment reporting indicates what milestones were achieved – e.g. "uses legible printing consistently" – using our Kindertales app. The celebration of successes makes children feel proud and gives parents visibility on their child's developmental stage.
Daily nutrition needs are met – and often exceeded – by our in-house caterer, Kidco Kitchen, available at the majority of our locations. Children receive ethnically diverse foods in the form of lunch and three snacks each day, allowing parents to avoid the nightly lunch-packing hassle.
Understanding Kindergarteners
Kindergarteners are preparing for a big transition into grade 1, so solidifying their comfort in a learning-focused environment is crucial for success. During this exciting time, our educators make learning fun and work on building each child's self esteem.
The emergent curriculum taught in our Kindergarten program is an advancement of the basics learned in preschool classrooms. We aim for bigger milestones in math, reading, and writing so that children are prepared for the learning outcomes expected of grade 1 students.
Your Kindergartener's Day
Your kindergartener's day starts with a warm welcome from our staff and their peers. With a full day ahead, educators are providing learning opportunities that work toward physical, social, emotional, literacy, and cognitive skill development. Milestones might include counting and patterning, alphabet recognition and phonetics, writing capital and lowercase letters, recognition of book cues, and the use of a broader vocabulary.
Throughout the day, educators are identifying and explaining emotions and peer-to-peer interactions for children to better understand social dynamics. With a new group of friends around the corner, it's important for kindergarteners to feel comfortable sharing, communicating, and respecting each others' physical boundaries.
Kindergarteners will enhance their language and literacy through our proprietary pre-reading program, (called Alpha-Mania Advanced in Canada). This more in-depth version of Alpha-Mania challenges kindergarteners to identify letters of the alphabet by name, shape, and sound. Children will also engage in our proprietary sign language and Mini-Masters programming, creative literacy play activities, and early reading strategies like identifying the front and back of books and examining picture clues.
In addition to letters and numbers, teaching physical literacy is also a focus for our educators. Grade school has higher energy demands, so we like to elevate the basic fine and gross motor skills kindergarteners developed in earlier years. This is achieved through physical play and our proprietary Kidco yoga programming.
Lastly, our proprietary nutrition curriculum teaches children about food groups, vitamins, minerals, and where food comes from; with help of our nutritious and tasty menu from the Kidco Kitchen.
Nutrition
Our kindergarteners fill their tummies with a nutritious lunch and snacks provided by the Kidco Kitchen each day*, including a 3rd snack around 5pm to tide children over until dinner time. Family style dining is offered at each meal, where children serve themselves their own portions to improve fine motor skills, develop self-help skills, and empower them to make their own food choices.
Our menu and ethnically diverse recipes are all created by a nutritionist, cooked by chefs, and approved by our children. Our weekly menus are ethnically diverse and available here, as are all of our recipes.
*Available at most locations.
Communication With Parents
Our educators make an effort to get to know the children and families well so that experiences enhance and blend with home life. Every day you'll receive a digital daily report on how your child's day was through the Kindertales app. There you'll find basic details like nap time, what they ate and how much, what activities they participated in, as well as updates on milestones as well as developmental growth. You'll also be able to see your child via our in-classroom web cameras, installed at the majority of our locations.
Want to Learn More?
To find out if Kids & Company is right for your kindergartener, please fill out our Inquiry Form. Once submitted, someone from our Parent Customer care team will be in touch!

RETURN TO PROGRAMS