To learn about our COVID-19 health and safety procedures, click here.
Why choose Kids & Company'sKindergarten Program?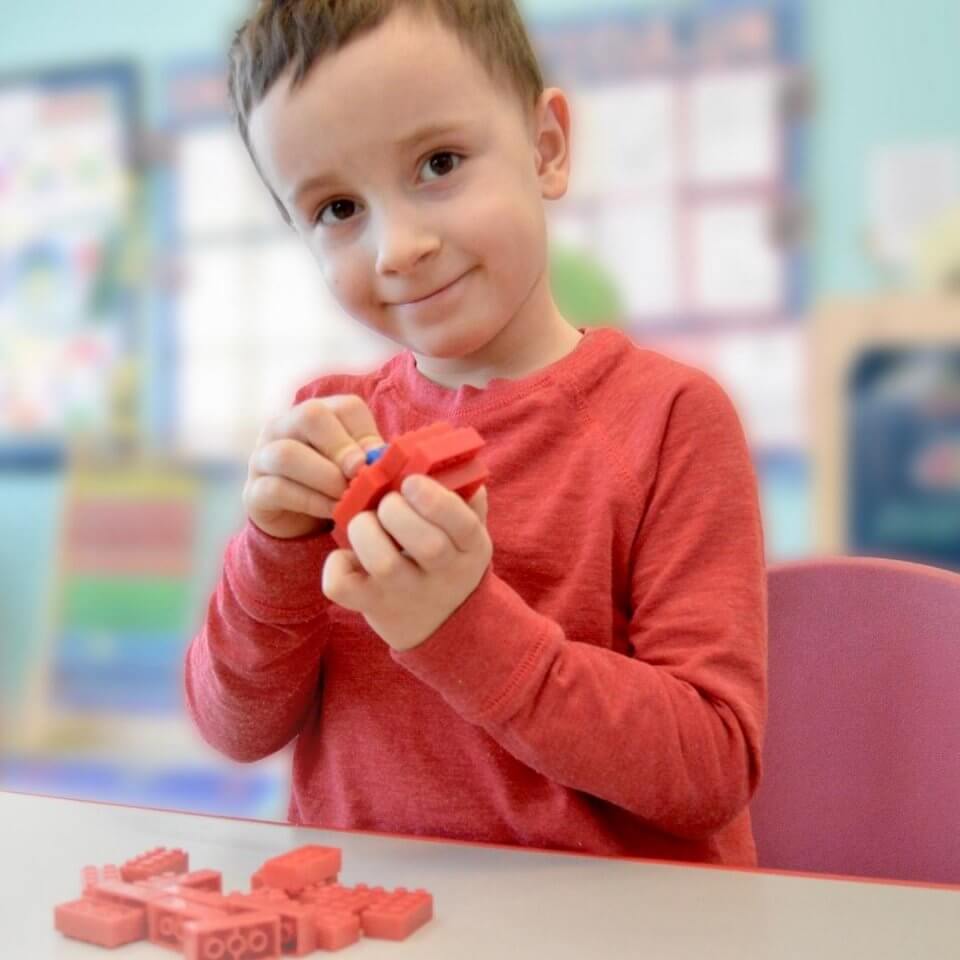 First and Foremost;Quality Education
Our programming goes above and beyond what is taught at public schools. Children learn the same academic skills, with the addition of our proprietary programming that promotes a passion for music, the arts and physical education.
Smaller class sizes, and more educators. Smaller educator-to-child ratios mean children will have more one-on-one time to practice skills with their educators and foster their unique development.
Developmental assessment reporting. Milestone achievements are recorded within the Kindertales app so parents have visibility on their child's developmental stage. I.e. "Uses legible printing consistently." 
Stay informed of your child's day. As done in our infant, toddler and preschool rooms, each child receives Daily Activity Reporting through Kindertales.
20 years of experience! Kids & Company has long been recognized as a trailblazer in the field of early childhood education. Our experienced staff have a deep understanding of curriculum and of how to best support a child during their early years.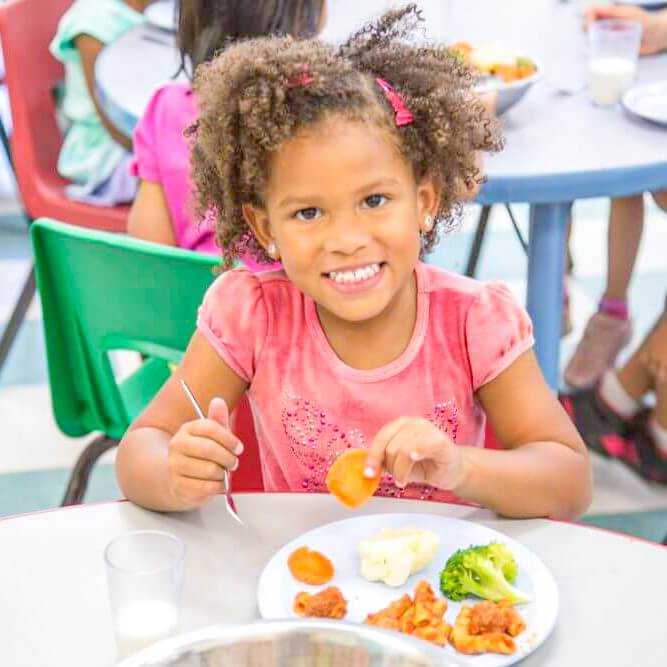 Kidco Kitchen: Prepared Meals and Snacks
Mealtimes are handled! The Kidco Kitchen provides Kindergarten children with a from-scratch, healthy lunch, two snacks and a Grab n' Go snack for the ride home. There's no need to spend extra time prepping your child's meals!
Our Kitchen caters to children's allergies and accommodates food preferences. Staff are aware of allergies and preferences in each classroom, providing comfort to parents.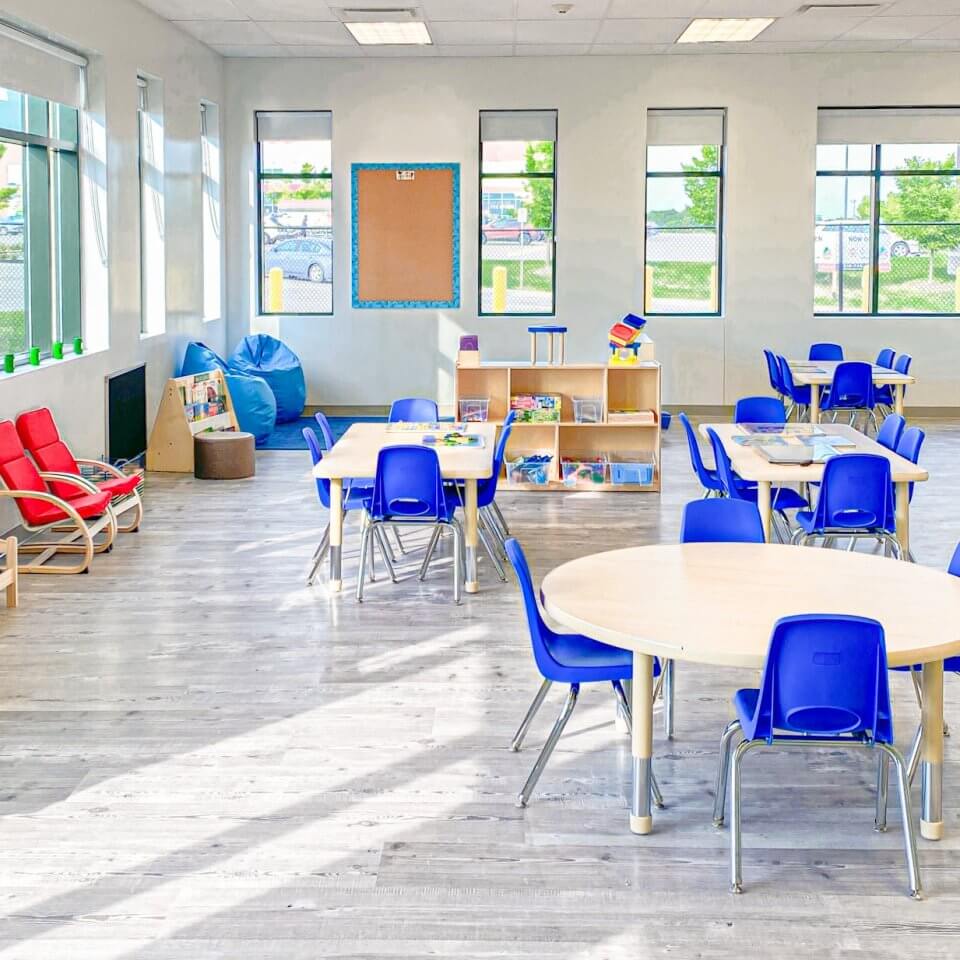 Extended Hours and a Single Drop Off
Extended hours mean no additional arrangements are needed. Our Kindergarten program can accommodate children for our standard hours of operation, which are more in line with an average work day. There is no need for additional Before/After School Programs.
Single drop off. If you have a younger child that is still attending Kids & Company, a single drop off affords you more time and less running around each day.
Questions?
If you have any immediate questions about the program, please reach out to our Parent Customer Service team!
Richmond Hill - Corporate office (No child care services)
Larry Uteck (Southgate Dr)
Hugs Plus Braintree 1, Part of the Kids & Company Family
Hugs Plus Braintree 2, Part of the Kids & Company Family
Burlington Children's Centre
Aa to Zz Dover, Part of the Kids & Company Family
Edmonton Ice District (104 Ave)
Etobicoke (Bloor & Islington)
ABC Kiddie Kampus Exeter, Part of the Kids & Company Family
Aa to Zz Schaffner, Part of the Kids & Company Family
Aa to Zz Route 39, Part of the Kids & Company Family
Aa to Zz Swatara, Part of the Kids & Company Family
Aa to Zz Hummelstown, Part of the Kids & Company Family
Tyke Town Lake Saint Louis, Part of the Kids & Company Family
Mississauga Gateway Centre
Oakville West (3471 Wyecroft Rd)
ABC Kiddie Kampus Old Forge, Part of the Kids & Company Family
Aa to Zz Palmyra, Part of the Kids & Company Family
ABC Kiddie Kampus Pittston, Part of the Kids & Company Family
Tyke Town St. Peters, Part of the Kids & Company Family
Surrey Professional Centre
Tyke Town Troy, Part of the Kids & Company Family
Sunshine Country Day, Part of the Kids & Company Family
Sunshine South, Part of the Kids & Company Family
ABC Kiddie Kampus East Mountain, Part of the Kids & Company Family
ABC Kiddie Kampus King's College, Part of the Kids & Company Family
Aa to Zz Queen Street, Part of the Kids & Company Family
Aa to Zz West York, Part of the Kids & Company Family
Richmond Hill - Corporate office (No child care services)
Larry Uteck (Southgate Dr)
Hugs Plus Braintree 1, Part of the Kids & Company Family
Hugs Plus Braintree 2, Part of the Kids & Company Family
Burlington Children's Centre
Aa to Zz Dover, Part of the Kids & Company Family
Edmonton Ice District (104 Ave)
Etobicoke (Bloor & Islington)
ABC Kiddie Kampus Exeter, Part of the Kids & Company Family
Aa to Zz Schaffner, Part of the Kids & Company Family
Aa to Zz Route 39, Part of the Kids & Company Family
Aa to Zz Swatara, Part of the Kids & Company Family
Aa to Zz Hummelstown, Part of the Kids & Company Family
Tyke Town Lake Saint Louis, Part of the Kids & Company Family
Mississauga Gateway Centre
Oakville West (3471 Wyecroft Rd)
ABC Kiddie Kampus Old Forge, Part of the Kids & Company Family
Aa to Zz Palmyra, Part of the Kids & Company Family
ABC Kiddie Kampus Pittston, Part of the Kids & Company Family
Tyke Town St. Peters, Part of the Kids & Company Family
Surrey Professional Centre
Tyke Town Troy, Part of the Kids & Company Family
Sunshine Country Day, Part of the Kids & Company Family
Sunshine South, Part of the Kids & Company Family
ABC Kiddie Kampus East Mountain, Part of the Kids & Company Family
ABC Kiddie Kampus King's College, Part of the Kids & Company Family
Aa to Zz Queen Street, Part of the Kids & Company Family
Aa to Zz West York, Part of the Kids & Company Family