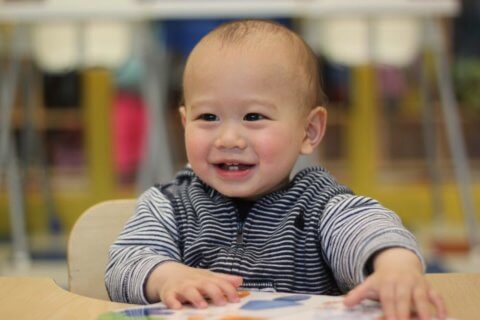 Infants
Understanding Infants
The Infant program at Kids & Company caters to children up to roughly 18 months. Infants learn a lot about the world around them through their senses, which is why exploration is critical to their development. We design our Infant classrooms so that they are safe environments filled with toys that make sounds, have textures,  and offer a whole range of sensory experiences. 
We know saying goodbye for the first time is difficult, which is why we work with your family to ensure that the transition from home to child care is a smooth one. Before your child's first day, we'll provide information on what to expect and create a transition schedule that is right for your child (i.e. nap schedules, diaper changing, use of formula or breast milk, etc.). 
Your Infant's Day
Starting on their first day, we ensure your infant continues to follow their own routine, and provide valuable one-on-one time via our low educator-to-child ratio. At the same time, our staff encourage infants to become comfortable and secure in a new group setting, independent of primary family members or caregivers. 
So much happens from 0-18 months,  so it's important to make sure each child's learning outcomes evolve with their individual pace of progression. Infant programming is designed to achieve developmental goals such as understanding sounds, physical autonomy (sitting or standing), self-feeding, labeling body parts, hand-eye coordination, and more. 
This is achieved through our Emergent curriculum that focuses on 4 key areas of educational development: Language, Finger Plays & Songs, Fine and Gross Motor, and Sensory & Science. Since every infant will vary in their developmental stage, our program is uniquely built around your infant's own established routine. Using that foundation, your child is encouraged to participate in activities on an individual basis. 
Nurturing caregivers support your child while they are exploring, encouraging them to experience everything the classroom has to offer. From finger painting to playing with blocks, listening to songs or engaging in story-time, infants are actively participating in the world around them. 
More structured activities include our proprietary programs including the fundamentals of sign language, French, and Yoga. Sign language helps to develop communication skills by assigning hand movements to needs and wants, which puts our children on the path towards independence. We also introduce  French to our children during their formative years in order to help with their continued learning as they grow older. For more physically able infants, we introduce the basics of Kidco Yoga to aid in cultivating a strong mind-body connection. 
Nutrition
The Kidco Kitchen provides our infants with a nutritious lunch and snacks each day*, including a bonus, 3rd snack around 5pm to tide children over until dinner time. Our menu and recipes are all created by a nutritionist, cooked by chefs, and approved by our children. Our weekly menus are ethnically diverse and available here, as are all of our recipes. Please know that nursing mothers are welcome to visit their child at any time in our infant classrooms. A comfortable, quiet place is provided for privacy.
*Available at most locations.
Communication with Parents
Our educators make an effort to get to know the children and families well so that experiences enhance and blend with home life. Every day you'll receive a digital daily report on how your child's day was through the Kindertales app. There you'll find basic details like nap time, diaper changes, what they ate and how much, what activities they participated in, as well as updates on milestones as well as developmental growth. You'll also be able to see your child via our in-classroom web cameras, installed at the majority of our locations. 
Want to Learn More?
To find out if Kids & Company is right for your infant, please fill out our Inquiry Form. Once submitted, someone from our Parent Customer care team will be in touch!

RETURN TO PROGRAMS