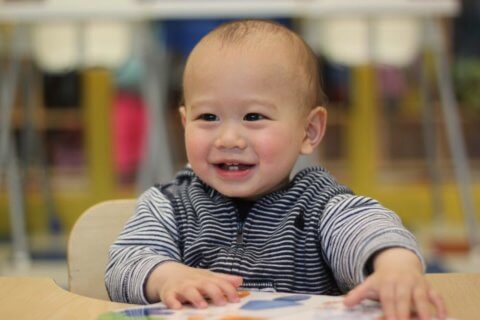 Infants
At Kids & Company, we work with your family to ensure that the transition is a smooth one. Before your child's first day, we'll provide information on what to expect. We'll create an integration schedule that is right for your child and every day that your child is in the classroom, you'll receive a daily report that lets you know how your child's day was. You'll also be able to see him or her on our in classroom web cameras. The Centre Director will even send you an email before the end of the day if your child has a special "wow" moment that day.
Your Infant's Day
Infants learn a lot about the world around them through their senses, which is why exploration is critical to their development. The infant classrooms at Kids & Company are safe environments that are full of toys that make sounds, have textures, may be placed in babies' mouths and offer a whole range of sensory experiences. Nurturing caregivers support your child while they are exploring, encouraging them to experience everything the classroom offers, whether it's through finger painting, playing with blocks, listening to songs or engaging in story-time.
Sign Language
Before an infant even starts to speak, we teach them to use sign language to help communicate. This helps improve the child's interaction with the world around them, which in turn puts them on the path to independence.
Yoga
An ancient practice to help balance body, mind and spirit. Kidco Yoga helps children relax physically and mentally with awareness on breathing, stretches, coordination and balance.
French
Designed for children to learn basic French and different ways of communicating. Children exposed to language during the formative years (birth to 6) have an easier time of continued learning at older ages.
Routines and Schedules
We're more than happy to help infants to follow their own established routines by giving them valuable one-on-one time. We help them become comfortable and secure in a new group setting, independent of primary family members. As infant development progresses, additional learning outcomes include such things as self-feeding, labeling body parts and hand/eye coordination.
Areas of Development
We focus on 4 key areas of educational development in our Infant program: Language, Finger Play & Songs, Motor, and Sensory & Science. Infants are given opportunities to be placed on their tummies, allowing them to stretch and move, gaining needed core strength, which becomes essential as they begin to crawl and pull themselves up. Textures are also introduced to infants for sensory exploration where connections are beginning to form.
Healthy, Yummy Food
All of our students, including our infants, have age-appropriate lunch and snacks provided by our Kidco Kitchen. The menus are created by a nutritionist, cooked by chefs and approved by kids. Read more about why our parents LOVE the Kidco Kitchen.

RETURN TO PROGRAMS