Centre Events
Each year, we have many fun Kids & Company Family events scheduled simultaneously in all of our centres.  In addition, each Kids & Co location has its own unique events. These could be visiting an exciting venue with our Kids & Co families and friends, a parenting workshop, family fun days or an in-centre drop-in program. Our Kids & Company events are a great opportunity for our families to socialize with one another and get to know our team! 
Upcoming Events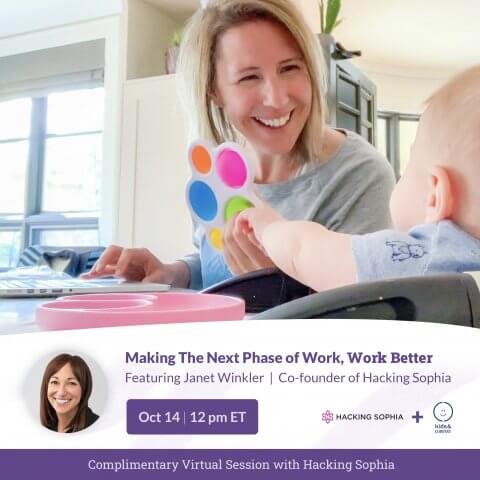 Making The Next Phase of Work, Work Better Webinar
We are pleased to partner with Hacking Sophia to deliver an immersive digital workshop experience that's focused on making the next phase of work, work better for you. Let's go from crushed to crushing it! 💪
𝐎𝐮𝐫 𝐜𝐨𝐦𝐩𝐥𝐢𝐦𝐞𝐧𝐭𝐚𝐫𝐲 𝐯𝐢𝐫𝐭𝐮𝐚𝐥 𝐬𝐞𝐬𝐬𝐢𝐨𝐧 𝐢𝐬 𝐭𝐚𝐤𝐢𝐧𝐠 𝐩𝐥𝐚𝐜𝐞 𝐨𝐧 𝐎𝐜𝐭 𝟏𝟒𝐭𝐡 𝐚𝐭 𝟏𝟐 𝐩𝐦 𝐄𝐓! This session will be facilitated by Hacking Sophia's co-founder, Janet Winkler.
You'll experience The Sophia Project program which is focused on:
✔️ Intentional subtraction
✔️ Getting often invisible obligations off your plate to increase mental and emotional capacity, and time
✔️ You'll leave with a sense of relief and clarity around how you'll spend your precious time going forward