To learn about the national child care funding in Canada, please click here.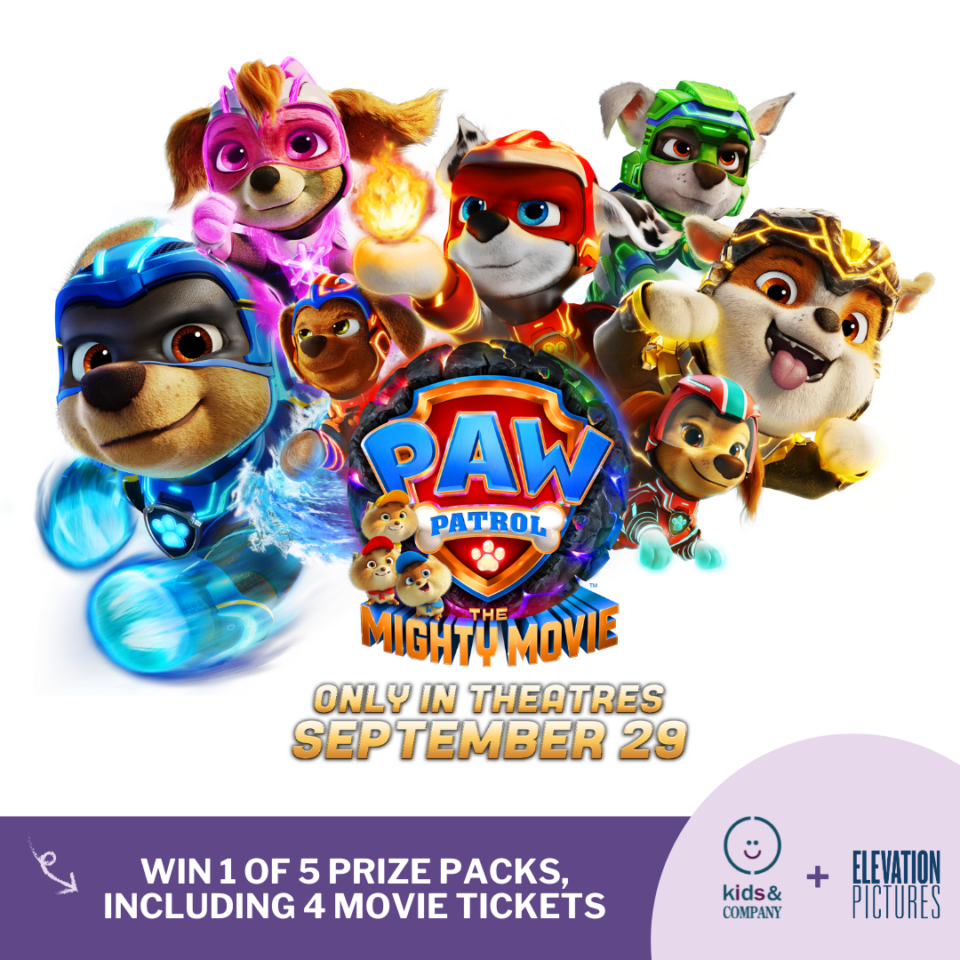 Paw Patrol The Mighty Movie Giveaway
To celebrate the September 29th release of PAW PATROL: THE MIGHTY MOVIE, Kids & Company has partnered with Elevation Pictures to offer our families and social audiences the chance to win 1 of 5 PAW-some Prize Packs!
Each Prize Pack will include:
4 tickets for you & your family to see the movie in Theatres

PAW Patrol: The Mighty Movie Marine HQ Toy 

PAW Patrol: The Mighty Movie Mini Figures

PAW Patrol: The Mighty Movie Plush Toy



HOW TO ENTER:
The contest is open to Canadian citizens ages 18 and older, who reside in Canada excluding residents in the Province of Quebec in Canada.
THE FINE PRINT: This giveaway is in no way sponsored or endorsed by Instagram. By entering, you are confirming you are 18+ years of age, you release Instagram of responsibility and agree to the Instagram terms of use. The winner must complete all steps indicated above under "How to Enter." Winners will be chosen from Instagram. The winner will be selected and notified via direct message on September 29th, 2023, with instructions on how to claim the prize. The movie pass offer will come in the form of a promocode and is available for redemption online at Cineplex.com and is redeemable for four tickets only. Offer valid for all performances of PAW PATROL: THE MIGHTY MOVIE only, including but not limited to 3D, UltraAVX®, D-BOX, Prime Seats and VIP admission (legal drinking age only), up to $61.04. Any cost beyond $61.04 is the purchaser's responsibility. If the cost of the ticket is less than $61.04, the balance will not be carried over to another transaction. SCENE® points are not issued on free admission tickets. Tickets for particular theatres/movies are subject to availability. Offer expires January 1, 2023 and may be revoked, terminated, cancelled, or modified at any time without notice. This offer cannot be combined with any other promotion, coupon or discount, and is not valid on past purchases, transferable to any other film, redeemable for cash or credit, or valid for re-sale. Limit of one (1) offer per transaction. ADDITIONAL RESTRICTIONS MAY APPLY. NO SUBSTITUTIONS. The prize(s) given to a winner will be chosen at random. Contest rules are subject to change without notice. The ARV for each Paw Patrol: The Mighty Movie Prize pack is approximately $247.00 CAD.

©2022 & TM Spin Master Ltd.
Richmond Hill - Corporate office (No child care services)
Larry Uteck (Southgate Dr)
Pine Village South End, by Kids & Company
Pine Village Brighton, by Kids & Company
Pine Village Brookline, by Kids & Company
Burlington Children's Centre
Brightstart Burnaby, by Kids & Company
Royal Oak Out of School Care
Pine Village Kendall Square, by Kids & Company
Pine Village Porter Square, by Kids & Company
Brightstart Coquitlam, by Kids & Company
Etobicoke (Bloor & Islington)
ABC Kiddie Kampus Exeter, by Kids & Company
Apple Hill Academy Freehold by Kids & Company
Apple Hill Academy Howell by Kids & Company
Pine Village JP Revere, by Kids & Company
Pine Village JP South Street, by Kids & Company
Tyke Town Lake St. Louis, by Kids & Company
ABC Lake St. Louis, by Kids & Company
Apple Hill Academy Manalapan by Kids & Company
Mississauga Gateway Centre
Pine Village Needham, by Kids & Company
Pine Village West Newton, by Kids & Company
Pine Village Newton Highlands, by Kids & Company
ABC O'Fallon, by Kids & Company
Oakville West (3471 Wyecroft Rd)
ABC Kiddie Kampus Old Forge, by Kids & Company
ABC Kiddie Kampus Pittston, by Kids & Company
Brightstart Port Coquitlam, by Kids & Company
ABC St. Charles, by Kids & Company
Tyke Town St. Peters, by Kids & Company
ABC St. Peters, by Kids & Company
Surrey Professional Centre
Brightstart Cloverdale, by Kids & Company
Tyke Town Troy, by Kids & Company
ABC Kiddie Kampus East Mountain, by Kids & Company
ABC Kiddie Kampus King's College, by Kids & Company
Richmond Hill - Corporate office (No child care services)
Larry Uteck (Southgate Dr)
Pine Village South End, by Kids & Company
Pine Village Brighton, by Kids & Company
Pine Village Brookline, by Kids & Company
Burlington Children's Centre
Brightstart Burnaby, by Kids & Company
Royal Oak Out of School Care
Pine Village Kendall Square, by Kids & Company
Pine Village Porter Square, by Kids & Company
Brightstart Coquitlam, by Kids & Company
Etobicoke (Bloor & Islington)
ABC Kiddie Kampus Exeter, by Kids & Company
Apple Hill Academy Freehold by Kids & Company
Apple Hill Academy Howell by Kids & Company
Pine Village JP Revere, by Kids & Company
Pine Village JP South Street, by Kids & Company
Tyke Town Lake St. Louis, by Kids & Company
ABC Lake St. Louis, by Kids & Company
Apple Hill Academy Manalapan by Kids & Company
Mississauga Gateway Centre
Pine Village Needham, by Kids & Company
Pine Village West Newton, by Kids & Company
Pine Village Newton Highlands, by Kids & Company
ABC O'Fallon, by Kids & Company
Oakville West (3471 Wyecroft Rd)
ABC Kiddie Kampus Old Forge, by Kids & Company
ABC Kiddie Kampus Pittston, by Kids & Company
Brightstart Port Coquitlam, by Kids & Company
ABC St. Charles, by Kids & Company
Tyke Town St. Peters, by Kids & Company
ABC St. Peters, by Kids & Company
Surrey Professional Centre
Brightstart Cloverdale, by Kids & Company
Tyke Town Troy, by Kids & Company
ABC Kiddie Kampus East Mountain, by Kids & Company
ABC Kiddie Kampus King's College, by Kids & Company