Back To Press Releases
Kids & Company celebrates new Gulf Canada Square centre opening July 18
CALGARY, ON (July 18, 2019) – Kids & Company cut the ribbon yesterday on an early learning and child care centre in the heart of downtown Calgary, Alberta, their 19th location in the city and surrounding area.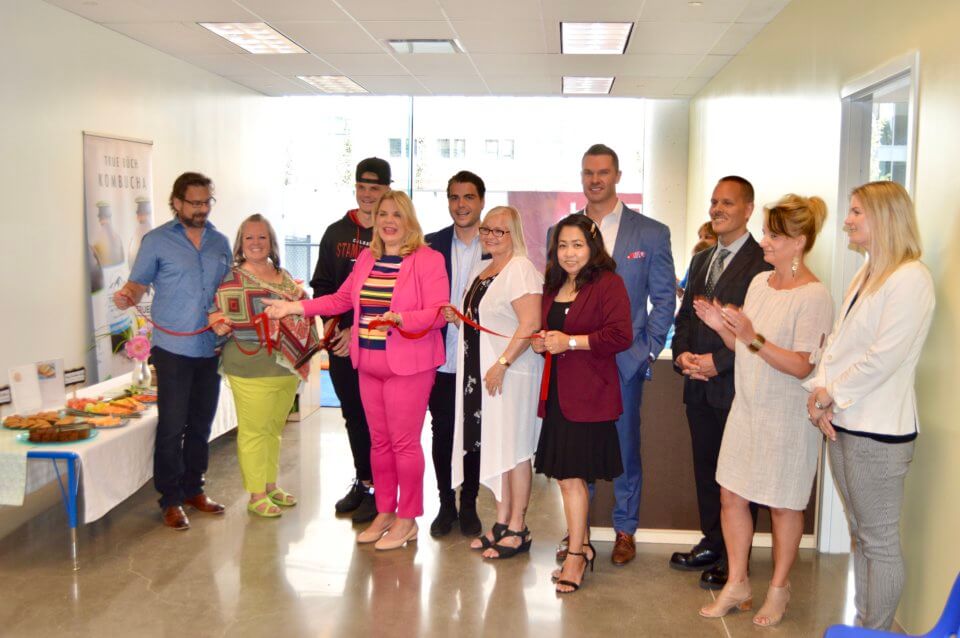 From left to right: Randy Nixon, Project Manager at Koralta Construction; Kim Richards, Area Director at Kids & Company; Fraser Sopik, #47 Calgary Stampeders; Victoria Sopik, co-founder and CEO of Kids & Company; Carter Sopik of Avison Young; Sue Purser, Chief Administrative Officer of Kids & company; Myrna Manzano, Director of Kids & Company Gulf Canada Square; Alexi Olcheski, Principal at Avison Young, Glen Wardale, Manager of Operations at GWL Realty Advisors; Laura Newcombe, Director of Property Management at GWL Realty Advisors; Reta Labiuk, Property Management at GWL Realty Advisors.
On target for their August 2019 welcoming of children and families, the Kids & Company centre will occupy a brand-new ground-floor unit on the eastern wing of the Gulf Canada Square building on 9th Avenue SW. The centre offers child care and early learning programs with a capacity for up to 150 children ranging from infants to school-age children. This spectacular space features large windows with natural life, and a unique and beautiful outdoor play area. This opening from Canada's leading corporate-sponsored child care provider is meant to serve parents who live and work in the downtown core and brings a sense of optimism to the area. "Our Gulf Canada Square centre stays true to our concept of creating progressive child care and early learning solutions in an accessible and convenient way to families who are already juggling so much on any given day," said Kids & Company CEO Victoria Sopik, who is a mother of eight, grandmother to six, and award-winning entrepreneur. "I know from experience the stress of raising young children – with features like Grab 'n' Go snacks for the end of the day, no late fees, secure webcams and complimentary parent workshops, we are always thinking of new ways to make the lives of our families easier."
This location will be offering the STREAM preschool program (science, technology, reading, engineering, arts, mathematics) preschool program in addition to the core proprietary programming available for infants, toddlers, preschoolers and school-age children. The STREAM program features an emphasis on STEM learning with a Montessori approach.
Their state-of-the-art approach to child care not only resonates with families, but has made Kids & Company the go-to partner for hundreds of companies that sponsor priority child care, family-friendly benefits and back-up child care visits to support their employees.
Kids & Company provides an innovative model of child care for newborns up until the age of 12. This includes guaranteed placement for families of corporate partners within six months of registration, as well as flexible, part-time and full-time care, and back-up care. There are multiple touch points of communication between parents and teachers, and proprietary educational programs such as Alpha-Mania (pre-literacy and reading), Mini Masters (artistic expression) and Munchkinetics (physical activity and movement).
Menus from the Kidco Kitchen are made fresh daily and planned by a nutritionist as part of a philosophy of building healthy bodies and minds. Diverse foods are used to expand choices and habits, and family-style dining encourages independence and fine motor skills.
The public opening celebration was attended by families, corporate partners, local business partners, and well-known faces from Calgary's strong parent community. Families interested in child care at the Kids & Company at Gulf Canada Square can find out more at www.kidsandcompany.com/gulf-canada-square.