Testimonials
From Our Parents
"Looking for a Daycare to care for our son was definitely a challenging and an emotional task. Naturally as a parent you want what is best for your child and the first time that they are going to be away from their Mom and Dad on a regular basis really amplifies one's concern – big time. Fortunately, we found the great folks at Kids & Company! Our experience has been great and the environment meets all our criteria for being safe, educational, caring and FUN! Activities are plentiful with regular adventures outside, there are lots of stimulating and educational activities and the staff really cares about the kids."
Steve & Jennifer, Ontario
"My boy Gabriel loves going to his toddler classroom. He would tell stories at home about what he did with Mel, Judy, and his toddler friends during the day. The staff is very caring. We particularly like that they constantly share details of Gabriel's development and interesting things he did in the centre by talking to us in person, writing on the daily report, and by posting up-to-date pictures around the classroom."
Zoe, Alberta
"My husband and I are thrilled with the care that my son receives during the two days he is at daycare. I would trust the staff at Kids & Company in any capacity. They are truly wonderful and caring people."
Danielle, British Columbia
"As a new mother I had extreme reservations about leaving my baby, then 10 months old, at daycare. I was impressed with my first visit to Kids & Company, particularly with the cameras. However, once I started to get to know the centre and the staff my mind was put to rest and my husband and I cannot remember the last time we used the cameras! The Site Director and all of our daughter's teachers are exemplary teachers and caregivers. She has thrived under their love and guidance. Every morning when I drop her off, I feel secure in knowing these talented and dedicated professionals are looking after my daughter, who is now 18 months old. Her past 8 months have been amazingly fun for her and a joy for us to see her thrive. I highly recommend her "school" to other families!"
Eryn, Ontario
"I have been thrilled with the care provided by the staff at Kids & Company. The Site Director is organized and friendly, always keeping us posted with any news and even taking the time to provide personal email updates about my child's day! The classroom teachers are amazing. They demonstrate a true love for teaching and working with children. They provide my daughter with activities to keep her growing mind stimulated: such as a variety of art activities, singing and gross motor play. They also treat my child with love and compassion knowing just when she needs that extra hug. My daughter is truly happy when she goes to "school" and I have been so happy with all she has learned and the development in her social skills. The classrooms are clean and organized each day I am provided with a detailed account of my daughter's day. I appreciate all the staff at Kids & Company and would recommend it highly to other parents."
Rebecca, Quebec
"Out of the 18 daycares we considered enrolling our daughter in, Kids & Company definitely came out on top. The location was recommended by a friend and we're been a fan from day one, almost five months ago! The caregivers are very accommodating, respecting my unique requests of "no face-kissing", or ensuring that my daughter gets two nap opportunities a day, and any other requests I may have. In five short months, my daughter has learned to walk, run, dance, sing, yell and speak a bit of Spanish…a lot of this is because of the time spent on various activities by the caregivers in her room. The webcams are another reason I would highly recommend Kids & Company to all parents. They give first-time parents peace of mind, and first-time grand-parents hours of joy to be able to see their grand-daughter anytime during the day. Also President Victoria Sopik, places a great emphasis on customer service and being attentive to the parents' concerns."
Jade, Nova Scotia
From Our Corporate Partners
"Kids & Company has been a pleasure to deal with and the flexibility that they offer in terms of day care arrangements differentiated them when I was doing my research on providers. The facility is always spotless, the meals and snacks are nutritious and the activities are age-appropriate and stimulating. Thank you for providing a terrific service right next door. It is very comforting to look out the windows in the lobby and see where your child is and know he is in very capable hands."
Susan Legget, Deloitte & Touche
"RBC Financial Group, as an Employer of Choice, offers employees a variety of programs, policies and recourses to help manage work/life responsibilities. Kids & Company's innovative short-term emergency back-up child care offering has been very well received by RBC employees who have used the service. Kudos to Kids & Company in responding to the needs of working parents."
Norma Tombari, RBC Financial Group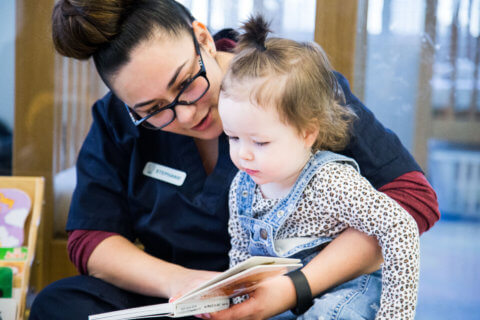 Get Started
You may unsubscribe at any time