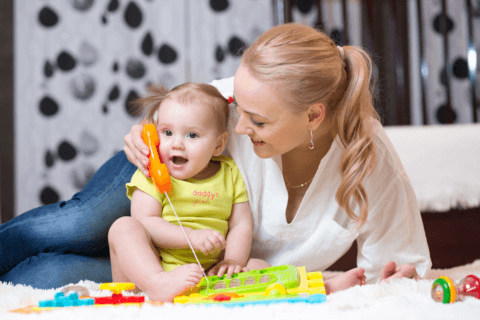 Corporate
Back-up Program
The back-up program assists working parents and guardians when there is a lapse or breakdown in their regular child care arrangements. This can occur when an unexpected emergency happens like a regular caregiver becomes ill or unexpectedly quits, during school breaks or when a usual child care centre is closed for breaks or inclement weather. The service can also be used when on maternity leave or transitioning back to work. If your child is mildly ill, it may also be possible to access one of our in-home partner services. Whatever the emergency or planned disruption happens to be, Kids & Company can accommodate and care for children infant to 12 years of age for centre-based care. All Kids & Co locations can serve children infant to 6 years of age, and many can serve children up to the age of 12 in the school age back-up rooms. For in-home child care or elder care, there is no age limit. The back-up program offers discounted back-up days for employees and/or paid-employer passes. Customized packages are also available and can be created in collaboration with our Client Services team. These packages can extend to in-home child care and/or elder care as a family-friendly benefit offering.
How to Reserve Kids & Company Back Up Care:
In order to access our back-up programs, you must be an employee of one of our corporate member partners. Reserving care is as easy as making a phone call or email to your preferred Kids & Company location or Head Office (1-866-MY-KIDCO). Back-up care in each location is on a first come, first serve basis, so we strongly suggest you reserve your back-up care at your chosen centre as soon as you realize care is needed. We understand last minute emergencies arise, and you may find you need care at the last minute. Kids & Company staff will work with you to find a last minute back-up care spot. We generally are able to do so at a parent's chosen location, but on occasion, may offer you care at another Kids & Company centre close-by. Not sure if your place of employment is a member? You can check our full list of corporate partners on the drop down list of corporations on our registration page, contact your HR director or contact Kids & Company at 1-866-MY-KIDCO.
For questions regarding Back Up Care availability on a specific date, please call your preferred Kids & Co location or head office at 1-866-MY-KIDCO.
For more information on Corporate Membership programs, please contact:
Linda Starr
Vice President, Sales and Marketing
lstarr@kidsandcompany.com
905-771-1153 x 1060
Sharon Shoolman
National Corporate Client Services Manager
sshoolman@kidsandcompany.com
905-771-1153 x 1030

RETURN TO CORPORATE SERVICES