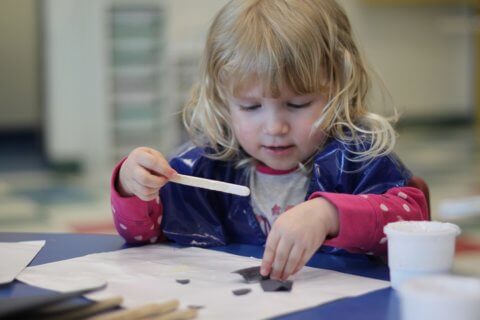 STREAM Preschool Program
STREAM Preschool Program
The STREAM Preschool program (science, technology, reading, engineering, arts and math) is available in select centres for students who demonstrate an interest in these areas and the ability to self-direct within a Montessori approach. The STREAM program features:
An emphasis on STEM learning (science, technology, engineering, math) through age-appropriate tools and experiences that provide unique learning and understanding of the world around us.
A Montessori approach including observations of the child, individual liberties and preparation of the environment to provide focused learning opportunities.
Elements from Kids & Company standard curriculum including Mini Masters (artistry), Alpha-Mania (early literacy) and Munchkinetics programming (movement).
Considering and Applying for the STREAM Program
The STREAM Preschool program is not a fit for every child and Kids & Company offers many high-quality child care and early learning options at centres across Canada with flexible schedules and programs to meet every family's needs. Preschool children suited for this particular program are those that show a special interest in STEM areas such as numbers, how things work and construction, and those who demonstrate self-direction and the ability to voice ideas. We currently run STREAM programs in the following centres:
Part-time options are Monday to Friday mornings (9:00 a.m. to noon) or Monday to Friday afternoons (1:00 p.m. to 4:00 p.m.)
Full-time options may be available according to our standard operating hours
If you believe your child would thrive in this program, we invite you to start the application process by contacting the Director at your preferred location.
Preschooler Learning and Emergent Curriculum
All two- and three-year-olds examine everything they see, hear, feel and observe in an attempt to make sense of the world around them. In our preschool programs, Kids & Company teachers interact, observe and interpret the interests of preschool students to encourage further exploration and dig deeper into understanding. This is emergent or cue-based curriculum, an approach to learning that allows children to make connections and follow what piques their interest.
Core Programming in Kids & Company Preschool
We use emergent curriculum techniques within the structure of our proprietary programs. Kids & Company offers a range of activities to stimulate a preschooler's love of learning. Children are involved in music, artistry and creation (Mini Masters), scientific observation and experimentation, pre-literacy (Alpha-Mania), French, pretend play, yoga, and physical movement (Munchkinetics). All of these activities help them explore new things about themselves, one another and their environment. We also focus on nutrition, teaching children where food comes from and the basic knowledge of food groups, vitamins and minerals and support this with our healthy, tasty food from the Kidco Kitchen.
Socialization
Early preschoolers are also learning how to manage their strong impulses and emotions in ways that will help them successfully negotiate their world. Two year olds are developing their independence and many opportunities are provided for them to do this. Kids & Company teachers work with our families to introduce, encourage and practice new social skills including sharing, negotiation, self-assertion, managing frustrations, recognizing the need for moments of quiet time, and empathy.
Areas of Development
At Kids & Company, our preschool program offers foundational skills in a progressive, fun environment. The preschool program focuses on structure and developing autonomy, with an emphasis on cognitive learning; including number and letter recognition introduced through puzzles, games and our pre-literacy reading and writing program Alpha-Mania. Our preschool program provides a foundation for developing greater independence, problem solving, integrating new concepts into their world view and incorporates elements to promote sharing and mutual respect. Teachers help students to understand routines, which simultaneously allows them to feel competent and confident in their current preschool classrooms and prepares them for kindergarten.
Healthy, Yummy Food
All of our students have lunch and snacks provided by our Kidco Kitchen. The menus are created by a nutritionist, cooked by chefs and approved by kids. Meals are served family style, with students and teachers sitting and eating at the table together. Children serve themselves in order to empower them to make their own food choices, model their food choices after others at the table (encouraging them to try new foods) and create pride and ownership of the food they are eating. Read more about our menus and why our parents LOVE the Kidco Kitchen.
A Peek Inside the Program

RETURN TO PROGRAMS