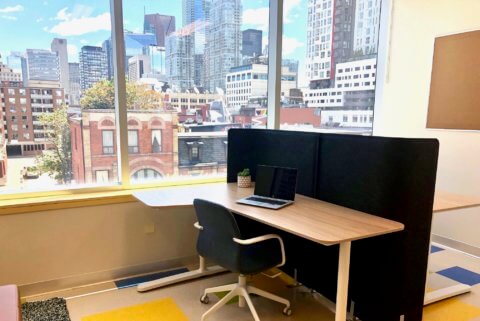 About Us

Introducing co-working spaces for select centres
Kids & Company is introducing complimentary co-working spaces in select cities to even better serve those who work and parent. Pairing high-quality child care and early learning with refreshing work and collaboration spaces achieves true work-life balance. We are open in Chicago (West Loop), Ottawa (Westboro) and Toronto (Queen West)! Our next phases are Calgary, Vancouver and Edmonton but we are always interested to hear about the needs and input of families!
Please contact kidcowork@kidsandcompany.com with location suggestions, to pre-register in your city or with any questions about co-working spaces.
Why Kidco Work?
As a leading provider of corporate-sponsored child care and early learning in Canada and the US, we offer high-quality programs, facilities and options for today's families.
Our new co-working spaces are located directly inside our centres for convenience and feature desks, high-speed wireless and printers.
The community at Kidco Work is made up of like-minded entrepreneurs, contractors and employees who prioritize both work and family.
High-quality printers available at each location.
Flexible schedules (1 to 5 days a week) and at least 11 hours of operation a day mean co- workers have options to suit their needs. We provide care for infants, toddlers and preschoolers (0 to 6 years).
Designated areas for nursing.
All of this is available as a complimentary resource to any parent who has a child enrolled within a Kids & Company centre on a regular basis.
How do people sign up?
Parents will contact kidcowork@kidsandcompany.com and then fill in the Kidco Work form tethered to their child's profile on Smart Simple to confirm their space. Parents participating in Kidco Work require a police clearance check including vulnerable sector search and all must agree to our policy and consent form before co-working. Each centre offers between 4 to 10 flex desks.
FAQ
How separate are the co-working spaces and the child care spaces? Even though co-working spaces are available within our centres, they are in separate areas from the classrooms for quiet and security.
How many desks are available and are you assigned a desk with your space? There will be between 4 to 10 spaces available at each centre. They function as flex desks, meaning you have the ability to use a different desk each day.
What services are included? In addition to access to a flex desk on a daily basis, Kidco Work provides reliable wifi, access to printers (paper provided by individual) and flexible schedules that follow our child care operating hours. Nursing mothers will have access to quiet sleep areas in infant rooms complete with rocking chairs. Private phone/video booths will be added for confidential meetings in some locations.
Can a co-working space be booked by a non-parent? Kidco Work is designed to serve the needs of Kids & Company families who are balancing personal and work life. At this time spaces are open to those who have children enrolled in the centre on a regular basis (full or part-time).
Does a parent need their child attending at the same centre where their co-working space is? Since not all Kids & Company centres can offer Kidco Work spaces, parents may be co-working at a different centre than where their child attends.
What centres offer Kidco Work? Chicago West Loop, Ottawa Westboro and Toronto Queen West
What measures are in place to protect the security of the children onsite? Only registered Kids & Company parents are permitted to use the co-working space. The application process involves verification of their status as a current parent, a police background check, a vulnerable sector check, and agreement with our policies and Code of Conduct. Children are not permitted in the co-working space. Co-workers may not bring guests into the Kidco Work space for meetings. Co-worker parents will receive a comprehensive orientation of the space.
What will the spaces look like? The spaces are simple and straightforward, providing the necessities for working on-site in a convenient location close to our high-quality child care and early learning.
Kidco Work in Action