Appetizers That Are Almost Too Cute to Eat
It's already mid-November, which means the holidays are right around the corner. December can be very stressful for some people between shopping, party planning, and all the other day-to-day activities of busy Moms and Dads!
If you're the party planner within your friends and family like I am, you know that menu planning is always a big responsibility to take on. People have high expectations on the tastiness of the food but at the same time desire healthy alternatives.
One of my favourite things to do is to turn regular familiar foods into small bite party appetizers that everyone enjoys! My go-to apps are mini pizzas, sliders, and chicken tenders because they are all so easy to make and inexpensive if you're on a budget, plus your kiddies will love the tiny sizes and have so much fun helping you with the preparation.
For the pizzas, buy your favourite brand of tortillas, tomato sauce, and cheese. Use small circular cookie cutters to cut mini crusts out of the tortillas and simply layer with a spoonful of tomato sauce and a sprinkle of cheese. Bake in the oven at 350F for 8-12 mins (until crust is crisp and cheese is melted). Get creative by cutting up your favourite toppings into tiny pieces and sprinkle on top!
For healthy sliders, all you need is 1 lb of ground chicken, 1 cup of your favourite bread crumbs (or if you're adventurous like me, ground your favourite bread in a food processor), ½ cup of milk, 3 tablespoons of grated onion and 1/2 teaspoon of salt, pepper to taste. Mix all the ingredients together and roll into patties (about 2 tablespoons per patty). Place patties on a tray lined with parchment paper and refrigerate for at least an hour to firm up. Heat the oven to 375 F and bake for 5 minutes and then flip the burgers over for another 5 minutes until they are browned on the outside or until the centre reaches an internal temperature of 165F. Place on mini patties on the buns and let your guests be creative topping their burgers with their favourite fix-ins!
To make healthy chicken tenders, the most important step is to bake and not to fry the chicken. Simply cut chicken breast into thin pieces. Dip into flour, then in egg wash (mix 1 tablespoon of water to 1 egg), and finally into bread crumbs. Place on baking tray and bake in a 400F oven for 15-30 minutes (depending on the size of your pieces – make sure they reach an internal temperature of 165F).  Again, be adventurous with assortment of yummy dipping sauces chipotle mayo, sweet honey mustard, smoky BBQ or my kiddie's favourite buttermilk ranch.
When in doubt, you can never go wrong with a yummy and fresh veggie platter! Display all your favourite vegetables on a platter and pair it up with our Kidco Kitchen Happy Hummus!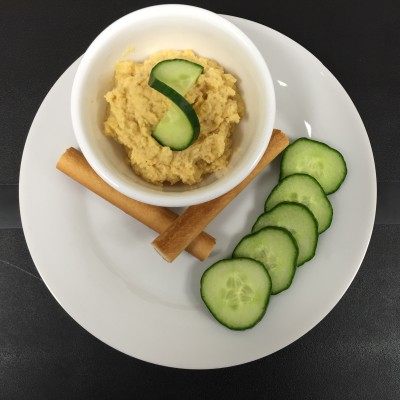 Whatever you decide to prepare for your family and friends over the holiday season remember that what is most important is being together.  I do hope these helpful appetizer ideas are a big hit at your holiday party with the young and old alike!
Don't forget to follow us on Twitter @kidcochildcare and on Instagram @cheflisaruscica!
Cheers,
Chef Lisa Ruscica
Chief Food Ambassador
Posted on: Tuesday November 15th, 2016
Posted by: Lisa Ruscica