Bewitched by Barley
Staying inside by the fire with a bowl of steaming hot stew with loved ones watching the snow fall is the perfect winter scene. This winter add some barley to the mix! With its hardy flavour and filling fiber, barley will be your new favourite grain for the winter time. In addition to the warm and full feeling you get when consuming this soft and chewy grain, it is a wonderful source of niacin, a type of Vitamin B that is wonderful for cardiovascular health. This wonder grain will keep you immune to the winter chill with its healthy qualities and is a great addition to a fireside family dinner!
Here at Kids & Company we have incorporated barley into our menu this chilly season because we know how important it is to be filled with warm and hardy foods in order to brave the cold! Some of our dishes include a baked butternut barley and a beef and barley stew which are sure to please anyone after a long day outside, so try our recipes at home or one of these delicious ideas and you'll understand why we're crazy for barley!
Click here to see the recipe for our  Beef & Barley Stew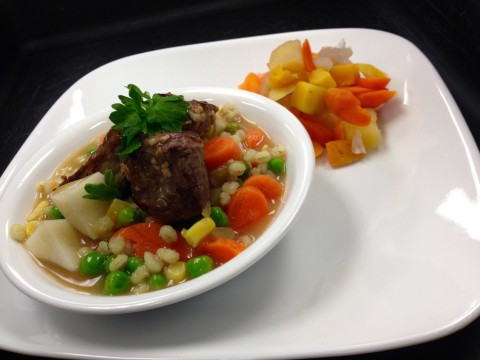 Kidco Kitchen Bean & Barley Stew 
*Makes 6 portions
What you need:
-       2 Cup Beans
-       1 Tbsp Veggie Oil
-       1 Cup Diced Onion
-       1 Cup Diced Tomato
-       3 Cups Veggie Stock
-       ¾ Cup Pearled Barley
-       2 Tbsp Thyme
-       ½ Cup Diced Potato
-       ½ Cup Diced Carrot
-       ½ Cup Diced Celery
-       2 Tbsp Minced Garlic
What to do:
Make sure to wash your hands before you begin.
In a large skillet heat veggie oil over medium heat.  Sauté onion and garlic until translucent. Add the broth, barley, beans, thyme, tomatoes, carrots, celery, potatoes and beef; bring to a boil. Reduce heat, cover and simmer for 1 hour.
From our kitchen to yours…… Enjoy!
Don't forget to follow us on Twitter @kidcochildcare and on Instagram @cheflisaruscica!
Cheers,
Chef Lisa Ruscica
Chief Food Ambassador
Posted on: Wednesday March 9th, 2016
Posted by: Lisa Ruscica