mini mioche!
I was so pleased when my daughter-in-law introduced me to mini mioche. She loves the fact that their clothing is organic, eco-friendly and made in Canada! In conjunction with mini mioche we are able to offer an amazing opportunity for our Kids & Company families. Please read below for a quick overview of this cool Canadian company!
Alyssa Kerbel founded mini mioche in 2008 after giving birth to her first child and realizing how difficult it was to find great baby basics and layering pieces for infants – especially in neutral colours and without all the patterns or graphics splashed across the outfits.  Noticing a niche in the marketplace that needed to be filled, she immediately set out to design and produce the best line of organic, Canadian-made baby basics.  With more than ten years' experience in the fashion industry, Alyssa knows great fabrics, fits and good clean styling.
Since the lines' launch five years ago, the company has grown steadily to include sizing up to 6 years, seasonal fashion collections, 2 downtown Toronto brick & mortar stores and an ever expanding online presence.  In spite of the company's rapid expansion, every piece of mini mioche clothing continues to be designed and made entirely in Toronto, Canada.  Even the company's exclusive super soft organic cotton fabrics are woven locally.
Mini mioche feels strongly that there should be a great quality, well-priced locally made clothing option for infants and kids given the prevalence of mass-market, off-shore produced 'fast fashion' currently available.  In addition to having a strong ethical motivation, the company is also motivated by being as green as possible (and teaching our little ones to be green too)!
Here are just a few ways mini mioche aims to leave as little carbon footprint as possible:
All printed materials, from hang tags to catalogs, are printed on 100% recycled materials.
Water based or discharge prints are used for all graphics.
Re-usable and low-impact dyes are used for all fabrics.
The company does not ship customers' product in plastic bags, as the vast majority of apparel manufacturers do – they skip the extra packaging whenever possible.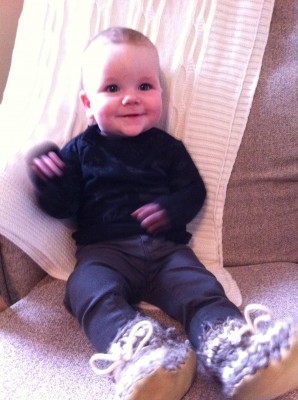 Posted on: Wednesday November 27th, 2013
Posted by: Victoria Sopik