Roasted Butternut Squash Soup
Fall is rich with bold, blissful flavours that are as whimsical as the cornucopia of coloured leaves that adorn the changing weather. One of the few food items that truly encapsulates the rich, bodacious and yet sweet and supple flavours of fall is the butternut squash. The other component to fall is the feeling of warmth as you are bundled in your favourite scarf, encompassed in soup. Once together, you have the perfect combination of flavours that foster the perfect fall experience in one cup.  What better way to walk into winter than to enjoy the last flavours of the fall.
Here at Kids & Company we've taken this knowledge of fall and made our Roasted Butternut Squash Soup into a singular gulp of fall at your child's grasp! With each slurp they'll not only enjoy the complimentary flavours between their food and their environment, but they will also be getting tremendous vitamins and minerals from the squash, as well as delightful warmth from the hot broth they'll enjoy!
What better way to start the holiday season by warming up with a bowl of roasted butternut squash soup?  Click here or check out our recipe below for this fulfilling winter dish so that the whole family can enjoy this tasty treat together!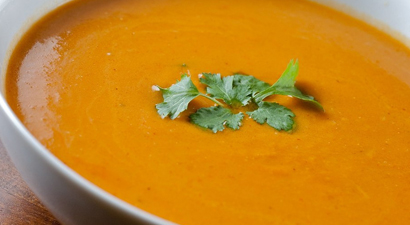 Roasted Butternut Squash Soup
*Serves 6
What you need:
-       3 Cup Peeled and Diced Butternut Squash
-       1 Tbsp Olive Oil
-       ½ Cup Peeled and Diced Apples
-       ½ Cup Diced Onion
-       1 tsp Sage
-       3 Cup Veggie Stock
What to do:
Be sure to wash your hands before you begin.
Preheat oven to 400F.
Place squash on parchment lined baking sheet. Brush with olive oil and roast until tender, about 30-40 minutes. Once cooked remove from skin.
Meanwhile, peel, core and cut apple into a medium sized dice. Cook apple, onion and sage in a large saucepan on medium heat until softened (about 7 minutes). Add veggie broth and bring to a boil.
Reduce heat and add roasted squash for about 15 minutes. Remove pan from heat to cool. Puree the soup until smooth.
Don't forget to follow us on twitter @kidcochildcare and on instagram @cheflisaruscica!
Cheers,
Chef Lisa Ruscica
Chief Food Ambassador
Posted on: Wednesday December 2nd, 2015
Posted by: Lisa Ruscica