Taco Time!
Everything tastes better wrapped up in a taco!  Whatever your preference is for protein there are plenty of ways to make a delicious taco because it's all about the toppings.  Not only do tacos taste great, they are also a fun meal to prepare with family and friends!
Tacos are one of my favourite foods to prepare because they are meal in themselves.  Most tacos contain something from all four major food groups which make them a complete and healthy meal.  I love packing lots of veggies onto my tacos by making fresh Pico de Gallo sauce! This is a fresh salsa made with tomatoes, onion, cilantro, hot peppers and lime juice.  Another delicious and easy way to step up your taco game is by making your own guacamole. This lovely green taco topping is made with avocados, onion, tomato, garlic and lime juice… so tasty!  Don't forget to add grated cheese… it's a game changer!
There are tons of options when it comes to protein in your tacos.  I love grilled fish tacos as a fresh, light summer meal and some of the best types of fish to use in tacos are mild, white fishes.  Another delicious way to make tacos is with pulled chicken or beef.  You can prepare pulled chicken or beef on the stovetop or in a crockpot with other veggies like red peppers, onions and seasonings.  Come home at the end of the day with dinner practically ready to be served!  Some awesome vegetarian options include spicy black bean tacos and grilled sweet potato tacos.
Can you tell I like tacos yet?!! Probably my favourite thing about this fabulous food is how easy it is to customize! With all of the fun toppings and sauces, everyone can make their taco just how they like it.  In my family, some of us love spicy food and add hot peppers and spicy salsa to our tacos while my sons on the other hand prefer the milder toppings.  These type of meals allow your kids to make their own creations and will help them develop different flavour palates and discover new foods they like! Here at Kids & Company, whether we are serving our Kidco Kitchen tacos, burritos or enchiladas, the kiddies love their Mexican food!!!
Be sure to try making tacos for your next family dinner or serve them at a dinner party! Healthy, versatile, and absolutely delicious!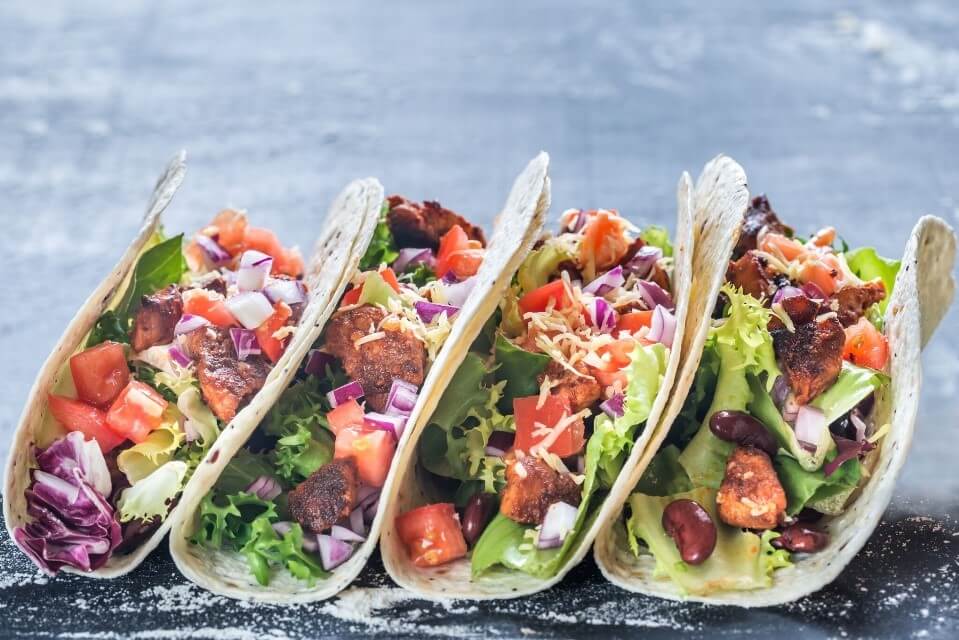 Don't forget to follow us on Twitter @kidcochildcare and on Instagram @cheflisaruscica!
Cheers,
Chef Lisa Ruscica
Chief Food Ambassador
Posted on: Thursday July 13th, 2017
Posted by: Lisa Ruscica