The One Pot Wonder!
The days are getting cooler and snow is starting to fall! You might start to notice yourself craving a big, warm, hearty meal. Braised dishes are some of my favourite meals to make! Braised dishes are comforting, delicious and easy to prepare!
Braising foods are a very healthy way of cooking! The long, slow cooking process means you can make foods tasty and flavourful without using large amounts of fat. Allowing your food to simmer for a long period of time allows all of the wonderful flavours to develop and incorporate together. Braising foods creates a lot of flavour because it combines both moist and dry cooking methods together. Dry cooking methods do not use water or stock whereas moist cooking methods do! Most of the time braised food recipes require you to first brown the ingredients in a small amount of fat, then add some sort of liquid such as a stock and let the ingredients simmer for a long period of time.
The great thing about a lot of braised dishes is that they are easy to prepare! You simply add the ingredients to a pot, let them brown, add the stock, and wait! Many of my favourite braised dishes are one pot wonders! This means that they are a complete meal in just one pot: containing protein, vegetables and grains! Meals like these mean easy prep and better yet, easy cleanup! Believe it or not, it can get easier! If you have a crock pot you can simply throw all your ingredients into the pot and let them cook for the whole day and have a warm, delicious meal ready when you get home.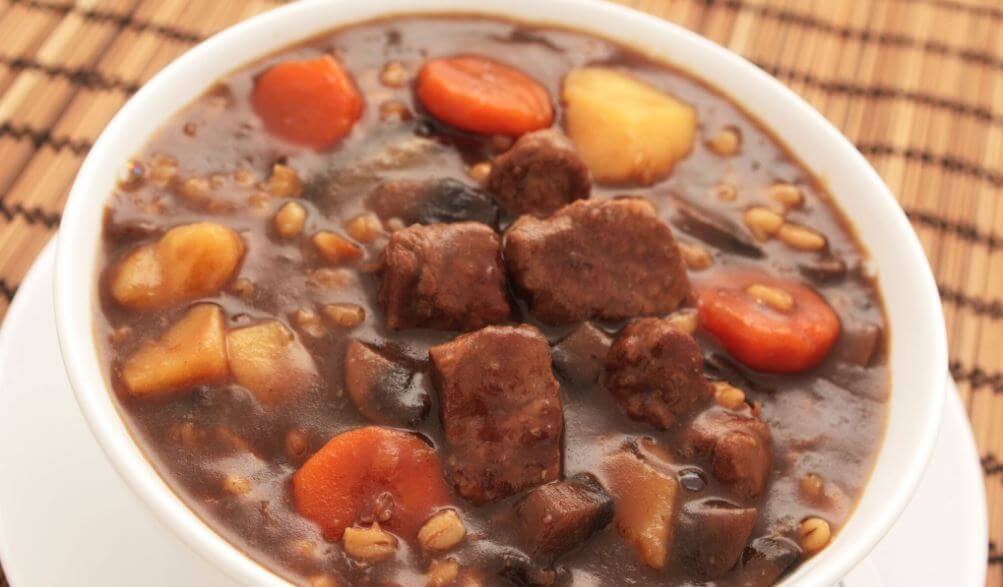 One of my favourite braised dishes featured on the Kidco Kitchen winter menu is Beef and Barley Stew. This recipe is a fantastic one pot wonder containing beef as a protein source, barley as a grain and tomato, carrot and celery as vegetable servings! The barley creates a thick texture while the beef stock gives it a deep, rich flavour. How could you resist a warm bowl of this on a cold winter day?
Get braising for a new winter favourite! We would love to see some of your favourite braised dishes, so remember to share them with me on Instagram!
From our kitchen to yours…… Enjoy!
Don't forget to follow us on Twitter @kidcochildcare and on Instagram @cheflisaruscica!
Cheers,
Chef Lisa Ruscica
Chief Food Ambassador
Posted on: Wednesday December 6th, 2017
Posted by: Lisa Ruscica