North Van Esplanade
Our Centre
Are you exploring early education and child care options for your child in the North Vancouver area? Here's why you should consider Kids & Company: At Kids & Company, we use an emergent curriculum and learn through play philosophy. We're very proud of our proprietary programs! They include Alpha-Mania (pre-literacy and early reading), Mini Masters (art), and Munchkinetics (movement) and are designed to engage our children in a learning process that encourages self-expression, creativity, coordination and most importantly, fun! We often hear children singing the Alpha-Mania theme song before the teacher even begins the lessons, a clear indication of their enthusiasm about learning through play. You'll find sign language in our baby and toddler rooms, and all our children participate in music, French, science & exploration and creative play throughout our day. Does your family have an untraditional or rotating work schedule? Not to worry, we'll work with you to accommodate your needs! More than just daycare, we offer flexible child care and superior early education to help families achieve a greater work-life balance.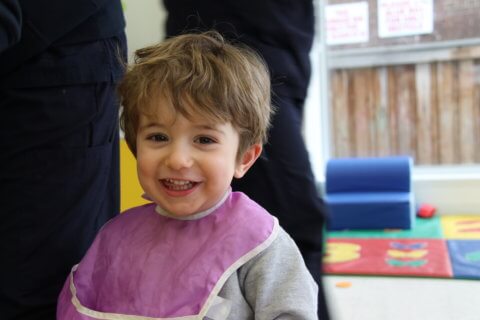 Our Centre Information
Address
North Van Esplanade
221 W Esplanade, Unit 70
North Vancouver, British Columbia, V7M 3J3
Contact Information
604-770-4380
northvanesplanade@kidsandcompany.com
Centre Hours
Monday to Friday, 7:00 am - 6:00 pm
Meet The Director
My name is Chris Baron and I am the Director at the Kids & Company Esplanade centre. I have been working with Kids & Company since 2016 and have over 14 years of experience in the child care field. I am a recipient of a ECA from VCC, and a BA from SFU. To tell you more about myself, in my spare time I enjoy hiking, swimming, canoeing, and playing video games with my partner of 11 years. My favorite thing about our Esplanade centre is its' central location to public transit, and Downtown Vancouver. We are unique because we are located next to the historic shipyards which provided ships for Canada for over 100 years. The view is also amazing, we are located next to the ocean, surrounded by trees, and right below the mountains. Now that you know a bit more about me, it would be my pleasure to meet you and give you a tour of our Esplanade centre. Come see for yourself how Kids & Company can provide quality care and education for your child!