Our Experience on BT & Tips for Encouraging Adventurous Eating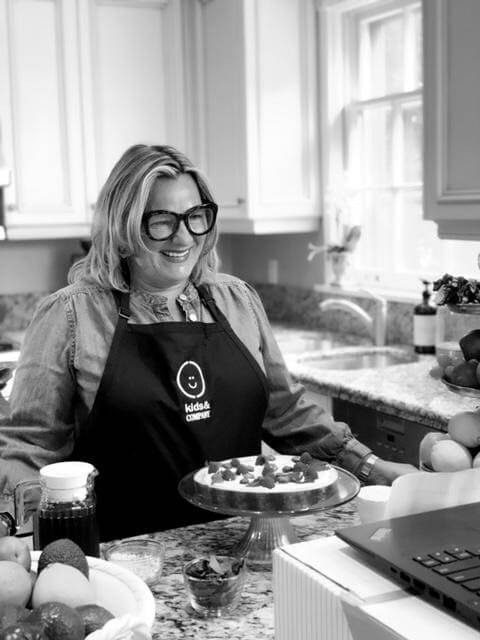 2021 has been a year of many firsts, including the opportunity for Kids & Company to be featured on Breakfast Television! Let me tell you, show business is a whole different world. It's a lot of blood, sweat, and tears – but also a lot of fun with no shortage of chances to learn, grow and be creative. Today I'd like to share my thoughts behind the scenes and let you know what really goes into making tv magic!
Firstly, the real magic is how much work goes into making a five-minute segment! As the Chief Food Ambassador, I was asked for my take on how to get kids to try new foods this summer and to present a fun summer recipe in relation to the topic. There is planning, recipe testing, purchasing, preparing, practicing … and that's just the beginning. During the pandemic, all the guests interact with the BT hosts via zoom, which means setting up your set in your own kitchen, with the lights and prompts and no help from the TV crew at all! We had to prepare a "station prep" list notifying the producers how we wanted them to lay out their set as well. I will say that as a first experience, the layout on both our ends looked colourful and vibrant, just as we had planned!
The most nerve-wracking part was not interacting with the hosts until just prior to the segment. You can only prepare so much, but can still be thrown off when you talk to them for the first time. Thankfully, they were extremely easy to talk to (as I am assuming tv hosts usually are) and they were able to direct the conversation and keep it flowing! Again, I will never forget how much work it took to get to this point! I was extremely thankful that I was able to represent what we so proudly do at Kids & Company every day!
In the segment, I got to speak on my top tips for getting children to try new foods. Something we hear all the time at the Kidco Kitchen goes something like this "I'm told my child eats all his veggies at daycare, but when he gets home it's bread, pasta or nothing. What is your trick?" While I can't say there is any single magic trick, there are a few things you can do to get your child to try new foods. Below, I've dug a little deeper into the points I discussed on BT!
Get children involved in the kitchen
Children love helping, so get them involved at a young age with child-safe activities in the kitchen such as stirring and measuring! It may get messy and take longer, but it is totally worth it! Children typically have a strong sense of pride of ownership and will be more likely to try food they have helped prepare.
Try family-style dining
One of the reasons we are so successful at Kids & Company with getting our children to try new foods is our family-style dining approach. In our centres, the children all sit together around a table, eating the same foods (when allergies and dietary restrictions permit) and serve themselves. This works for two reasons. In allowing the children to choose their own portions, they gain a sense of autonomy over their food decisions. The second reason it works is that the children see their friends eating the same food and are encouraged to mirror their actions. Try sitting together as a family a few times a week and eat the same food as a family!
Don't give up
According to a study, it can take 5-15 exposures to get a child to like a new food. Start by offering small amounts of new food and don't pressure your little one to eat the entire thing!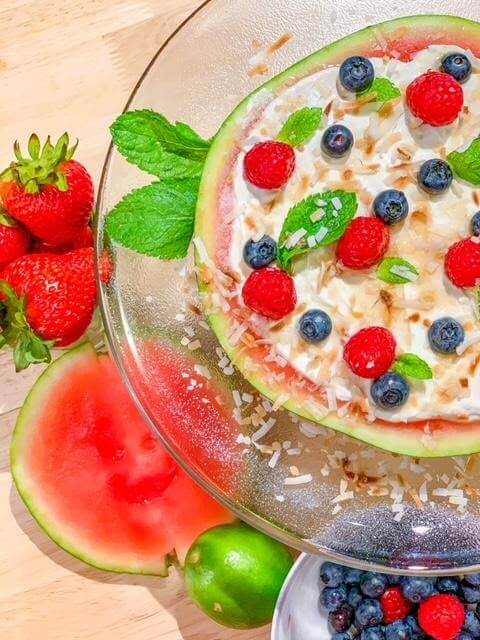 Don't disguise foods
You might think it's a good idea to hide or disguise food to get your children to eat something, but disguising food is actually how you create a picky eater. Our Watermelon Party Pizza recipe is a perfect example of a recipe like this — all ingredients are clearly visible for the child.
Be your child's role model
Parents are the most important role models for their children. They will do what you do, and eat what you eat!
Don't push too hard or stress
If you have a toddler, you likely know that they often like to push back when asked to do things. This is normal — they're trying to understand what their boundaries are and how much they can push back. The best way to deal with this is to offer them food and allow them to choose how much of it they eat. Don't put too much stress or pressure on yourself or your child, and just keep trying without timelines or expectations – we will all get there eventually!
I encourage you to continue having fun cooking and eating with your family. To watch our segment, click here!
Cheers,
Chef Lisa Ruscica
Chief Food Ambassador
Posted on: Friday July 9th, 2021
Posted by: Lisa Ruscica