Birthday Fun at Sky Zone!
Turning three is a really big deal, so we had to be sure the party was an equally big deal. After all, at the age of three you know exactly what you want! Mac and his dad had been to Sky Zone on a Sunday morning in the middle of the winter and he came home absolutely raving about it. He "jumped so high!" and "played basketball!" so we were pretty sure this was the spot for his big day. He insisted on having a trampoline party and a Ninja Turtle cake, and he talked about it every day the day was finally here.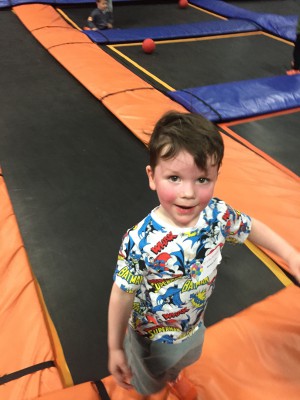 The process of booking the party was easy. It was just a quick call to give them a few details. I typically throw my own parties which involves home made décor, cake, food, games, etc. It's a TON of work, so it was such a relief to just book the party and be done. Even though everything was taken care of, I did feel like I should be doing something get ready for the party. Pinterest guilt, I wonder?
A few days before the party, we confirmed the number of jumpers, our start time, etc. As parents of preschoolers know, timing the party correctly is pretty crucial if you want happy campers rather than tired, cranky kids. Sky Zone suggested that we start the party a bit earlier than the trampoline park opened to the public. What a genius idea! All of the three year olds and baby siblings would essentially have the place to themselves. Much less worry about getting lost or bumping into others.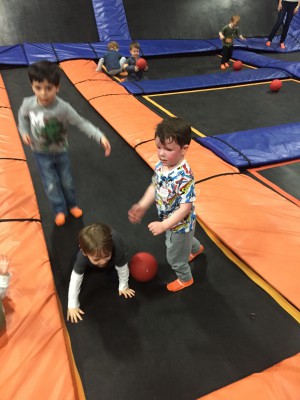 When we arrived, they had a group check in area all ready for us and a locker for all of our things. The manager let me know that there was an aerobics class going on in the main trampoline area and gave us the option of moving to one of the courts since it wasn't opened yet. Excellent idea! Our jumpers were contained in two little areas that were side by side, though frankly, they could have been anywhere as long as they could run, jump, throw balls and have fun.
The kids had an hour of jump time, which was more than enough for the little ones. Happily, Mac decided he was done with jumping and he was thirsty just in time for drinks, snacks and cake. Although all of the food is supplied by Sky Zone, you do have the option of bringing in your own cake. I, of course made cupcakes - with ninja turtles on top!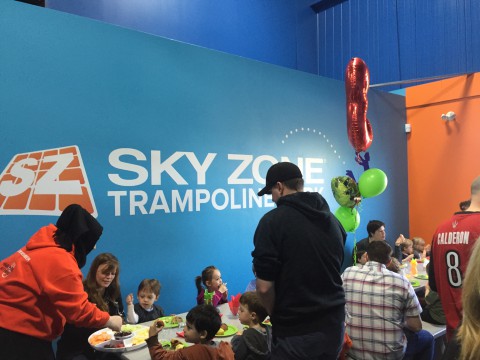 We piled into our spacious private party room, sang happy birthday and started snacking. We chose to have the continental platter and a fruit platter as a 9am party is a bit early for pizza (the standard food option). There was juice and water (and the option to have pop) and the kids scarfed down snacks and cupcakes. We had 45 minutes in the room which was just enough time for parents to organize their families, snack, hydrate and get ready to head home.
Out of my son's three years of birthday parties, this was by far the easiest -  we basically just had to show up! The kids and parents were happy and the staff at Sky Zone  were very helpful and all so nice. We're definitely keeping this one in our notes for the next birthday. And some of us moms are hoping to test out a Skyrobics class very soon!
Posted on: Thursday April 21st, 2016
Posted by: Kids & Company