Bite Sized Holiday Baking
It's the holiday season which means time with your family and loved ones, parties, celebrations and of course sweet holiday treats.  All of these yummy sweets are sadly not the best thing for you, but in the moment the gooey warmth of a cinnamon spiced or peppermint treat is just what you need to lift your spirits in the cold dampness of a winter's eve. In order to keep you healthy and let you enjoy the treats you so deserve, why not try making bite sized versions of your favourite holiday treats!
We love this recipe for Chocolate Pomegranate Ginger Bark! All you need for this delicious delight is the following:
- 10 oz. bittersweet chocolate
- 1 cup fresh pomegranate seeds
- 1½ tbsp minced candied ginger
- 1/4 tsp. fine sea salt
[caption id="attachment_2064" align="aligncenter" width="480"]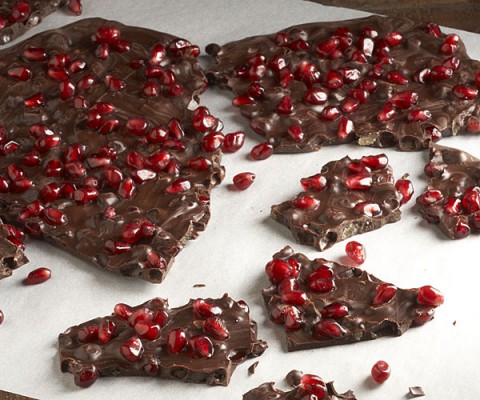 by Melissa Denchak from Fine Cooking
Issue 119[/caption]
Dark chocolate is one of the best sources of antioxidants of all foods, protects your skin against sun damage, lowers blood pressure, and has been found to even improve brain function! While you're salivating over the nutrient loaded chocolate in this bark, you'll also be getting a low fat boost of vitamins C and K, as well as potassium from the pomegranate seeds!  To make this bountiful bark, first slightly melt the chocolate, put it into a bowl, and stir in half of the pomegranate seeds, ginger, and salt. Spread the chocolate mix into a baking sheet and put the remaining ingredients on top of the mix. Refrigerate it until it hardens or for about 30 minutes. Then just break up that bark and serve for a delicious and nutritious holiday treat!
Overeating is your main enemy during the holidays, so try serving  bite sized treats at your own party, or bring them over to a family or friends place!  This way, you and your family can have your cake and eat bite sized pieces of it too!
Don't forget to follow us on twitter @kidcochildcare and on instagram @cheflisaruscica!
Cheers,
Chef Lisa Ruscica
Chief Food Ambassador
Posted on: Wednesday December 9th, 2015
Posted by: Lisa Ruscica