Books Highlighting Diversity, Inclusion and Kindness
"Our hope is simple. That children will learn from a young age that everyone, regardless of their ability, gender or race is accepted and loved just as they are." This is Nancy Corocan and Jayne Nagy (sisters) goal for their 'We Love Joy' series of books, inspired initially by loss and grief.
Kids & Company looks to share books that incorporate our Kidco Values; Kindness, Innovation, Diversity, Courageousness and Optimism. 'We Love Joy' books do just that. They bring awareness to diversity, inclusion, and kindness and we are thrilled to have had the opportunity to learn more about the books' origins.
The women behind "We Love Joy" Books:
Jayne, the author, is a mother of four children and six grandchildren. She has always had a special gift for lyrics and rhythms, and has a background in children's literature, child development, and working with families whose children had special needs. This created an affinity for children with disabilities and challenges. Jayne lost her husband of 37 years in 2020, and through that grief, she found joy in writing children's books with purpose and meaning. 
Nancy is a mother of two and three grandchildren. Her professional life has been in serving others in the Hospitality Industry. Together with her husband John, they started Ste. Anne's Country Inn, and today they operate Whisperings Springs Wilderness Retreat. In August of 2020, Nancy's granddaughter, Ayla, suffered a traumatic brain injury during birth. Ayla's family was told she would never walk, talk or connect with them. They recognized that due to her condition she may face a life of exclusion. Through this experience, Nancy recognized the lack of support and community for families with children with disabilities and is determined to help people through their journey.
Their publishing company, We Love Joy, has released several children's books that cover a variety of topics that help to shape them into caring and compassionate individuals: 
Inspired by Nancy's granddaughter, Ayla, "I'm who I'm Meant to Be" discusses inclusivity and acceptance of others, just the way they are. Join Ayla and puppy Coco on an adventure at Whispering Spring Wilderness Retreat where they interact with other children with challenges. This book does a great job of explaining children with different abilities and how we can love, learn, accept and include them.
This book addresses what to do if you are bullied, why a bully is a bully, and how we can be the change we want to see. Follow Nolan and Nora as they educate children on what to do if they encounter a bully; help the children to understand why some kids have a need to bully others, and inspire children to speak up and share their feelings.
Being Kind is My Style is a delightful story of Bailey and a family friend as they demonstrate consideration, kindness, thoughtfulness and compassion to children, animals, the environment and the elderly. Bailey is being the change she wants to see because that's who she wants to be!
There is a 5th book in production, "Spread Some Happiness Around," which will be a story showing how people can bring joy and happiness to a town. Other titles of current and future books are: "Close the Door", "You Can Be a Hero Too," "Turn Your Frown Upside Down," and many more to follow!
Jayne, Nancy and their team hope that by exposing important issues to children through a medium they can understand, it will offer an opportunity for questions, discussion and self awareness. Their continued mission is to inspire the hearts and minds of the young so that they can be the best they can be. 
To learn more about We Love Joy or to purchase the above books, please visit their website here. Find them on instagram here: @welovejoy.books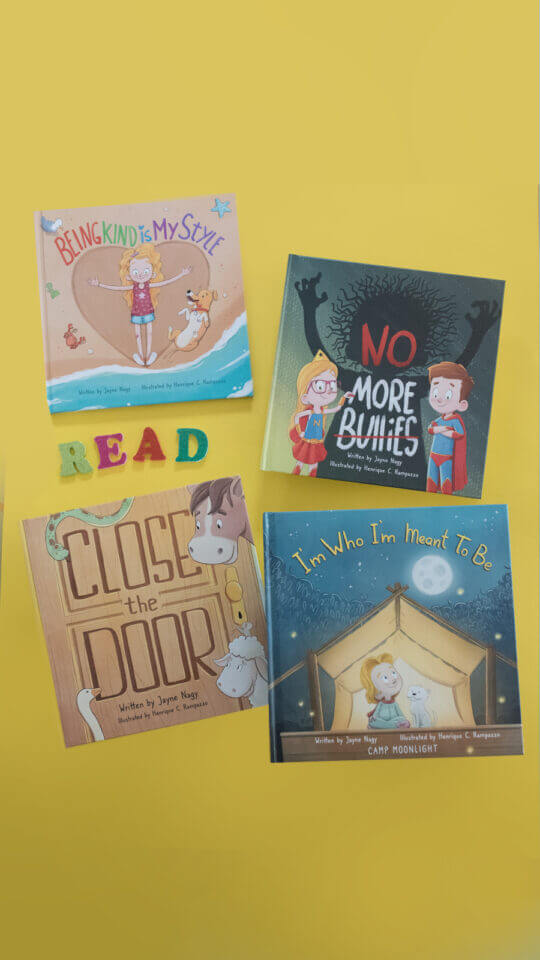 Posted on: Wednesday September 6th, 2023
Posted by: Kids & Company