Meet the Parents: When Two Elite Athletes Have Children
With close to 90 child care and early learning centres across Canada and the US, Kids & Company is partnered with a lot of parents and we are proud to be part of 'The Village' that it takes to raise children. Even though each child, parent and family is so unique, there are a number of universal aspects of being a parent that we want to share and celebrate by telling our families' stories.
For this Meet the Parents post, we are pleased to profile one of Canada's most accomplished couples in Canadian sports – Sami Jo Small and Billy Bridges.
Sami Jo grew up on the outdoor hockey rinks of Winnipeg and honed a love of the game in the boys minor hockey system. A natural athlete with focus and determination, she played an array of sports and excelled in track and field and hockey. She received a scholarship to throw discus and javelin at Stanford University in California and also played on the Stanford Men's club hockey team while earning a degree in mechanical engineering. Sami Jo's dreams of representing Canada at the Olympics came true in 1998 when she traveled to Nagano – it was an exciting time for women's hockey, rising in popularity and gaining support. She has since won five World Championships (twice named Championship MVP), been a three time Olympian, and been a part of two Olympic Gold Medal teams. Sami Jo currently works as a professional speaker, owns a hockey school and also plays for the elite Toronto Furies in a league she helped to create – the Canadian Women's Hockey League.
Billy Bridges is a renowned Canadian athlete with a long list of accolades and championships. A four time Paralympian in sledge hockey (twice with All-Star status) and gold medal winner in 2006 and bronze in 2014, Billy is also a three-time world champion and has twice been named Championship MVP. He holds the record for being the youngest player ever to be selected to Canada's National Sledge Hockey Team at only 14 years old and is known for his one-handed 80 MPH shot. He is also accomplished in Wheelchair Tennis and Basketball on the world stage. Billy is originally from PEI and was born with Spina Bifida that affects the spinal cord and can limit mobility. He loved and excelled in sports, and was introduced to sledge hockey around 12, playing daily with his dad and brother. Now his power, leadership and passion on and off the ice have also made him an icon in the sport and a driving force in its accessibility and popularity.
The couple first met in 2006 in Torino when both the National Women's Team and National Sledge Team were honoured at the ring ceremony for their gold medals. They crossed paths again the following year at the IIHF World Women's Championship when the sledge team was doing a demonstration in between periods of the final. Both passionate about sports, Sami Jo invited Billy to help at a Right to Play event and the friendship evolved to dating (mostly scheduled around the Stanley Cup playoff games that Sami Jo was reluctant to miss). Their relationship was built on a deep understanding of the commitment, sacrifices and passion demanded of athletes at their level, and they found ways to support each other in and out of sport. They play together, discuss strategy and talk about what it means to be a teammate.
After marrying in 2011, Sami Jo and Billy grew their family. First, a furry friends appropriately named Sochi and BackUp joined their home. Then along came their daughter, Kensi, who is now 18 months.
Sami Jo describes the experience of becoming a parent: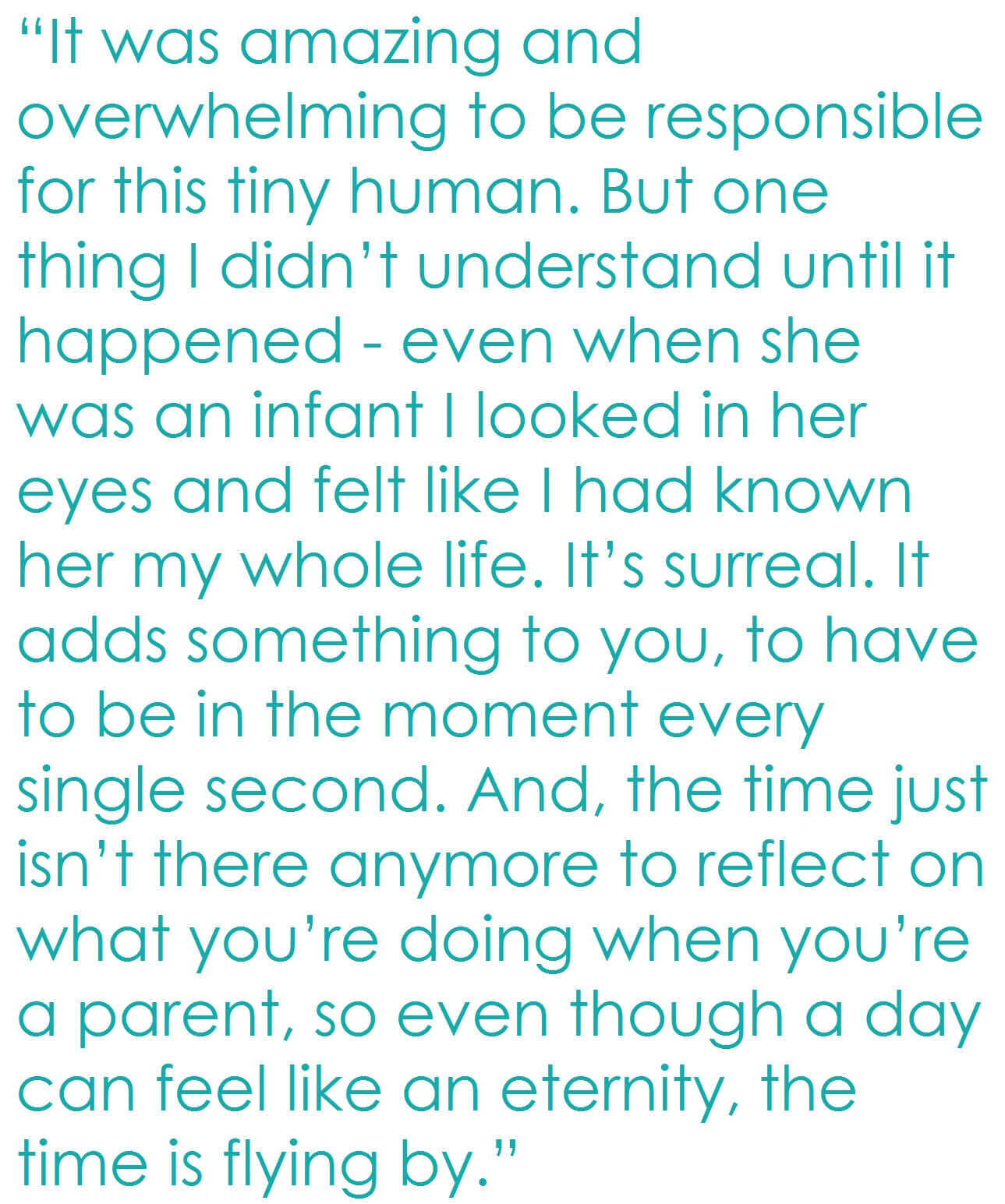 She describes Kensi as an unfussy kid, very bright and personable. Kensi enjoys meeting new people and does so with a firm handshake or high-five and a 'nice to meet you.' Being raised by two renowned hockey players, one of her first words was 'hockey.' Sami Jo says they feel pretty lucky so far: "She's not one for meltdowns. She recently had a meltdown because the salt shaker ran out and we realized in the chaos that it's pretty unusual for her to be like that. She's even-keel and adaptable and even likes vegetables. But, just like her mom and dad, she does need her sleep or she's a cranky-pants."
Billy and Sami Jo have a unique challenge as parents: as two well-recognized, accomplished athletes, Kensi already faces an expectation from those around her to love hockey just like her mom and dad. Sami Jo hopes to curb this by trying to do the same thing that her parents and in-laws did for the two of them.
Growing up, Sami Jo and her brother were exposed to many sports, artistic endeavours and hobbies. Around age 10, they chose the areas they wanted to focus in and then were fully supported. "My parents were very encouraging of my love of hockey – coaching and fundraising and team organization and so on. They would advocate for me to play with the boys because there weren't girls teams back then. I realize now it was a lot for them; sometimes I think they probably felt like a taxi service for all our practices and games."
Billy's parents moved to Guelph from PEI when he was young to be close to specialized medical support at children's hospitals. As he developed into a young athlete, his parents also supported his endeavours and worked to open up opportunities. When they discovered sledge hockey, his dad and brother played with him daily and organized a league of able-bodied and disabled people to join – it was only a few short years later when he was selected for the Canadian National Team at 14.
"We want to pass along that same support," says Sami Jo. "Not just of the things we would choose for Kensi, but for the choices she will make and the things she is pulled towards. So while she is young, we just want to show her a lot of different sports and music and art and cultural activities. She needs to find her own passions, and that might not be hockey. In fact, the expectations on her in hockey might pull her away from it, and that is okay."
Sami Jo and Billy need help like any busy parents but also deal with the added pressure of Olympic training and serving as spokespeople for their sports. They have full-time commitments on top of being full-time parents with Kensi, and that is a challenging balance. They live in Mississauga and both travel regularly. Neither of their families are overly close by, so although they get a lot of support for multi-day trips, they sometimes need help with Kensi for just a day.
Kids & Company was suggested to them because of its flexible schedules and excellent programs. They toured one of the nearby centres with no idea what to expect from a daycare, and were impressed. "The experience has been very positive and Kensi seems to love it. Sometimes she'll be upset to leave when we go pick her up. Notably, the centre is accommodating to our schedules – Kenzi attends twice a week to allow Billy to focus on his pursuits and me to focus on my work as a speaker. In addition to that, they help us out in ways I didn't know a child care centre ever would….when Billy was in Korea for a month, we had Kenzi attend three days a week for three weeks to get through without me needing to take time off work."
Their daughter does well at Kids & Company. She is preparing to transition into a toddler room but for now is one of the oldest in her room. Sami Jo says she likes to take charge and direct the other little ones around. "At home, she'll show us some new sign language she's learned there or by singing a song we never taught her. We love that exposure for her to other kids, new things and the kinds of development teachers who have education and experience in early learning can provide."
Kids & Company has a mission to innovate the lives of working families with high-quality, flexible care, progressive early learning programs, and a sense of community. A huge thank you to Sami Jo and Billy for being part of that community and sharing their story!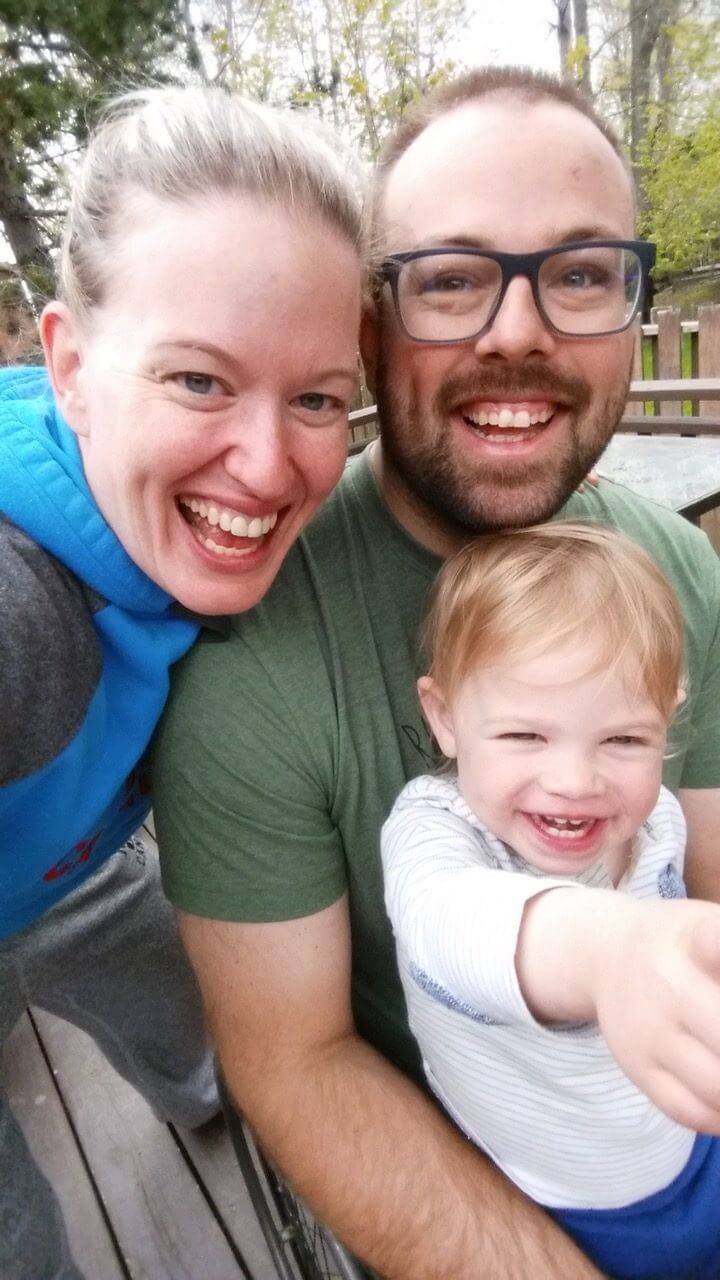 By: Melissa Sawatzky
Melissa lives in Calgary and is the Community Marketing Manager for Kids & Company in Alberta and BC. Her vision of what she would be like as a mom was shattered years ago when she discovered nothing ever goes as planned for parents, but laughter and community sees you through. You can reach her at msawatzky@kidsandcompany.com.
Posted on: Thursday May 18th, 2017
Posted by: Melissa Sawatzky