Owen's Second Birthday Party!
Being a mother of eight, I've seen and organized many birthday parties over the years. I stopped doing parties for my kids once they turned 12, so you can imagine, I've experienced a LOT of parties. I'm lucky enough now to be able to stand on the side lines and enjoy my grandkids parties without having to be too involved. Mac and Owen have had a few Kids & Company parties, but their mom had the opportunity to try a different party spot in Toronto this time around. Please read below about her experience there:
--------------------------------------------
We celebrated Owen's second birthday a few weeks early this year. Being born on Christmas eve means not many people are around very close to your birthday. We've had a few Kids & Company parties that have been awesome, but decided that for our highly active almost two year old we should give something else a try this year.
We hosted Owen's party at Kidville in Toronto. We actually took Mac to music lessons here when he was a baby, which he loved. The party was easy to organize, as in, I really didn't have to do anything except pick a theme and a few other things and let them know how many children were attending. Everything else was taken care of.
When we arrived, we gathered in one of the party rooms which had two tables of activities and a few party hosts enthusiastically waiting for everyone to arrive and initiating activities and dancing.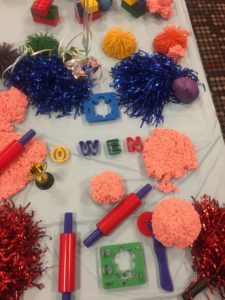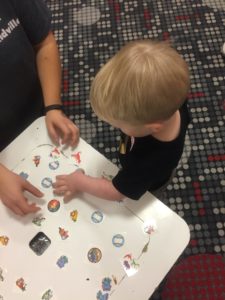 Of course because we picked the sports themed party for our sports fanatic, there were whistles on the table for each child as well. Fun for them, a bit noisy for us :). Once everyone was there and the kids had a few minutes to do some activities, the Rockin' Railroad band performed. A few of the kids including Owen were shocked at the performance, and sat there in amazement that there was a whole band in front of them! Mac on the other hand with a few of his buddies were up dancing and rocking out. After a few songs, Owen was definitely into it and was shaking the shakers to the beat and dancing around.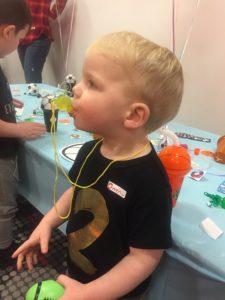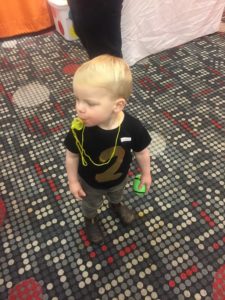 Now for the best part of the day (for him at least), the Big Muscle Gym time. This good sized gymnastics room was filled with balls, basketball nets, obstacle courses, gymnastics bars, a trampoline, and to top it off, a zip-line! Our fearless, active boy was VERY excited to try the zip-line and actually went a few times (guided by a Kidville party person).There was lots of other great gym equipment set up as obstacle courses for the kids to run around and climb on. Everyone was happy and having a great time during their gym time.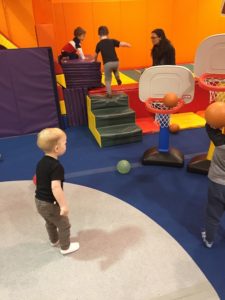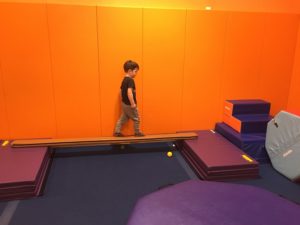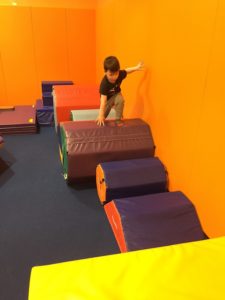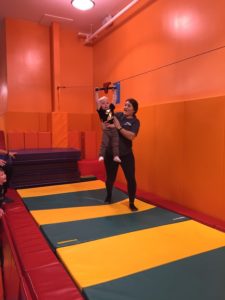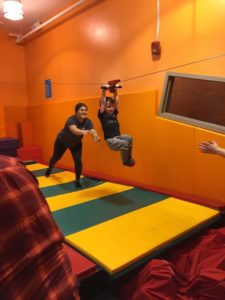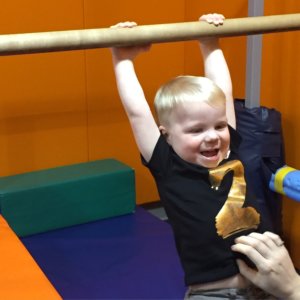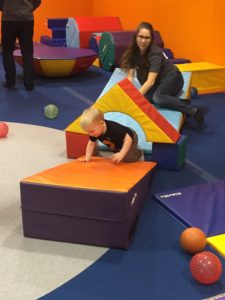 Once gym time was over, we regrouped in the party room which had been changed over to pizza and drinks, followed by cake. We brought some extra food ourselves for adults and kids in case they wanted some fruit and veg options to add to their pizza. And the cupcakes were great!! Owen loved sitting there having Happy Birthday sung to him. One of his favourite parts for sure!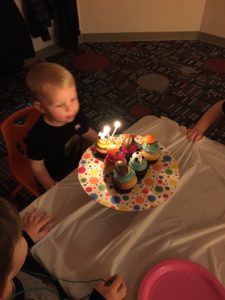 We were all very impressed at how seamless and easy the party was. No one was bored, we were constantly moving and changing activities and it was minimal work for me, which as a busy mom is very important! Right down to the loot bags and presents. The loot bags were lined up along the table near the exit with everyone's cup they decorated tucked into a bag so parents didn't have to go searching for the cups. And all of the gifts were in a big clear bag that we could just throw in the car without the usual drama of wanting to rip everything open and play right there. We would definitely host here again - we all had a blast!
Posted on: Tuesday December 20th, 2016
Posted by: Victoria Sopik