Stock Up on Staples!
A great way to stay organized in the kitchen during hectic times is to stock up on staple foods, cook in advance, and portion it out for future use. This may sound like an daunting chore, but I'm here to simplify the process and tell you exactly what you need to buy and what you need to do!
What are staple foods you ask? Staple foods differ from household to household, depending on your family's preferences. It is a food that is eaten regularly, providing a large portion of one's daily energy needs and nutrient intake.
There are dozens of staple foods important to have on hand so that you can prepare a quick meal, but some of the most important ones are frozen vegetables, potatoes, rice, beans, and diced tomatoes.
Frozen vegetables are a great staple as they keep much longer than fresh vegetables and can be used as a side dish or can be thrown into soups, stews, stir fries and casseroles. A bonus of using frozen veggies is that they are flash frozen at the height of the growing season so are optimal in taste, nutrition and are usually cheaper than fresh versions.
The most versatile staple food one can have in their pantry is the potato. There are at least a dozen ways to cook potatoes by themselves, not counting the hundreds of dishes in which they are used. A simple dish you can make is mashed potatoes, and to make your life easier, you don't even need to peel them! Potato skins are full of nutrients and are better left unpeeled. It also gives your mashed potatoes the rustic look.
Rice is another great item to keep in your pantry. It's one of the most inexpensive food items you can purchase at the grocery store, and when you go whole-grain, you're getting the benefit of vitamins, minerals, healthy fats, protein, and fibre. Rice is easy to make, and can be served as a side dish or thrown into a main meal as well!
Another inexpensive staple to have in your home are beans. They are healthy, versatile and affordable. Beans are high in antioxidants, fibre, protein, B vitamins, iron, magnesium, potassium, copper and zinc. Their shelf life, in dried form, is very long and can sit in your pantry until you're in the mood to use them!
Diced tomatoes are another must-have staple for anyone's kitchen. They can be used as a base to any tomato sauce and can be used in soups, stews and chilies. There are an endless types of pasta available for purchase, including spaghetti, angel hair, linguine, fettuccine and egg noodles that pair beautifully with tomato sauce. They can all be turned into a quick, delicious meal when combined with the right sauce or protein, they have a long shelf life and your kiddies all love pasta!
One staple that should be in everyone's pantry is flour! Flour is the base to many dishes, whether it is for cookies, cakes, breads or even sauce thickeners. If you're purchasing whole-wheat flour, be sure to refrigerate it, as there are oils that go rancid after a few weeks.
Try using some of these staple foods in our Kidco Kitchen Shepherd's Pie! This dish uses veggies and potatoes, and the best part is, it tastes just as good when portioned out into containers and frozen for later use, making those busy nights easier at dinnertime!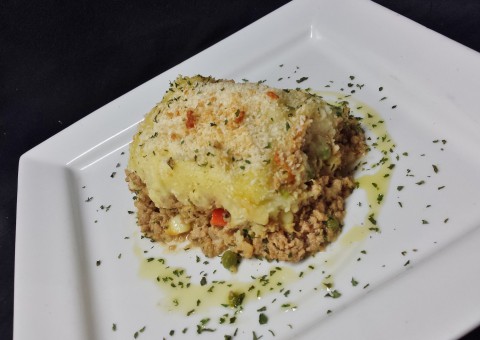 Kidco Kitchen Turkey Shepherd's Pie
*Makes 6 portions
What you need:
- 4 lb Peeled and Chopped Potato
- 6 Tbsp Butter
- 1 Cup Milk
- 1 Tbsp Veggie Oil
- ¼ Cup Diced Onion
- 2 lbs Ground Turkey
- ½ Tsp Minced Garlic
- ¼ Cup Diced Carrot
- ¼ Cup Diced Celery
- ¼ Cup Corn
- ¼ Cup Peas
What to do:
Make sure to wash your hands before you begin.
Preheat oven to 350F.
Cover potatoes with water in a large pot and bring to a boil. Cook until tender, about 10 minutes. Drain and add butter and milk while mashing. Set aside.
Heat oil in pan; add onions and garlic and turkey, cook until well browned. Set aside. Pour off excess fat and add carrots, celery, corn and peas. Mix gently.
Spread turkey mixture on the bottom of a baking dish. Spread a layer of mashed potatoes on top.
Bake for 30-45 minutes or until golden brown.
Don't forget to follow us on Twitter @kidcochildcare and on Instagram @cheflisaruscica!
Cheers,
Chef Lisa Ruscica
Chief Food Ambassador
Posted on: Wednesday December 21st, 2016
Posted by: Lisa Ruscica