Parenting Hacks: Taking Babies on Airplanes
Summer and vacations are supposed to be exciting and relaxing, right? Descriptions of flying with your baby or toddler rarely use those words! If you plan to take to the air with your little ones, here are some of our hard-learned tips for traveling with kids.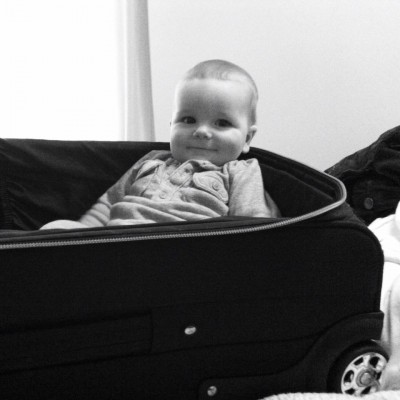 Pack a change of clothes for everyone in the family. My husband still tells the story of one of our sons vomiting on him in very long line at Customs one trip. By chance, we had purchased a new polo shirt for him at an airport shop, so he didn't have to wear a yucky shirt for the rest of the journey. From that day on, we carried an outfit for each family member. (On the plus side, we did get escorted up to an agent VERY quickly. No one likes vomit).
Create a medical and first aid kit of every medicine your baby might need. Put liquid medicine in smaller bottles as needed. Sometimes the exact over the counter medication can be difficult to find. Always carry any prescriptions, even if it's only used occasionally. Fevers or earaches at 30,000 feet are best medicated as soon as possible.
Bring lots and lots of snacks. More than you think you'll ever need. I once entertained my 9 month old twins and an 11 month old a row ahead of us for an entire flight with a gallon size bag of Cheerios. The air flight attendants didn't even mind that cereal was EVERYWHERE because the babies were all so quiet and happy.
As a bonus – eating, drinking or sucking keeps ears clear during take-off and landing. Plan to breast feed, use a pacifier or have a bottle or drink for both ascent and descent. Little moving jaws helps release ear pressure.
If ear trouble occurs, try this airline attendant trick.  Warm a wet paper towels in a cup and hold over their ear. The steam released from the paper towel relieves ear pressure. You can ask the flight attendant to warm a wet paper towel in the airplane galley microwave. Then, make sure all extra water is poured out so it doesn't burn your child. Test the cup on your own ear or arm to make sure it's not too hot.
If you've purchased an airplane seat for your baby, bring an FAA-approved car seat for your child. This is the safest way for babies to fly. If you didn't buy a ticket for your baby, you might get lucky and be able to use the car seat if there are empty seats on board. If you can't, you should be able to gate-check it at the airplane door.
If you're crossing time zones and are worried about upsetting your baby's schedule, take steps to fight jet lag. Try shifting your baby's sleep schedule over a few days leading up to your departure and exposing him to sunlight once you reach your destination. Read our blogs on shifting sleep forward and backward in our time change blogs to help minimize sleep disruptions.
What are you best travel with kids hacks?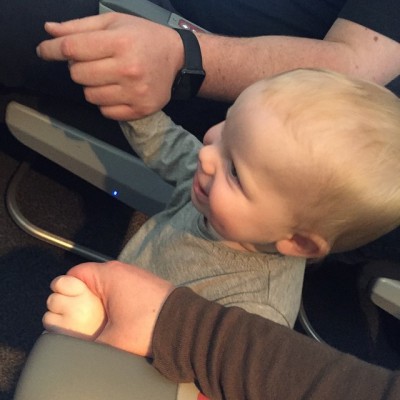 Posted on: Thursday July 14th, 2016
Posted by: Kids & Company