Playful Paninis
Although people's food likes and dislikes vary wildly from individual to individual, there is no question in our minds that anyone could ever dislike paninis. There is something so sublime about biting into its warm, gooey, inviting, crunchy ensemble that it renders people transfixed by happiness. The grilled goodness of a panini makes it perfect for all ages and all seasons. So, here are a few tips on how to make an obscenely beautiful steaming sandwich the best it can be!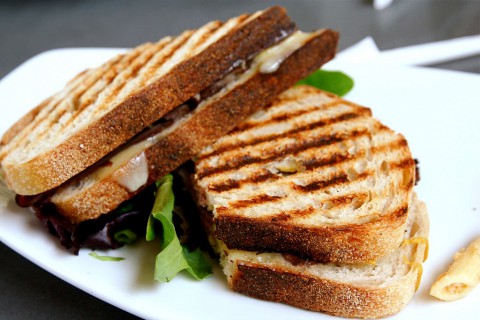 First of all, it is important to pick the right ingredients: bread, meat, cheese, veggies/fruits, and spread. Bread is the most important part of making the perfect panini. Regular sandwich bread is great but when grilled on a press it is not ideal as it is very likely for it to soak up the moisture either from the meat or from the veggies, making it soggy and unappetizing. The best breads to use for a panini include: herbed focaccia, ciabatta, fresh baguettes, challah, brioche, rye, sourdough, and any other kind of hard bread! These crunchier, thicker breads are less likely to become moist when baked, and instead maintain that delicious crunch that everyone wants their panini to have.
Cheese is another extremely important part of the dish, as it is essentially what keeps the sandwich from falling apart! Because it serves this important function you want to pick firm, melty cheeses for your panini. For example, mozzarella, provolone, gruyere, and cheddar are excellent choices. You could also use a spreadable cheese to maintain the sandwich's shape, as they are sticky enough to hold the ingredients together as well. Some ideas include: blue cheeses, triple creams, goat cheese, and other fresh spreadable cheeses.
The meat is another part of the panini that can make or break the sandwich. The key to good meat to put into your panini is essentially that it is thinly sliced. This is why many people will use deli meats in theirs as it will help to allow for the panini to cook evenly and thoroughly.
Veggies and fruits are another great way to enhance the flavour of the panini. Roasted eggplant, zucchini, bell peppers, as well as marinated artichoke hearts, and sun-dried tomatoes are all great choices for a super succulent meal. Some fruits that are great to consider are apples and pears that pair nicely with a sharp cheddar, or figs, plums, and nectarines, that work very well with a soft brie cheese!
Last but not least, the spread that you add to your panini is another very important decision which depends less on functionality than the other facets that go into a panini, and are much more dependent on taste. Some wonderful ideas for savory spreads include: a basil or cilantro pesto, garlic aioli, or a creamy remoulade. For some sweeter undertones, use fig jam or a bit of chutney!
Now you have all of the components that go into a great panini it's time to get mixing! While we've given you the tools to build a perfect panini, we never would expect everyone to like the exact same kind. But with these suggestion's, we know you'll find your favourite one!
From our kitchen to yours…… Enjoy!
Don't forget to follow us on Twitter @kidcochildcare and on Instagram @cheflisaruscica!
Cheers,
Chef Lisa Ruscica
Chief Food Ambassador
Posted on: Tuesday May 24th, 2016
Posted by: Lisa Ruscica