Something's Brewing
Now that the cold, snowy winter has settled in there's nothing like that feeling of warmth from a hot soup soothing your throat after a chilly outing! That's why this week we're talking all about how to make the perfect homemade soup!
The first major decision in soup making is the stock or broth you'll use as the base. What most people don't know is that stocks and broths are not in fact the same thing. While broths are made with meats, stocks are generally made with bones, which means that they serve well in different types of soups. Stocks provide a more robust, thicker base, while broths are lighter and don't have such a bold flavour.  Though there are differences between the uses of stocks and broths, it is all about preference! If a recipe calls for a broth but you want a heavier alternative then using a comparable stock instead is far from wrong! Similarly, it is pretty easy to turn some broths into stocks, namely vegetable stock because it doesn't require a long cooking time. To make a veggie stock from a veggie broth, simply add some additional vegetables of your choice, probably just two different ones, and allow the mix to simmer, covered, for as little as 10 minutes and you have fresh stock!
Remember broths and stocks aren't limited to just making soup! Try cooking your next rice dish in a yummy veggie stock instead of just water and the difference in flavour will be tremendous!
Your kiddies love the soups we serve at Kids & Company and we have included our famous tomato basil soup for you to try at home after a long, cold commute.   You can have this wonderful soup prepared for your family's chilly hands to grasp as they walk into your house!  Serve it with a yummy grilled cheese sandwich that the whole family will enjoy.  It's quick and easy!  Now you can enjoy those winter nights not only warmed by your little ones, but also by your homemade soup!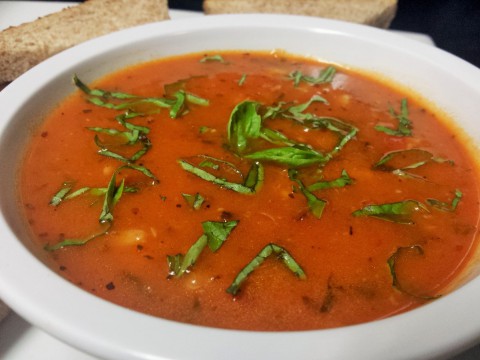 Kidco Kitchen Tomato Basil Soup
*Makes 6 portions
What you need:
-       3 Cup Veggie Stock
-       2 Tbsp Garlic
-       3 Cup Drained Diced Tomatoes
-       1 Cup Diced Onion
-       2 Tbsp Brown Sugar
-       ¼ Cup Tomato Paste
-       ¼ Cup Chopped Fresh Basil
What to do:
Make sure to wash your hands before you begin.
In a large pot add all ingredients except the fresh basil. Bring to a boil.
Reduce heat and simmer for 30 - 40 minutes until slightly reduced. Set aside to cool.
Using a blender or a food processor, puree the soup, adding basil in the final stage.
From our kitchen to yours…… Enjoy!
Don't forget to follow us on Twitter @kidcochildcare and on Instagram @cheflisaruscica!
 Cheers,
Chef Lisa Ruscica
Chief Food Ambassador
Posted on: Wednesday January 27th, 2016
Posted by: Lisa Ruscica