Sunshine, Smiles, and a new Summer Menu, oh my!
The flowers have bloomed, smiles are flourishing, and now our new summer menu has arrived! This menu is all about enhancing that feeling of basking in the summer sunshine, made possible by our new menu that now features juicy plums, fresh peaches, and hydrating watermelons. Plums are high in fiber and are a great source of vitamin C.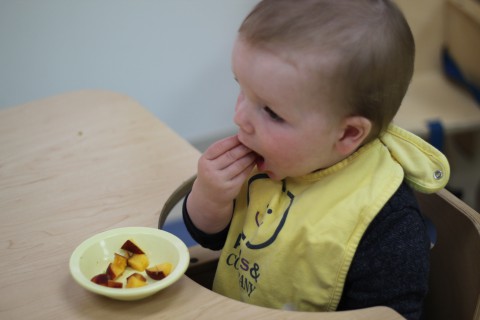 They also contain many anti-oxidants and other vitamins and minerals such as potassium, as well as vitamins B-6 and K, that will keep your kids energized and, most importantly, healthy! Peaches are also another feature of the summer fruits we've incorporated in the menu for the season of sunshine. Like plums they also high in vitamin C. Additionally, they are a great source of potassium and iron, and also contain vitamin-A, and beta-carotenes. Watermelons are delicious and they are extremely hydrating as they are 92% water. This sweet treat will thus give you piece of mind as your child frolics in the summer heat. Don't forget to have some fun with your family organizing a watermelon seed spitting contest!
An idea of how to incorporate these festive fruits into your family's diet this summer is by trying a grilled peach, goat cheese, and arugula salad! The sweetness of the grilled peaches paired with the tangy goat cheese with sharp arugula will make this your new favorite summer salad, not only because of its beautiful medley of taste, but also because of how easy it is to prepare!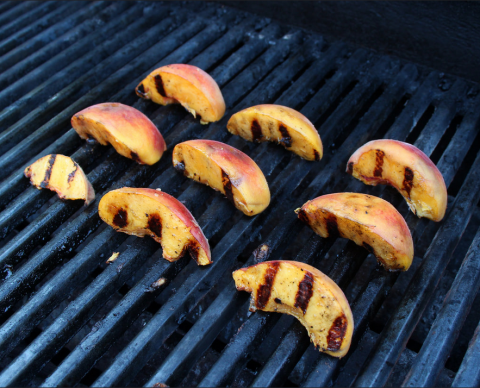 BBQ Peach & Arugula Salad
What you'll need:
¼ Cup balsamic vinegar
2 Tablespoons honey
3 Peaches, pitted and each cut into 6 wedges
1 Tablespoon extra-virgin olive oil
⅛ Teaspoon freshly ground black pepper
Dash of kosher salt
4 Cup trimmed arugula
¼ Cup of crumbled goat cheese
What to do:
Make sure to wash your hands before you begin.
Thoroughly wash the peaches and arugula.  Slice the peaches into halves and remove pits.
Bring vinegar to a boil in a small saucepan and then reduce heat until it reduces to about 2 tablespoons.  Remove from heat and add in honey.
Brush the grill with olive oil and turn on to high heat.  Grill peaches for 30 seconds on each side or until grill marks appear.
Add arugula to a salad bowl and toss with olive oil.
Top with grilled peaches and goat cheese and drizzle your balsamic honey reduction over the salad!
Don't forget to follow us on Twitter @kidcokitchen and on Instagram @cheflisaruscica!
Cheers,
Chef Lisa Ruscica
Chief Food Ambassador
Posted on: Wednesday July 8th, 2015
Posted by: Lisa Ruscica