The Fall Menu is Here!
The Kidco Kitchen is so excited for the children to try our new Fall Menu that was just launched! We have really kicked up this new menu with delicious fall root vegetables, warm casseroles and hearty dishes to reflect the chilling temperatures! We have listened to our Kidco Kitchens children's taste buds and kept old favourites such as our Marvelous Mac & Cheese and Cider Glazed Fish, as well as introduced soon to be favourites like our Chicken Paprikash, Beanny Biryani and more… YUM!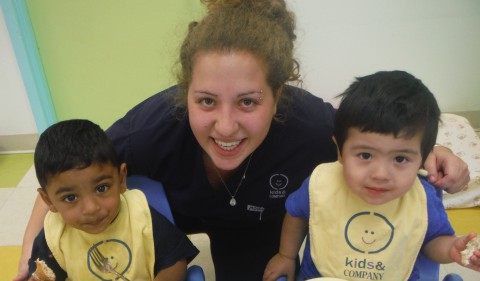 Turkey is new on the menu in delicious dishes, Turkey Tetrazzini and Turkey Meatloaf.  Turkey is a low fat, high protein meat packed with iron, zinc, phosphorus, potassium and B vitamins. Our new stews and casseroles are filled with veggies, I can't wait for the children to try our Beef Barley Stew and Shepherd's Pie! The Kidco Kitchen's fresh from scratch baking is always a favourite among the children. This fall we have added Apple Cinnamon Loaf, Morning Glory Muffins and a Spiced Pumpkin Loaf!
We are happy to introduce a plethora of new and seasonal fruits and veggies. Our Root'n Toot'n Veggies are a blend of squash, turnip, carrot, sweet potato and red onion, oven roasted to perfection! The Autumn Veggie Harvest is a highlight packed full of broccoli, cauliflower, yellow and orange colourful carrots.  Yummy green beans will also be making an appearance as a side dish twice a month. Clementine's are seasonal throughout late Fall and Winter.  They are easy to peel and the ideal citrus fruit for kids who are just learning how to eat on their own! In addition to these new fruits and veggies we have also upped our grain game! We will be bringing on barley this menu as well as upping our quinoa usage. We are so excited for your children to try all our new dishes and snacks! Try making our Turkey Meatloaf at home!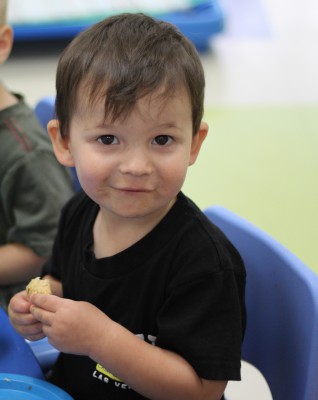 Kidco Kitchen Turkey Meatloaf
*Makes 6 portions
What you need:
-       1 cup water
-       ½ cup quinoa
-       1 tbsp olive oil
-       ½ cup diced onions
-       1 tsp garlic
-       3 cups ground turkey
-       ½ cup diced celery
-       ½ cup diced carrots
-       1 egg
-       ¼ tsp sea salt
What to do:
Be sure to wash your hands before you begin.
Preheat oven to 350F.
Bring the quinoa and water to boil over high heat. Reduce to medium-low, cover and simmer until quinoa is tender (about 15-20 minutes). Set aside to cool.
Heat oil in a skillet over medium heat. Stir in onion; cook and stir until the onion has softened and turned translucent, about 5 minutes. Add garlic and cook for another minute.
Stir ground turkey, cooked quinoa, carrot, celery, onion mixture, egg and salt in a large bowl until well combined. Shape mixture into a parchment lined loaf pan.
Bake until no longer pink in centre (or an internal temperature of 165F is reached), about 30-40 minutes.
Serve ½ cup portions
Cheers,
Chef Lisa Ruscica
Chief Food Ambassador
Posted on: Thursday October 16th, 2014
Posted by: Lisa Ruscica