The One Pot Wonder
Our parents continually tell me that the hardest part of making a daily nutritious healthy dinner is the dreaded clean up.  They have pots and pans all over the place, food on the counter, floor and sometimes even the ceiling!!  I have a solution for you………..one pot dishes are super convenient as they reduce dishes and utensil use, enhance the flavour, and best of all it saves time and effort!  It is the perfect week night meal to prepare for your family while you're busy chasing the kiddies around and working hard.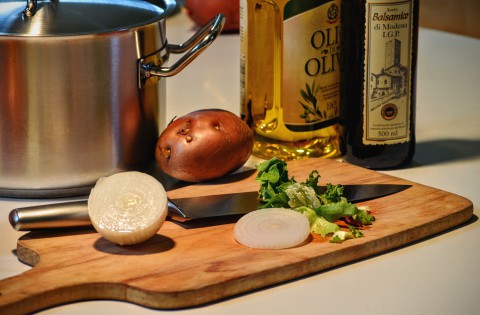 The ultimate one pot wonder contains protein, carbs, and veggie servings all in one dish!!! Eating a well-balanced meal is important as all the different nutrients supply the body with the energy it needs to function properly. It also helps to support growth and development. A well-balanced diet contains nutrient-rich foods from all the food groups, much like this dish, so no need to worry about side dishes! These meals can either be made in advance or on the spot but always remember to make extra for your lunch the next day or another meal later in the week.  And the best part is, at the end of the meal you'll only have a single pot to clean up. That's my kind of meal!One Pot Wonder Lemon ChickenWhat you need:
1 Tbsp Olive Oil
1 lbs Chicken Thighs
1 Yellow Onion, Sliced
1 Cup Carrot, Sliced
1 Cup Parsnip, Sliced
1 Tbsp Minced Garlic
1 lbs Yukon Gold Potato, Sliced Into 1/4-inch Rounds
1 ½ Cup Chicken Broth
1 Sprig Fresh Thyme
2 Tbsp Fresh Lemon Juice
Salt and Pepper, To Taste
 What to do:
In a large, non-stick skillet, heat 1 tablespoon of olive oil over medium-high heat.
Season chicken with salt and pepper; add to skillet and cook 3 to 4 minutes on each side, or until browned.
Add garlic, onions, carrots, parsnips and potatoes to skillet and cook for 5 minutes.
Stir in chicken broth.
Add thyme sprig and turn heat up to high; bring to a boil and then reduce heat to medium.
Cover skillet with a lid and cook for 15 to 20 minutes, or until chicken is cooked through and potatoes are tender.
Remove lid and stir in the lemon juice.
Serve and enjoy your one pot wonder
Don't forget to follow us on Twitter @kidcochildcare and on Instagram @cheflisaruscica!
Cheers,
Chef Lisa Ruscica
Chief Food Ambassador
Posted on: Wednesday November 30th, 2016
Posted by: Lisa Ruscica