We Scream for Healthier Ice Cream!
I scream, you scream, we all scream for ice cream. Everyone loves a good ice cream cone, especially during the heat of summer. However, what happens when the tempting ice cream truck is visiting our street a little too often? Kids and adults alike find ice cream hard to resist! Luckily there are many ways to make healthier versions of ice cream- that will satisfy any sweet tooth. Here are some of my favourites:
Two Ingredient Chocolate Banana Ice cream: The healthiest of all the ice cream recipes and perfect if you have a dairy intolerant family member, banana ice cream is a refreshing, efficient, and delicious way to get your daily potassium. You'll need: 2 frozen ripe bananas, cocoa powder (1-2 teaspoons), and a blender! Blend frozen bananas with cocoa powder until a creamy consistency is reached, and voila! You're done! Frozen bananas are the perfect ice cream base because they blend into a creamy texture. The only truly necessary ingredient in this easy recipe are bananas, however ingredients like cocoa powder, blueberries, vanilla extract, green tea powder, dark chocolate chips, or coconut milk create different flavours.  So many ways to experiment with bananas!!
Strawberry Lemonade Frozen Yogurt: Who doesn't love strawberry lemonade in the summer? Well it's possible to get this refreshing summer beverage in creamy froyo form! Talk about turning lemons into lemonade. You'll need: 4 cups frozen strawberries, 2 tablespoons fresh lemon juice, ½ cup plain yogurt, 3 tablespoons of honey and a food processor. This recipe yields 4 servings. You can even put leftovers in a container and freeze for later! Combine ingredients into a food processor and process until a creamy texture is reached. Step one and done! This easy recipe can be done in 5 minutes, and pre-frozen strawberries can be found in any grocery store. This recipe contains vitamin C packed strawberries and lemon juice, plus calcium packed yogurt. So you will be getting your nutrient fix while getting your ice cream fix!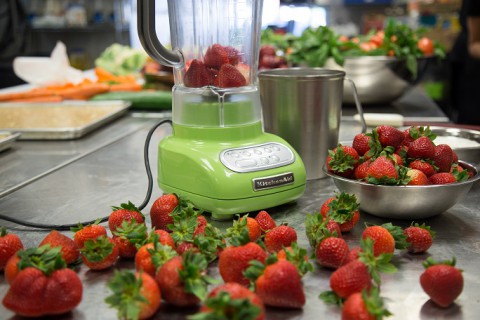 Ice cream and summer go hand in hand. While the messy dessert can cause sticky hands and faces, the season wouldn't feel right without it! These healthier versions take any guilt out of indulging and pack some sneaky vitamins in to your kiddie's favourite treat! Both of these recipes have fruit bases and a variety of healthy options for added flavouring. "Ice cream" for breakfast anyone?
From our kitchen to yours…Enjoy!

Don't forget to follow us on Twitter @kidcochildcare and on Instagram @cheflisaruscica!
Cheers,
Chef Lisa Ruscica
Chief Food Ambassador
Posted on: Wednesday August 24th, 2016
Posted by: Lisa Ruscica