3 Recipes from the Kidco Kitchen to Add to Your Holiday Menu
'Tis the season to indulge in the joy of cooking and baking, and recreating Kidco Kitchen recipes at home is one of the best ways to celebrate the holidays – because you know that all of the recipes are child-approved! We've handpicked three delectable recipes from the Kidco Kitchen Fall-Winter menu that are sure to add a dash of festive flair to your holiday table. Gather your ingredients and let's embark on a culinary adventure with these mouthwatering treats!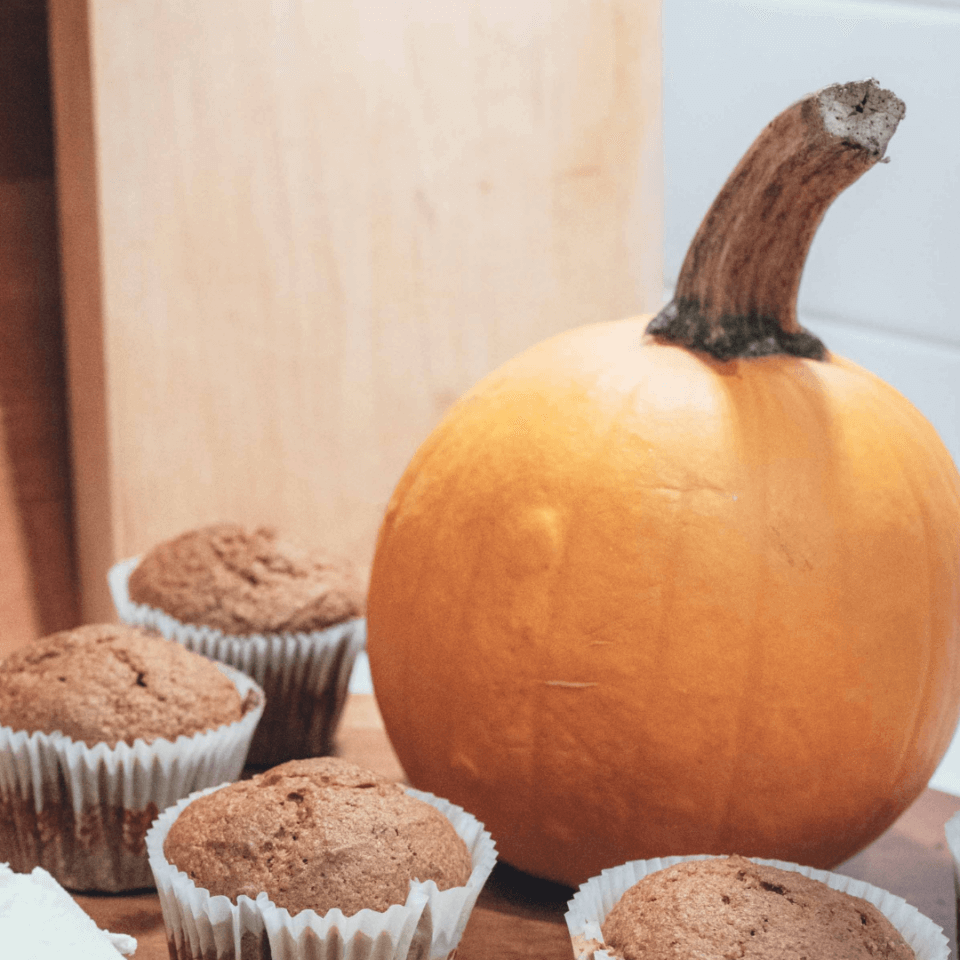 SERVES: 24 portions
RECIPE TIME: 45 minutes
Start your holiday baking extravaganza with the warm and comforting aroma of Spiced Pumpkin Muffins. These moist and flavorful treats are a perfect blend of autumn spices and pumpkin goodness. Follow our easy-to-follow recipe that will have your home smelling like a pumpkin spice wonderland. Fun Fact: Carrots are said to improve eyesight, but did you know that pumpkins are another incredible source of Vitamin A, proven to enhance vision? One cup of cooked, mashed pumpkin contains 200 times the recommended daily intake of this visionary vitamin!
What you need:
1¾ Cup Whole Wheat Flour

½ tsp Baking Powder

½ tsp Baking Soda

½ tsp Sea Salt

½ Cup Sugar

¼ Cup Brown Sugar

2 Tbsp Maple Syrup

1 tsp Vanilla

1½ tsp Cinnamon

½ tsp Nutmeg

½ tsp Ground Cloves

½ tsp Allspice

2 Eggs

½ Cup Water

1 Cup Pureed Pumpkin

½ Cup Veggie Oil
What to do:
Make sure to wash your hands before you begin.

Preheat the oven to 350°F.

Mix flour, baking powder, baking soda, and salt in a medium-sized bowl. Blend in sugar, brown sugar, cinnamon, nutmeg, clove, and allspice.

In a large mixing bowl, beat eggs, vanilla, maple syrup, pumpkin, water, and vegetable oil. Slowly add dry ingredients to the wet mixture, stirring until smooth and moist.

Pour the mixture into a parchment-lined loaf pan. Bake for 65 minutes.

*Substitute with flaxseed meal to make it egg-free. For every 1 egg, mix 1 Tbsp of flaxseed meal with 3 Tbsp of water, and allow it to thicken for 15 mins.
Follow along with the video here. 
SERVES: 16 portions
RECIPE TIME: 30 Mins
Elevate your holiday appetizer game with our crowd-pleasing Spin Dip and Playful Pita. This creamy and flavorful dip paired with warm pita bread is the perfect way to kick off your festive gathering.
What you need:
2 ½ Cup Finely Chopped Fresh Spinach

1 tsp Minced Garlic

1 Cup Cream Cheese

½ Cup Greek Yogurt

¼ Cup Grated Parmesan Cheese
What to do:
Make sure to wash your hands before you begin.

Finely chop the fresh spinach leaves (you may also pulse in a food processor or shred with your hands).

Combine the chopped spinach with the rest of the ingredients. Mix well.

Chill the spinach dip for at least 1 hour before serving.

Serve with whole wheat pita.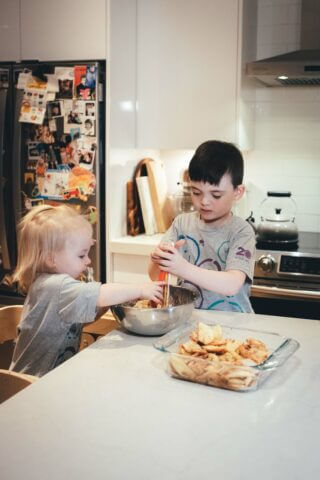 SERVES: 16 portions
RECIPE TIME: 1 Hour
No holiday feast is complete without a delightful dessert, and our Apple Crisp recipe is the epitome of sweet perfection. Our Kidco Kitchen recipe is created with whole wheat flour for some added health benefits. This simple yet heavenly recipe will have your loved ones asking for seconds.
What you need:
4 Cup Sliced Apples

6 Tbsp Brown Sugar

1 Tbsp Lemon Juice

1 tsp Vanilla

¾ Cup Whole Wheat Flour

1 tsp Cinnamon

1 Cup Oats

6 Tbsp Unsalted Butter
What to do:
Make sure to wash your hands before you begin.

Preheat the oven to 350°F.

Mix apples, 2 tablespoons of brown sugar, vanilla, lemon juice, ¼ cup flour, and cinnamon in a baking dish.

Prepare the topping: combine the remaining flour, brown sugar, and oats.

Blend butter into the mixture using 2 knives until the topping resembles coarse meal. Sprinkle evenly over the apples.

Place the baking dish in the oven for approximately 1 hour or until the fruit is bubbling, and the topping is golden brown.
The secret to the perfect Apple Crisp is to use two varieties of apples: one firm and crisp, and the other soft and sweet. For example, combine the tartness of a Granny Smith with the sweetness of a Honeycrisp, and you'll be the apple of everyone's eye! 
Follow along with the video here.
With these Kidco Kitchen recipes, your holiday celebrations are bound to be a culinary success. So put on your apron and gather your loved ones! Whether you're baking Spiced Pumpkin Muffins, indulging in Spin Dip and Playful Pita, or savoring the comforting warmth of Apple Crisp, these treats are guaranteed to bring joy to your table and have your home smelling like a cozy holiday haven. Happy cooking and happy holidays!
Posted on: Friday November 10th, 2023
Posted by: Kids & Company