Car Seat Safety: Forward Facing
Best practices with forward facing and Canadian law are in direct conflict here. Best practices say to keep your child rear-facing as long as possible and to wait until they are at least two years of age to turn them forward facing. Canadian law, on the other hand, (different in every province) states that children can be turned facing forward much earlier. Regardless of when it happens, when you move your child out of their bucket seat, there is a very good chance that their new seat (often called a "convertible" seat) will rear-face as well, so no need to rush them into forward facing.
Anyway, whenever you do move them forward facing, there are some things to know that are different from rear-facing.
The first is that the top tether is mandatory in all forward facing seats. If you have never noticed one before, take a look in your vehicle – it's there. Look for this icon, either on the back dash (in a coupe or sedan), ceiling (various) or floor (in a hatchback or van) of the vehicle. The tether anchor will be behind the vehicle seat where the child restraint is located. When you tether the seat (check with car and car seat manual to ensure you're doing it correctly), make sure there is no slack in the tether at the end of the car seat installation process.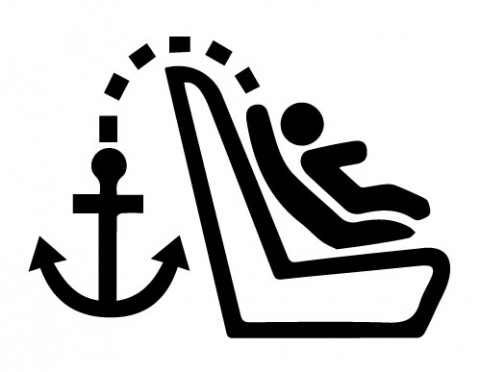 Secondly, the straps must exit the shell of the car seat at or above the child's shoulders, which is directly opposite to strap positioning when rear-facing.
Some other things to note that carry over from rear-facing:
The best location for a forward facing child restraint is in the backseat.
Use the UAS anchor bars OR the seatbelt – not both – to install the car seat.
Ensure the chest clip is level with the child's armpits.
Use the pinch test (same as rear-facing) to ensure snugness of the harness.
Always make sure the straps are not twisted.
STILL don't put them in their seats with bulky winter coats on
Don't rush them from a forward facing, 5-point harness into a booster.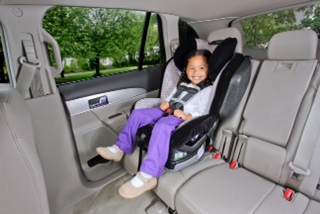 Join us next time when we look at Stage 3: Boosters!
Sarah @ Snuggle Bugz
Posted on: Thursday May 22nd, 2014
Posted by: Kids & Company