Kidco Kitchen Food Workshops
This Saturday, May 24th I'm getting the opportunity to come speak to parents about "Picky Eaters".  I'm going to be speaking at our Bloor-Christie location starting at 9:30am. Parents will be able to come listen and ask questions at this workshop while their childcare is provided. Other available activities include: interactive food-themed activities for children and parents, food-related story time, and a selection of children's food books to view as a resource. Not only will everyone learn tons while having fun, but we're also providing Butter Chicken and Basmati rice for lunch, Banana Bread and Oatmeal cookies as snacks and a special Granola takeaway!
Also joining me is Annette Brennan; she has been trained by Anaphylaxis Canada and has been speaking for over 15 years on this topic. She will be giving a presentation that covers need-to-know facts about anaphylaxis and how to respond to an anaphylactic emergency.  She'll also be giving a demonstration on how two different auto-injectors work.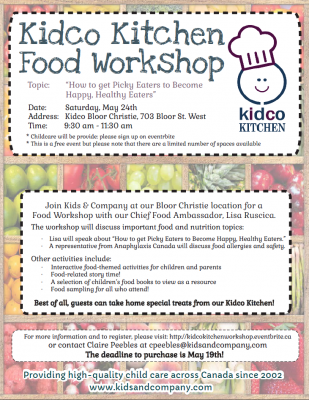 Can't make it out to Bloor-Christie on May 24? Good news, we're doing it all over again on Wednesday, June 4th at 6:15 in our Aurora location
For more information on the Aurora workshop and to register, click here  Deadline to sign up is May 30th
Hope to see you there!
Chef Lisa Ruscica
Chief Food Ambassador
Posted on: Wednesday May 21st, 2014
Posted by: Lisa Ruscica