Creepy Crudité Winner
Last week the Kidco Kiddies across the country celebrated Halloween by creating edible masterpieces with their afternoon veggies.  Using broccoli, cauliflower, carrots, cherry tomatoes, raisins and pita the children got creative to make scary creations in their classrooms.  To view all of the Creepy Crudité photos click hereto view the album on Facebook! It was a tough call but this year's winner of the contest was the Tech Town Kids & Company location in Waterloo.  Second place went to Aurora and third place went to Kids World! Honorable Mention to Sheppard, Red Deer and Winnipeg Thanks to all sites for sending in your amazing submissions and for everybody's hard work and efforts in making this years' contest so fun!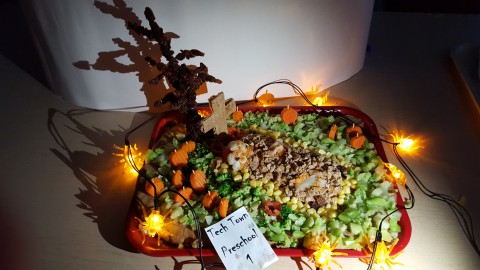 First Place Winner: Tech Town
We love to find ways to get children excited about healthy foods! While not every day is creepy crudité day, we always incorporate a variety of colours into our meals and snacks to make them visually appealing to your little ones.  I hope everyone had a safe and happy Halloween!
Don't forget to follow us on Twitter @kidcokitchen and on Instagram @cheflisaruscica!
Cheers,
Chef Lisa Ruscica
Chief Food Ambassador
Posted on: Wednesday November 4th, 2015
Posted by: Lisa Ruscica