Drink the Punch
Punch seems to be experiencing a beverage renaissance these days. Creative concoctions are being ladled into fancy cups at some of the best parties in town. Everyone loves a good mocktail and what better time of year to bring out the family punch bowl than when you are hosting a neighbourhood BBQ.   Make delicious and kid-friendly drinks by following these 5 basic rules:
1. Start with a Big Bowl If you don't have a punch bowl! Find the prettiest bowl in your cupboard.
2. Balance the Sweet and the Bitter! Use our Kidco Kitchen Asian Pear Sparkler recipe below that is the perfect balance of sweet and bitter punch to enjoy during the summer.
3. Big Ice Cubes Are Your Friends. The best way to keep your punch cool: ice. Duh. But the biggest punch secret is using one huge ice cube. A whole bowl of tiny ice cubes will melt faster than you can say "water trough", but one huge block of ice will melt much more slowly and not dilute your drink.
4. Use Fresh and colourful Garnishes. In addition to a huge block of ice, think about pretty food items to float in your punch. Our suggestions are slices of lemon or orange, lovely sliced strawberries or peaches, or whole fresh mint leaves.
5. Don't Buy Ugly Cups. If you're working hard to serve an appealing punch, don't hide it in those big red plastic party cups! Showcase your punch in clear plastic cups, or even fancy plastic wine cups!
Now you are ready and armed with festive drinks that suit any season…all the more reason to plan that party you've been thinking of having!
You can make our Summer Picnic Punch with only 5 ingredients: 1 mini seedless watermelon, 1 cup lemon juice, 2 cup frozen strawberries, 3/4 cup sugar, and 2 cup ice! First, slice the watermelon in half and empty out the fruit from the center using a spoon, then place all of the fruit into the blender, leaving just the shell. Add the lemon juice, strawberries, sugar, and ice to the blender and blend until smooth. Then just pour the lemonade from the blender and into the two watermelon halves that will double as cups!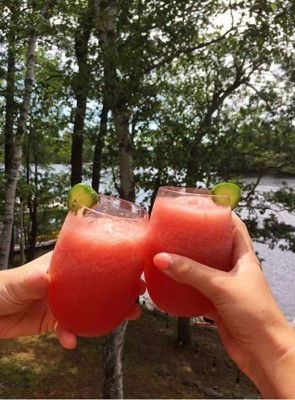 While summer is the perfect time to enjoy a refreshing homemade punch, you are not limited to enjoy the beverage on this season alone. For fall, a wonderful addition to any party is a warmed Apple Pie Spiced Cider! This simple simmering beverage will warm your guests' hands as they walk into the door. All you need is: 5 cups of cider, 3 tbsp. brown sugar, 7 cinnamon sticks, 1 tsp ground allspice, ½ tsp ground ginger, ground cloves, and freshly grated nutmeg for this fall-in-a-cup experience! To prepare just add all of the ingredients, except the cinnamon sticks, to a saucepan and stir them together. Allow them to simmer at medium heat for a few minutes then pop in the cinnamon sticks and you have the prefect complimentary mocktail to fall fiesta!
Whisk up a winter mocktail with an Asian Pear Sparkler! The warm winter flavours in this delightful drink will be sure to please anyone at your next party! You'll need: 1 cup freshly pressed Asian pear juice, 1 tsp lemon juice, 3/4 cup honey, 1/4 cup sugar, 1 sprig fresh rosemary, 1-piece fresh ginger, a pinch of grated fresh nutmeg, and sparkling water. First, mix the pear juice, lemon juice, honey, sugar, rosemary, ginger, and nutmeg together in a saucepan on medium heat. Bring the mixture to a boil then let it simmer on low heat for about 5 minutes while continuing to stir it. Let it sit for about 30 minutes, then strain the liquid to get rid of any remaining solids, add ice cubes, and you're ready to serve this wonderful winter drink!
From our kitchen to yours…… Enjoy!
Don't forget to follow us on Twitter @kidcochildcare and on Instagram @cheflisaruscica!
Cheers,
Chef Lisa Ruscica
Chief Food Ambassador
Posted on: Wednesday June 22nd, 2016
Posted by: Lisa Ruscica