Managing Childhood Disease
Some parents hope for a boy, others a girl. Many wish for their children to become exceptional, becoming a rode scholar, or Olympic athlete. However, there is one universal thing that every parent wishes for, that their child is healthy. For a few unfortunate parents, this is not the case, they are faced with the burden of a severe childhood illness. The few children afflicted with these conditions, approximately 20 in 100 000 in Canada, consume a majority proportion of our pediatric treatment budget, and an immeasurable amount of research dollars and researcher time. Despite this, these diseases persist, ranging from well known and feared advisories such as cancer and congenital chromosomal diseases, to extremely rare and marginally understood conditions such as sudden infant death syndrome. Many parents live in fear of such a tragedy striking their family, but for the few who have fought the battle and now share their story, we have much to learn.
One such mom was able to share her story with us here at Integrity Healthcare Consultants. The path of her journey with her one-year-old daughter through the Canadian healthcare system is outlined in the figure above. Upon first glance, it seems very daunting that a parent is faced with the task of juggling so many treatments, complications, and and all of the other pieces that go into getting a sick child the care that they need. Our healthcare system in Canada is designed with the goal of being patient centred, however, many healthcare providers would tell you that when it is a child that is ill, family-centred is more accurate. The burden of a childhood disease does not just fall on a child alone, but on their whole support system. It effects every aspect of that families lives, from geography, to finances and employment. Despite a publically funded healthcare system, many families struggle with the financial burden of a chronic childhood illness. Travel, re-location, childcare, time off work, and non-funded treatment options all contribute to the cost of such a disease. Often when a child is diagnosed, the parent's other responsibilities in the workplace, and the home become second priority to their job as a caregiver. This can place strain on families, as well as effect parent's careers and ability to work.
These are some of the more logistical considerations that a parent faces when their child is diagnosed with a disease. However, when a child is ill, parents are no longer just parents, but advocates, and amateur experts in the disease their child is diagnosed with. Healthcare workers provide information at what seems like a dizzying rate, which can be particularly overwhelming in the early stages of diagnoses. Multiple doctors are members of the childs care team, and despite their best efforts, communication between all members is often difficult or lacking. It falls to the parents to fill in where the healthcare system falls short. To ensure pharmacy checks occur, to remember to remind each doctor they see that their child has had a poor response to a particular drug. It is the parents that take their child home following procedures or treatments, and must be vigilant for the long list of potential complications they have been provided with. It is the parents that must make critical decisions regarding clinical trials, and alternative treatment options.  Many of the barriers to managing several con-current treatments for a sick child are very predictable. However, some are barriers that are unseen by others, and can be emotionally draining to a family. Of course there are places parents can turn, support groups, and outside aid, that can relieve some of the pressure. Integrity Healthcare Consultants, along with other patient advocacy organizations, can help parents navigate the complicated, multi-faceted healthcare system. It should not fall on parents to be everything for a sick child. Many lack the years of medical experience that enable doctors and nurses to communicate the way they do about a childs illness. Advocacy services can help fill in the gaps, coordinating care, and aiding with communication, so that parents can focus on the most important role they play to their sick child, being a parent.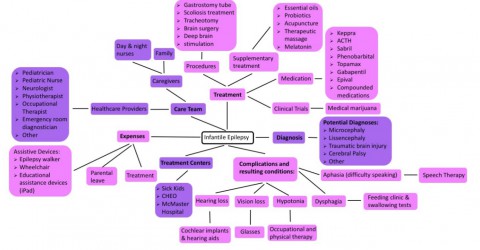 Jana Bartley, R.N, BScN, MBA, LNC provides support, guidance and education to individuals and families who may have unanswered questions regarding a recent diagnosis, procedure, or treatment options. You can reach her at jana@integrityhealthcare.ca or visit www.integrityhealthcare.ca  for more information 
Posted on: Tuesday June 21st, 2016
Posted by: Zara Alibhai